Magic Motorsport news update: Flex 6.8.0.0
14 March 2022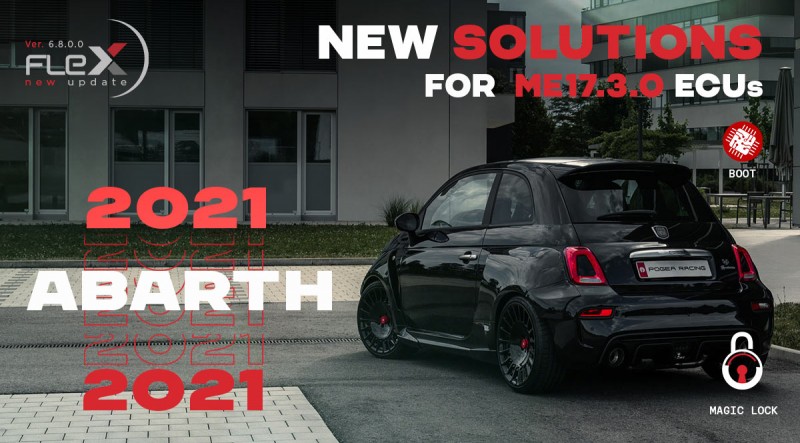 New FCA 2021 ECU ME17.3.0 Solutions
Flex updates to 6.8.0.0
Magicmotorsport has released new bootloader solutions for ECU BOSCH ME17.3.0 2021. Flex version 6.8.0.0 enables chip-tuning and repair operations on vehicles such as Abarth 595, Abarth 695 Biposto, Fiat 500, and many other vehicles equipped with 1.4 T-Jet EU6 engines.

The new bootloader protocol allows the password to be read and then grants complete access to the control unit, flash and EEPROM memory, and also allows for complete backups.

In addition, the latest BOSCH ME17.3.0 solution allows you to password protect your work with the Magic Lock function.

Special thanks to POGEA RACING who collaborated in the Beta Testing.

Here are some of the supported vehicles:
Abarth 500 1.4 T-Jet
Abarth 595 1.4 T-Jet
Abarth 695 Biposto 1.4 T-Jet
The new bootloader protocol is available for the following software packages:
FLS0.10 – SW Flex Infineon TC17xx / TCxxx
FLS0.5 – Complete Flex Package
Read time: ~ 2 minutes | Write time: ~ 40 seconds

New protocols added:
FIAT BOSCH ME17.3.0: Read / Write / Checksum internal flash; Internal EEPROM reading / writing; Full backup;
Alfa Romeo BOSCH ME17.3.0: Read / Write / Checksum internal flash; Internal EEPROM reading / writing; Full backup;
Abarth BOSCH ME17.3.0: read / write / internal flash checksum; Internal EEPROM reading / writing; Full backup;