Magic Motorsport news update: Flex 5.17.0.0
6 July 2021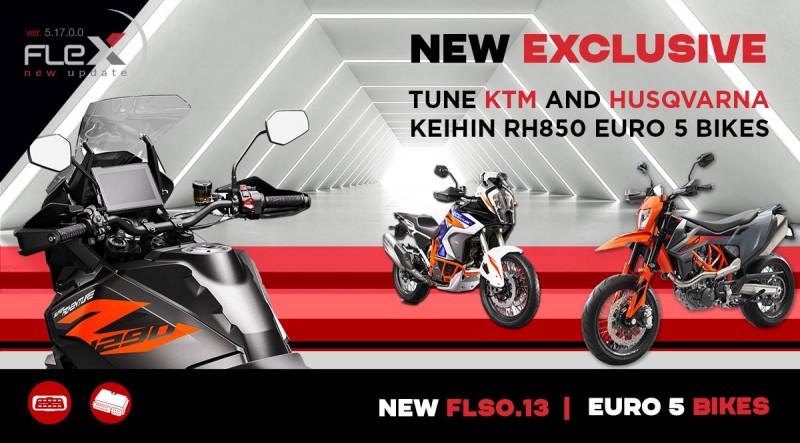 Flex version 5.17.0.0 is ready
Exclusive tuning solutions for KTM and Husqvarna Keihin RH850 Euro5
Magicmotorsport has released an exclusive protocol for the reprogramming of Keihin (RH850) 61741031000 and Keihin (RH850) 61941031000 engine control units installed on KTM and Husqvarna Euro5 motorcycles in OBD and Bench mode.
Flex programming tool for engine control units (ECU/ECM) and automatic transmissions (TCU/TCM), now also supports chiptuning professionals in their work on the latest generation motorcycles.
Flex is fully customizable thanks to the wide range of software pacckage available and with this new release is ready and available also the new software package, SW Flex Bike ECU OBD + BENCH in the Master and Slave version (product code FLS0.13M/S). On activation of this SW package, the user may work on all supported protocols for ECU/ECM and any other modules in motorcycles.
Tune now your KTM and Husqvarna Keihin equipped RH850 Euro5 and increase the performance of your bike.
Here are a few of the motorcycle models that have been added to the vehicle list in SW version 5.17.0.0
New protocols added:
(OBD)
KTM Keihin KTKZ 61941031000: Read/Write/Checksum Maps (ASW + CAL); Read/Write; Clear DTCs
Husqvarna Keihin KTKZ 61941031000: Read/Write/Checksum Maps (ASW + CAL); Read/Write; Clear DTCs
KTM Keihin KTKS 61741031000: Read/Write/Checksum Maps (ASW + CAL); Read/Write; Clear DTCs
(BENCH)
KTM BOSCH ME17.9.21.1: Read/Write/Checksum Internal Flash; Internal Eeprom Read/Write; Full Backup
KTM BOSCH ME17.9.21: Read/Write/Checksum Internal Flash; Internal Eeprom Read/Write; Full Backup
KTM Keihin KTKZ 61941031000: Read/Write/Checksum Maps (ASW + CAL); Read/Write; Clear DTCs
Husqvarna Keihin KTKZ 61941031000: Read/Write/Checksum Maps (ASW + CAL); Read/Write; Clear DTCs
KTM Keihin KTKS 61741031000: Read/Write/Checksum Maps (ASW + CAL); Read/Write; Clear DTCs
Bug Fixes:
Fixed reading issue on Marelli 9DF
Fixed BMW OBD M&S auto-detect
Software Improvements:
Added new version of Honda Keihin SH7058