Secons ltd
BimCOM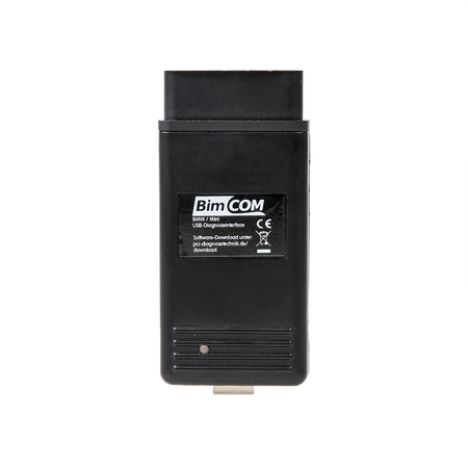 New!
Product information
BimCOM diagnostic tool for BMW and Mini
And BMW bikes, Alpina, Land Rover, MG and Rolls Royce.

BimCOM is a diagnostic tool for BMW and Mini vehicles. It supports all vehicles from 1996 through OBD2 or BMW-20 pin diagnostic connector. BMW Motorrad (motorcycle) support is still in early development.

BimCOM is easy to operate. It uses software similar to VAG-COM/VCDS, but can also be used by people who know the dealer tools well, such as BMW ISTA/D, ISTA/P, BMW DIS/GT1.

BimCOM comes with an OBD2 to USB interface and is designed for Windows 2000/XP/Vista/7/8/10 or Linux or Mac OS/X (using Wine emulation).

The hardware requirements are very low compared to dealer tools.

Hardware
The OBD2 to USB BimCOM interface includes 2 multiplexed ISO9141 K-line and L-line, high-speed CAN-BUS and analog measurement circuits. Supported protocols include K1, KW-71, DS-1, DS-2, KWP2000* (KWP2000-star), KWP2000, BMW-Fast, D-CAN/KWP and UDS ISO14229.

Product Features:
Fully multiplexed all-in-one smart USB2.0 interface

Automatic ECU recognition

Automatic vehicle scan

ECU identification

Read Error Code (DTC)

Clear Error Code

Read freeze-frame

Measured values ​​/ live data

Record live data

Print diagnosis protocol

Actuator tests

ECU coding

Configuration
The product contains:
BimCOM OBD2 USB interface with USB cable

Link to BimCOM software and installation instructions.

Free updates
The warranty period is 2 years.

* Adapters are optional accessories, only necessary for older vehicles without OBD2 connection.
Manufacturer product number