Magic Motorsport
FLK11A ECU Connector VAG / MDG1 / EDC17 / PCR kit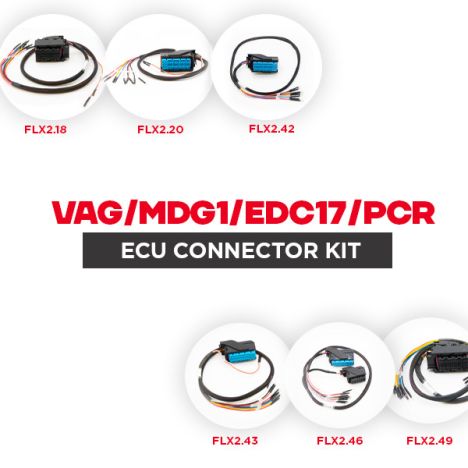 Product information
FLK11A ECU Connector VAG / MDG1 / EDC17 / PCR kit
This Kit allows to interface some types of ECU's with FlexBox. It is necessary to connect to the FlexBox port A and B. The goal of the Kit ECU Connector VAG/MDG1/EDC17/PCR is to obtain:
Secure connection mode
Faster communication speed between ECU and FLEX
faster connection between ECU and FlexBox
Minimal error risk during connection
FLK11A ECU Connector VAG / MDG1 / EDC17 / PCR kit consists of six cables for reprogramming Bosch and Simos engine ECUs; including MG1CS001, MED17.5.5, MED9.5.10, PCR2.1
Kit ECU Connector VAG/MDG1/EDC17/PCR
The FLK11A contains the: FLX2.18, FLX2.20, FLX2.42, FLX2.43, FLX2.46 & FLX2.49 cables.
Manufacturer product number