bFlash
bFlash Master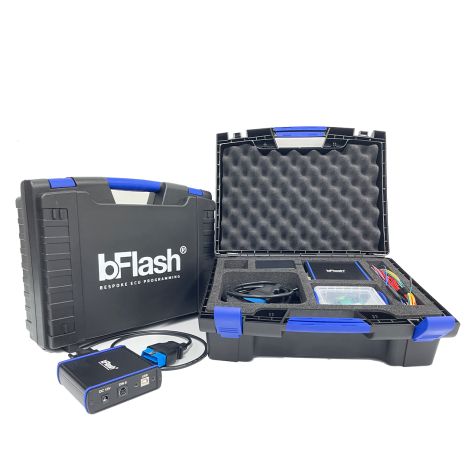 99 EURO EXTRA DISCOUNT !
Master
Product information
bFlash is a new, unique and revolutionary tool for automotive professionals, tuners and engine calibration engineers.

bFlash® is much more than just an ECU programming tool, it simply can't be compared to any traditional flashtool. Despite Alientech KESSv2 / KTAG, Autotuner, Byteshooter NG, CMD Flashtec, Dimsport NEW-GENIUS / TRASDATA and Magic Motorsport being good tools for simple read/write operations, bFlash found them to be missing many important features, both on the developer side as in daily use.

The tool can be linked-up with other popular software programs like WinOLS from EVC, it's extremely suited for use by tuners.

By keeping all the OEM functionalities and technologies (S-CAN, FlexRay, SENT, LIN, PSI5, Ethernet,…) it's ensured that bFlash will be able to handle any automotive ECU to 2030.
At the heart of the hardware design you'll find the NXP MPC57xx Microcontroller, it's the same MCU used by several OEM programming and/or debugging tools which ensures ultra-fast data exchange with the car's ECU.

The remaining hardware components are used for the various programming methods that are supported by bFlash, like OBD CAN, BDM, Boot, DoIP Ethernet, Flexray, Jtag and many more..

Key components
Processor NXP MPC57xx


3 individual cores @160 mhz coming from the quoriva family: CAN-Bus, Flexray, DoIP, K-Line & more!
Flexray: Dual TJA1080


A/B channel @ 10 mbit/s, with bus cold start ability.




DoIP: DP83848C PHY




Up to gigabit ethernet with integrated 1:1 magnetics



CAN Bus: Dual TJA1051


Able to communicate simultaneously on 2 bus.




JTAG Buffers


Logic shifter with active bus protection and automatic 3.3/5V power supply switch. Up to 25 mhz JTAG!


USB: FTDI FT2232H




Native windows driver for ease of installation.
bFlash is truly an all-in-one tool and comes packed with a complete set of exclusive software features required for professional ECU reprogramming.

bFlash Master includes:
Read/write unencrypted files

OBD, Bench, BDM, Boot & Jtag

All accessories and cables included

1 year subscription included (value: €600,-)

External power source included
Manufacturer product number