Magic Motorsport tool update: Flex 3.8.0.0
22 July 2019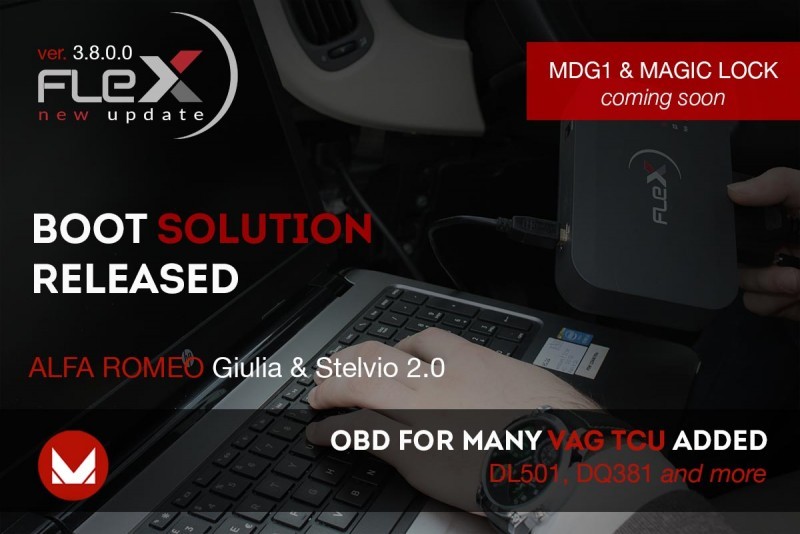 Our Flex ver 3.8.0.0 release is out! A lot of focus has been put on MEDC17 ECUs in the last few weeks, which are still extremely common in many markets, for example the common Mini Cooper / One 1.4 and 1.6 with MED17.2. We have also added support for the first group of DSG gearboxes in OBD from X17 to FLEX in OBD mode, and Marelli MM10JA from Alfa Romeo Stelvio and Giulia in boot.
Explore the new features of this obd software
What are the new benefits of this new Magic Motorsport tool update? Magic Motorsport is working to safeguard your work through the incoming Magic Lock feature, and of course by releasing solutions for MDG1 ECUs!
What is new?
These new protocols below have been added:
Alfa Romeo Marelli MM10JA MPC5777 Boot: Read/Write/Checksum Internal Flash, Read/Write Internal EEPROM, Read/Write External EEPROM 95640, Full Read/Full Write Clone/Restore
Audi Bosch DQ380 OBD: Virtual Read/Write/Checksum Maps
Audi Bosch DQ381 OBD: Virtual Read/Write/Checksum Maps
Audi Bosch DQ500 OBD: Virtual Read/Write/Checksum Maps
Audi Continental DQ500 OBD: Virtual Read/Write/Checksum Maps
Audi Continental DQ500-MQB OBD: Virtual Read/Write/Checksum Maps
Audi Continental Simos 8.2 OBD: Read/Write/Checksum Maps
Audi Temic DL382 OBD: Virtual Read/Read/Write/Checksum Maps
Audi Temic DL501Gen1 OBD: Virtual Read/Read/Write/Checksum Maps
Audi Temic DL501Gen2 OBD: Virtual Read/Write/Checksum Maps
Audi Temic VL381 OBD: Virtual Read/Read/Write/Checksum Maps
BAIC Delphi MT80 TC1766 Boot: Read/Write/Checksum Internal Flash, Read/Write Internal EEPROM, Full Read/Full Write Clone/Restore
BMW Bikes Bosch ME17.2.4 TC1793 Bench: Read/Write/Checksum Internal Flash, Read/Write/Checksum Internal EEPROM, Full Read/Full Write Clone/Restore
BMW Bikes Bosch ME17.2.4 TC1793 Boot: Read/Write/Checksum Internal Flash, Read/Write/Checksum Internal EEPROM, Full Read/Full Write Clone/Restore
Chery Bosch ME17.8.8 TC1728 Boot: Read/Write/Checksum Internal Flash, Read/Write/Checksum Internal EEPROM, Full Read/Full Write Clone/Restore
Chevrolet Delphi MT80 TC1766 Boot: Read/Write/Checksum Internal Flash, Read/Write Internal EEPROM, Full Read/Full Write Clone/Restore
Chevrolet Delphi MT80.1 TC1766 Boot: Read/Write/Checksum Internal Flash, Read/Write Internal EEPROM, Full Read/Full Write Clone/Restore
Geely Delphi MT80 TC1766 Boot: Read/Write/Checksum Internal Flash, Read/Write Internal EEPROM, Full Read/Full Write Clone/Restore
Great Wall Bosch ME17.8.8 TC1728 Boot: Read/Write/Checksum Internal Flash, Read/Write/Checksum Internal EEPROM, Full Read/Full Write Clone/Restore
Honda Bosch EDC16C7 MPC556 BDM: Read/Write/Checksum Internal Flash, Read/Write/Checksum External Flash AM29BL802C, Read/Write External EEPROM 95160, Full Read/Full Write Clone/Restore
Hyundai Delphi MT86 TC1766 Boot: Read/Write/Checksum Internal Flash, Read/Write Internal EEPROM, Full Read/Full Write Clone/Restore
Lifan Bosch ME17.8.8 TC1728 Boot: Read/Write/Checksum Internal Flash, Read/Write/Checksum Internal EEPROM, Full Read/Full Write Clone/Restore
JAC Bosch EDC17C04 TC1767 Bench: Read/Write/Checksum Internal Flash, Read/Write/Checksum Internal EEPROM, Full Read/Full Write Clone/Restore
JAC Bosch EDC17C04 TC1767 Boot: Read/Write/Checksum Internal Flash, Read/Write/Checksum Internal EEPROM, Full Read/Full Write Clone/Restore
JMC Bosch EDC17C55 TC1767 Bench: Read/Write/Checksum Internal Flash, Read/Write/Checksum Internal EEPROM, Full Read/Full Write Clone/Restore
JMC Bosch EDC17C55 TC1767 Boot: Read/Write/Checksum Internal Flash, Read/Write/Checksum Internal EEPROM, Full Read/Full Write Clone/Restore
Kia Delphi MT86 TC1766 Boot: Read/Write/Checksum Internal Flash, Read/Write Internal EEPROM, Full Read/Full Write Clone/Restore
Kubota Bosch EDC17C55 TC1767 Bench: Read/Write/Checksum Internal Flash, Read/Write/Checksum Internal EEPROM, Full Read/Full Write Clone/Restore
Kubota Bosch EDC17C55 TC1767 Boot: Read/Write/Checksum Internal Flash, Read/Write/Checksum Internal EEPROM, Full Read/Full Write Clone/Restore
Lifan Bosch ME17.8.8 TC1728 Boot: Read/Write/Checksum Internal Flash, Read/Write/Checksum Internal EEPROM, Full Read/Full Write Clone/Restore
Luxgen Delphi MT80 TC1766 Boot: Read/Write/Checksum Internal Flash, Read/Write Internal EEPROM, Full Read/Full Write Clone/Restore
Mahindra Bosch EDC17C55 TC1767 Bench: Read/Write/Checksum Internal Flash, Read/Write/Checksum Internal EEPROM, Full Read/Full Write Clone/Restore
Mahindra Bosch EDC17C55 TC1767 Boot: Read/Write/Checksum Internal Flash, Read/Write/Checksum Internal EEPROM, Full Read/Full Write Clone/Restore
MG Bosch MED17.8.10 TC1767 Boot: Read/Write/Checksum Internal Flash, Read/Write/Checksum Internal EEPROM, Full Read/Full Write Clone/Restore
Mini Bosch MED17.2 TC1766 Bench: Read/Write/Checksum Internal Flash, Read/Write/Checksum Internal EEPROM, Full Read/Full Write Clone/Restore
Mini Bosch MED17.2 TC1766 Boot: Read/Write/Checksum Internal Flash, Read/Write/Checksum Internal EEPROM, Full Read/Full Write Clone/Restore
Nissan Siemens SID301 MPC561 BDM: Read/Write/Checksum External Flash AM29BDD160G, External EEPROM 95320, Full Read/Full Write Clone/Restore
Opel Marelli 6JO MPC555 BDM: Read/Write/Checksum Internal Flash, Read/Write External EEPROM 95320, Full Read/Full Write Clone/Restore
Porsche Temic DL501Gen1 OBD: Virtual Read/Read/Write/Checksum Maps
Porsche Temic DL501Gen2 OBD: Virtual Read/Write/Checksum Maps
Renault Siemens SID301 MPC561 BDM: Read/Write/Checksum External Flash AM29BDD160G, External EEPROM 95320, Full Read/Full Write Clone/Restore
Seat Bosch DQ381 OBD: Virtual Read/Write/Checksum Maps
Seat Continental Simos 11.1 OBD: Read/Write/Checksum Maps
Skoda Bosch DQ380 OBD: Virtual Read/Write/Checksum Maps
Skoda Bosch DQ381 OBD: Virtual Read/Write/Checksum Maps
Skoda Bosch DQ500 OBD: Virtual Read/Write/Checksum Maps
Skoda Continental Simos 11.1 OBD: Read/Write/Checksum Maps
Suzuki Bosch ME17.9.61 TC1724 Bench: Read/Write/Checksum Internal Flash, Read/Write/Checksum Internal EEPROM, Full Read/Full Write Clone/Restore
Suzuki Bosch ME17.9.61 TC1724 Boot: Read/Write/Checksum Internal Flash, Read/Write/Checksum Internal EEPROM, Full Read/Full Write Clone/Restore
Suzuki Bosch ME17.9.64 TC1724N Bench: Read/Write/Checksum Internal Flash, Read/Write/Checksum Internal EEPROM, Full Read/Full Write Clone/Restore
Suzuki Bosch ME17.9.64 TC1724N Boot: Read/Write/Checksum Internal Flash, Read/Write/Checksum Internal EEPROM, Full Read/Full Write Clone/Restore
Suzuki Marelli 6JO MPC555 BDM: Read/Write/Checksum Internal Flash, Read/Write External EEPROM 95320, Full Read/Full Write Clone/Restore
UAZ Bosch ME17.9.71 TC1724 Bench: Read/Write/Checksum Internal Flash, Read/Write/Checksum Internal EEPROM, Full Read/Full Write Clone/Restore
UAZ Bosch ME17.9.71 TC1724 Boot: Read/Write/Checksum Internal Flash, Read/Write/Checksum Internal EEPROM, Full Read/Full Write Clone/Restore
Vauxhall Marelli 6JO MPC555 BDM: Read/Write/Checksum Internal Flash, Read/Write External EEPROM 95320, Full Read/Full Write Clone/Restore
Volkswagen (VW) Bosch DQ380 OBD: Virtual Read/Write/Checksum Maps
Volkswagen (VW) Bosch DQ381 OBD: Virtual Read/Write/Checksum Maps
Volkswagen (VW) Bosch DQ500 OBD: Virtual Read/Write/Checksum Maps
Volkswagen (VW) Continental DQ500 OBD: Virtual Read/Write/Checksum Maps
Volkswagen (VW) Continental DQ500-MQB OBD: Virtual Read/Write/Checksum Maps
Volkswagen (VW) Continental Simos 11.1 OBD: Read/Write/Checksum Maps
Volkswagen (VW) Temic DL382 OBD: Virtual Read/Write/Checksum Maps
WEY Bosch MED17.8.10 TC1728 Boot: Read/Write/Checksum Internal Flash, Read/Write/Checksum Internal EEPROM, Full Read/Full Write Clone/Restore
Bugfixes:
BMW Bosch EDC16C1 BDM: fixed crc error
VAG Bosch EDC16CP34 BDM: added support for hw version 4.5