Magic Motorsport news update: Flex 5.9.0.0
11 January 2021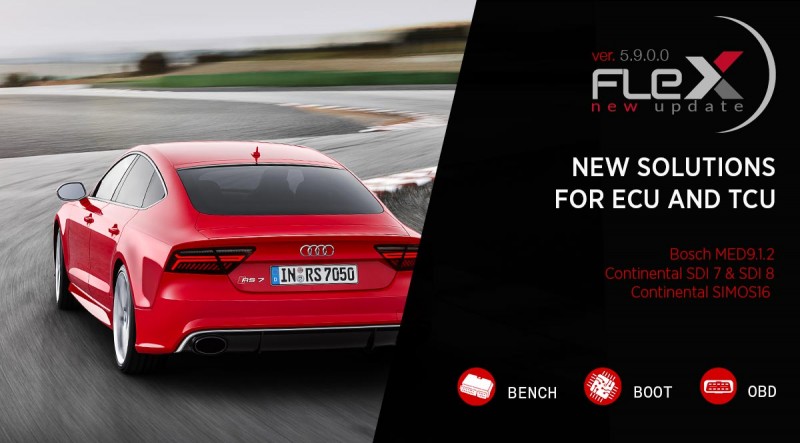 OBD, Bootloader and BENCH solutions for ECU and TCU
FLEX version 5.9.0.0 is ready
Magicmotorsport releases new solutions for OBD programming of Bosch MED9.1.2 engine control units installed on Audi (R8 4.2 V8) and Lamborghini (Gallardo 5.2) cars. From today you can tune these cars directly from OBD socket, unlocking the ECU by OBD: perform the virtual reading, apply the changes and write the maps in just 11 minutes.
With version 5.9.0.0, FLEX is also able to read and write the Secondary CPU (if equipped) on all GETRAG 7DCT, BOSCH 9G-Tronic and ZF 8HP mechatronics. Thanks to this function it will no longer be necessary to re-align the mechatronics after a repair intervention. In summary, FLEX independently saves the content within the unit's FullBackup and rewrites it without user intervention.
New BOOT and Bench solutions have been released with the latest FLEX update.
[ IMPORTANT! ] After this version, you will need to update your FLEX to the latest Software version 5.9.0.0, available HERE (Link). SW versions prior to 5.9.0.0 will no longer allow the use of the BENCH 4090000 protocol. If you have an older version of the software, FLEX will show the following message during the "Connect" option: "Internal server error. Contact technical support. Failed to connect."
New protocols added:
AUDI BOSCH MED9.1.2 OBD: Read/Write/Checksum Maps
AUDI SIMOS 16.1 BOOT: Read/Write/Checksum Internal Flash ; Read/Write IntEeprom ;Full Backup
BUICK BOSCH ME9.6.1 GM BENCH: Read/Write/Checksum Internal Flash ; Read/Write/Checksum External Flash ; Read/Write External Eprom ; Full Backup
CADILLAC BOSCH ME9.6.1 GM BENCH: Read/Write/Checksum Internal Flash ; Read/Write/Checksum External Flash ; Read/Write External Eprom ; Full Backup
FIAT BOSCH MD1CS069 BENCH: Read/Write/Checksum Internal Flash ; Read/Write/Internal Eeprom ; Full Backup
GMC BOSCH ME9.6.1 GM BENCH: Read/Write/Checksum Internal Flash ; Read/Write/Checksum External Flash ; Read/Write External Eprom ; Full Backup
HYUNDAI KEFICO CPGDSH1.26.1 BOOT: Read/Write/Checksum/Internal Flash ; Read/Write IntEeprom ; Full Backup
KIA KEFICO CPGDSH1.26.1 BOOT: Read/Write/Internal Flash ; Read/Write IntEeprom ; Full Backup
LAMBORGHINI BOSCH MED9.1.2 OBD: Read/Write/Checksum Maps
NISSAN BOSCH EDC16C41 BENCH: Read/Write/Checksum Internal Flash ; Read/Write/Checksum External Flash ; Read/Write External Eprom ; Full Backup
NISSAN BOSCH EDC17C45 BOOT: Read/Write/Checksum Internal Flash ; Read/Write/Internal Eeprom ; Full Backup
OPEL BOSCH ME9.6.1 GM BENCH: Read/Write/Checksum Internal Flash ; Read/Write/Checksum External FLash ; Read/Write External Eprom ; Full Backup
PORSCHE Continental SDI 7 BOOT: Read/Write Checksum Internal Flash ; Read/Write External Eeprom ; Full Backup
PORSCHE Continental SDI 8 BOOT: Read/Write Checksum Internal Flash ; Read/Write External Eeprom ; Full Backup
SAAB BOSCH ME9.6.1 GM BENCH: Read/Write/Checksum Internal Flash ; Read/Write/Checksum External FLash ; Read/Write External Eprom ; Full Backup
VINFAST BOSCH MG1CS088 BENCH: Read/Write Checksum Internal Flash ; Read/Write Internal Eeprom ; Full Backup
Volkswagen (VW) BOSCH Simos 10.14A BOOT: Read/Write/Checksum Internal Flash ; Read/Write IntEeprom ; Full Backup
Volkswagen (VW) SIMOS 16.1 BOOT: Read/Write/Checksum Internal Flash ; Read/Write IntEeprom ; Full Backup
Bug Fixes:
Fixed issue with writing of external flash in BOSCH ME9.0 FORD & VOLVO
Fixed no action error with 8GMF and TRW EMS2 protocol.
VOLVO ME7.0 fixed writing issue in BENCH mode.
Fixed BDM Internal Flash reading on different MCU types ( MPC55x )
Software improvements:
Added support for BOSCH 9G-Tronic; ZF 8HP and GETRAG 7DCT SecondaryCPU ( The adaptation after clone in not needed anymore with any TCUs versions )
Improved OBD writing on FORD BOSCH MEDG17.0
Improved autodetection for Marelli Service Mode