Magic Motorsport news update: Flex 5.20.0.0
25 August 2021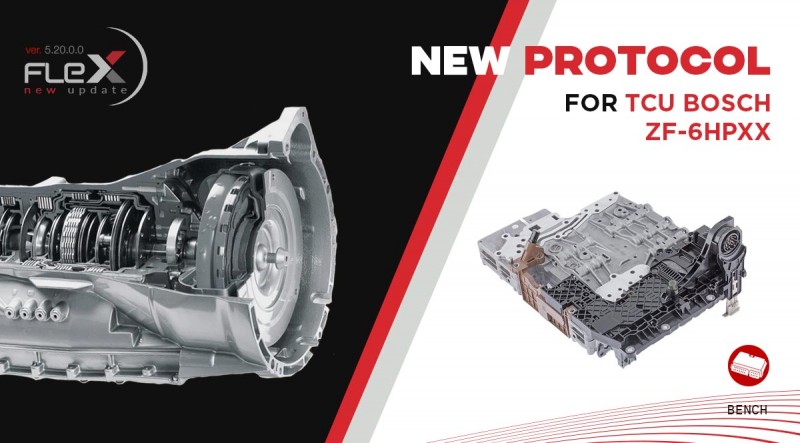 Bench Solutions for TCU BOSCH ZF-6HPxx
FLEX version 5.20.0.0 released

Released new Flex software for Bench programming/tuning of BOSCH ZF-6HPxx automatic transmission, this is installed on brands like BMW, FORD, LAND ROVER, JAGUAR, just to mention some of them.
With this Flex update (5.20.0.0), it is now possible to service ZF BOSCH 6HP26, 6HP19, 6HP28, 6HP32, 6HP21, and to read & write content of single electronics modules.

Supported vehicles:
BMW (E90)BMW (F30)
Jaguar XF (X250, J05, CC9)
Land Rover (LR4, T5, LA)
Rolls-Royce Phantom VII
Maserati Quattroporte Sport GT S 4.2
Ford Territory Turbo

and many others …
Chiptuning it's now possible on bench using FlexBox.

The new protocol BOSCH ZF-6HPxx is available for the following software packs:
FLS0.1 – SW Flex ECU (cars, vans, bikes) OBD + Bench
FLS0.2 – Package Flex TCU OBD/Bench (car, bike, van)
FLS0.5 – Package Flex FULL

Time to Read: ~ 50 seconds | Time to Write: ~ 20 seconds

New Protocols Added:

(BENCH)
TCU – ALPINA BOSCH ZF 6HP – Read/Write/Checksum ExtFlash M58BW016-B [2048KB]
TCU – ASTON MARTIN BOSCH ZF 6HP – Read/Write/Checksum ExtFlash M58BW016-B [2048KB]
TCU – BENTLEY BOSCH ZF 6HP – Read/Write/Checksum ExtFlash M58BW016-B [2048KB]
TCU – BMW (Fxx & Exx) BOSCH ZF 6HP – Read/Write/Checksum ExtFlash M58BW016-B [2048KB]
TCU – FORD BOSCH ZF 6HP – Read/Write/Checksum ExtFlash M58BW016-B [2048KB]
TCU – HYUNDAI BOSCH ZF 6HP – Read/Write/Checksum ExtFlash M58BW016-B [2048KB]
TCU – JAGUAR BOSCH ZF 6HP – Read/Write/Checksum ExtFlash M58BW016-B [2048KB]
TCU – KIA BOSCH ZF 6HP – Read/Write/Checksum ExtFlash M58BW016-B [2048KB]
TCU – LAND ROVER BOSCH ZF 6HP– Read/Write/Checksum ExtFlash M58BW016-B [2048KB]
TCU – LINCOLN BOSCH ZF 6HP – Read/Write/Checksum ExtFlash M58BW016-B [2048KB]
TCU – ROLLS ROYCE BOSCH ZF 6HP – Read/Write/Checksum ExtFlash M58BW016-B [2048KB]
TCU – DAVID BROWN BOSCH ZF 6HP – Read/Write/Checksum ExtFlash M58BW016-B [2048KB]
TCU – WIESMANN BOSCH ZF 6HP – Read/Write/Checksum ExtFlash M58BW016-B [2048KB]
TCU – MASERATI BOSCH ZF 6HP – Read/Write/Checksum ExtFlash M58BW016-B [2048KB]
TCU – DAIMLER BOSCH ZF 6HP – Read/Write/Checksum ExtFlash M58BW016-B [2048KB]
TCU – MORGAN BOSCH ZF 6HP – Read/Write/Checksum ExtFlash M58BW016-B [2048KB]
Bugfix:
Fixed Virtual Reads for DQ250Cxx
Fixed Connect error in BDM with SIEMENS SID206
Software improvements:
Added New CRC for Hyundai Denso SH72543
Added New Type of Ranger Rover Bosch MEDC17.9 for OBD protocol
Added OBD protocol for Toyota Denso 276122-064
Added New CRC for Mitsubishi Denso SH72543