Alientech tool update: Powergate 3 release 1.77
2 December 2019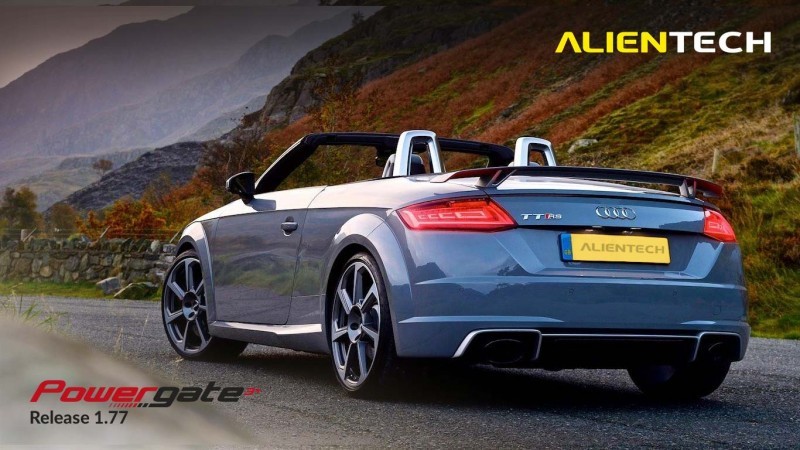 New ECU Bosch, Continental, Denso and Hitachi now supported by Powergate3+!
New Audi, BMW, Hyundai, Infiniti, Kia, Mazda and Nissan petrol model, are added to the vehicles list supported by Powergate3+, Alientech Personal OBD Programmer.
Expand your range of business opportunities with Powergate3+
Set and customize the Powergate3+, don't miss the opportunity to create a huge number and a new way of business! These vehicles are also supported by KESSv2 and most also by K-TAG, offer a complete service to your customers. Audi TT, BMW 5 Series, Hyundai Sonata, Infiniti EX, KIA Sportage, Mazda MX-5, Nissan Juke, are just some of the vehicles that join the wide range of those supported.
New vehicles supported by Powergate3+
Audi RS3 Sportback 8V 2.5 TFSI quattro 7AT
Bosch MED17.1.62 [RD, WR]
Audi TT RS Coupe FV 2.5 TFSI quattro 7AT
Bosch MED17.1.62 [RD, WR]
Audi TT RS Roadster FV 2.5 TFSI quattro 7AT
Bosch MED17.1.62 [RD, WR]
BMW 5-Series G30 M550i xDrive 8AT
Bosch MG1CS003 (DME_880) [RD, WR]
BMW 5-Series G31 M550i xDrive 8AT
Bosch MG1CS003 (DME_880) [RD, WR]
BMW 7-Series G11 750i 8AT
Bosch MG1CS003 (DME_880) [RD, WR]
BMW 7-Series G11 750i xDrive 8AT
Bosch MG1CS003 (DME_880) [RD, WR]
BMW 7-Series G12 750Li 8AT
Bosch MG1CS003 (DME_880) [RD, WR]
BMW 7-Series G12 750Li xDrive 8AT
Bosch MG1CS003 (DME_880) [RD, WR]
BMW 7-Series G12 M760Li xDrive 8AT
Bosch MG1CS003 (DME_8C0) [RD, WR]
Hyundai Sonata LF 2.0 16v GDI Turbo
Continental SIM2K-240 [RD, WR]
Hyundai Sonata LF 2.4 16v GDI
Continental SIM2K-240 [RD, WR]
Infiniti EX J50 3.5 V6 5AT AWD
Hitachi MEC100-xxx (CAN) [RD, WR]
Infiniti EX J50 3.5 V6 5AT RWD
Hitachi MEC100-xxx (CAN) [RD, WR]
Infiniti EX J50 3.5 V6 7AT AWD
Hitachi MEC100-xxx (CAN) [RD, WR]
Infiniti EX J50 3.5 V6 7AT RWD
Hitachi MEC100-xxx (CAN) [RD, WR]
Infiniti EX J50 3.5 V6 7AT RWD
Hitachi MEC107 (CAN) [RD, WR]
Infiniti EX J50 3.7 V6 7AT AWD
Hitachi MEC107 (CAN) [RD, WR]
Infiniti EX J50 3.7 V6 7AT RWD
Hitachi MEC107 (CAN) [RD, WR]
Infiniti FX S51 3.5 V6 5AT AWD
Hitachi MEC100-xxx (CAN) [RD, WR]
Infiniti FX S51 3.5 V6 5AT RWD
Hitachi MEC100-xxx (CAN) [RD, WR]
Infiniti FX S51 3.5 V6 5AT RWD
Hitachi MEC107 (CAN) [RD, WR]
Infiniti FX S51 3.7 V6 7AT RWD
Hitachi MEC107 (CAN) [RD, WR]
Infiniti FX S51 3.7 V6 7AT RWD
Hitachi MEC108 (CAN) [RD, WR]
Infiniti FX S51 3.7 V6 GT 7AT AWD
Hitachi MEC107 (CAN) [RD, WR]
Infiniti FX S51 3.7 V6 GT 7AT AWD
Hitachi MEC108 (CAN) [RD, WR]
Infiniti FX S51 3.7 V6 S 7AT AWD
Hitachi MEC107 (CAN) [RD, WR]
Infiniti FX S51 3.7 V6 S 7AT AWD
Hitachi MEC108 (CAN) [RD, WR]
Infiniti G25 V36 2.5 V6 7AT AWD
Hitachi MEC100-xxx (CAN) [RD, WR]
Infiniti G25 V36 2.5 V6 7AT RWD
Hitachi MEC100-xxx (CAN) [RD, WR]
Infiniti G35 V36 3.5 V6 5AT AWD
Hitachi MEC100-xxx (CAN) [RD, WR]
Infiniti G35 V36 3.5 V6 5AT RWD
Hitachi MEC100-xxx (CAN) [RD, WR]
Infiniti G35 V36 3.5 V6 6MT
Hitachi MEC100-xxx (CAN) [RD, WR]
Infiniti G37 V36 3.7 V6 6MT
Hitachi MEC107 (CAN) [RD, WR]
Infiniti G37 V36 3.7 V6 7AT
Hitachi MEC107 (CAN) [RD, WR]
Infiniti M35h Y51 3.5 V6 7AT
Hitachi MEC107 (CAN) [RD, WR]
Infiniti M35h Y51 3.5 V6 GT 7AT
Hitachi MEC107 (CAN) [RD, WR]
Infiniti M37 Y51 3.7 V6 7AT
Hitachi MEC107 (CAN) [RD, WR]
Infiniti M37 Y51 3.7 V6 7AT AWD
Hitachi MEC107 (CAN) [RD, WR]
Infiniti M37 Y51 3.7 V6 S 7AT
Hitachi MEC107 (CAN) [RD, WR]
Infiniti M56 Y51 5.6 V8 7AT
Hitachi DEA030-2xx (CAN) [RD, WR]
Infiniti M56 Y51 5.6 V8 7AT AWD
Hitachi DEA030-2xx (CAN) [RD, WR]
Infiniti Q50 V37 3.5 V6 7AT AWD
Hitachi MEC107 (CAN) [RD, WR]
Infiniti Q50 V37 3.5 V6 7AT RWD
Hitachi MEC107 (CAN) [RD, WR]
Infiniti Q70 Y51 3.5 V6 7AT
Hitachi MEC107 (CAN) [RD, WR]
Infiniti Q70 Y51 5.6 V8 7AT AWD
Hitachi DEA030-2xx (CAN) [RD, WR]
Infiniti Q70 Y51 5.6 V8 7AT RWD
Hitachi DEA030-2xx (CAN) [RD, WR]
Infiniti QX56 Z62 5.6 V8 2WD
Hitachi DEA030-2xx (CAN) [RD, WR]
Infiniti QX56 Z62 5.6 V8 4WD
Hitachi DEA030-2xx (CAN) [RD, WR]
Infiniti QX80 Y62 5.6 V8 7AT
Hitachi DEA030-2xx (CAN) [RD, WR]
Infiniti QX80 Y62 5.6 V8 7AT AWD
Hitachi DEA030-2xx (CAN) [RD, WR]
Kia Optima JF 2.0 16v GDI Turbo
Continental SIM2K-240 [RD, WR]
Kia Sorento 2.4 16v 6MT
Continental SIM2K-240 [RD, WR]
Kia Sportage QL 2.0 16v GDI Turbo
Continental SIM2K-240 [RD, WR]
Mazda MX-5 ND2 2.0 SkyActiv-G 6AT
Denso 27522 [RD, WR]
Mazda MX-5 ND2 2.0 SkyActiv-G 6MT
Denso 27522 [RD, WR]
Nissan 350Z Z33 3.5 24v V6
Hitachi MEC100-xxx (CAN) [RD, WR]
Nissan 370Z Z34 3.7 24 V6
Hitachi MEC107 (CAN) [RD, WR]
Nissan 370Z Z34 3.7 24 V6 Nismo
Hitachi MEC107 (CAN) [RD, WR]
Nissan Fairlady Z Z33 3.5 24v V6
Hitachi MEC100-xxx (CAN) [RD, WR]
Nissan Fairlady Z Z34 3.7 24 V6
Hitachi MEC107 (CAN) [RD, WR]
Nissan Fairlady Z Z34 3.7 24 V6 Nismo
Hitachi MEC107 (CAN) [RD, WR]
Nissan GT-R 3.8 V6 BiTurbo
Hitachi HPGNV (CAN) [RD, WR]
Nissan GT-R 3.8 V6 BiTurbo
Hitachi HW 3 (CAN) [RD, WR]
Nissan Juke F15 1.6 16v
Hitachi MEC940-xxx (CAN) [RD, WR]
Nissan Juke F15 1.6 DIG-T
Hitachi BED301-xxx (CAN) [RD, WR]
Nissan Juke F15 1.6 DIG-T Nismo
Hitachi BED301-xxx (CAN) [RD, WR]
Nissan Juke F15 1.6i Turbo
Hitachi BED301-xxx (CAN) [RD, WR]
Nissan Murano Z50 3.5 V6
Hitachi MEC100 [RD, WR]
Nissan Pathfinder R51 5.6 V8
Hitachi MEC78-xxx (CAN) [RD, WR]
Nissan Patrol Y62 5.6 V8
Hitachi DEA030-2xx (CAN) [RD, WR]
Nissan Patrol Y62 5.6 V8
Hitachi MEC78-xxx (CAN) [RD, WR]
Nissan Patrol Y62 5.6 V8 Nismo
Hitachi DEA030-2xx (CAN) [RD, WR]
Nissan Sentra B16 2.0 16v
Hitachi MEC90-xxx (CAN) [RD, WR]
Nissan Teana J32 2.5 V6
Hitachi A56-C1x (CAN) [RD, WR]
Nissan Tiida C12 1.6i Turbo
Hitachi BED301-xxx (CAN) [RD, WR]
Nissan X-Trail T32 1.6 DIG-T
Hitachi BED301-xxx (CAN) [RD, WR]