Alientech tool update: Powergate 3 release 1.74.2
19 September 2019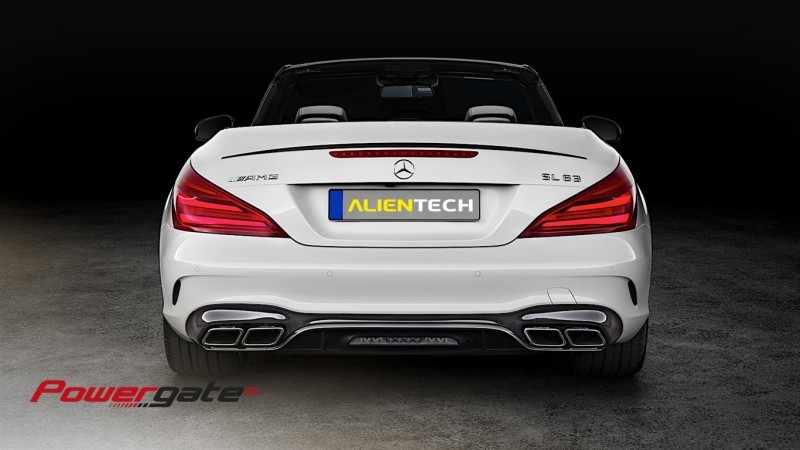 Discover the wide range of Mercedes vehicles with ECU Bosch MED17.7.1, MED17.7.2, MED17.7.3, MED17.7.3.1, MED17.7.5, with microcontrollers TC1793 and TC1797, that you can remap with Powergate3+, Alientech's Personal OBD programmer.
Alientech's personal OBD programmer
Powergate3+ is the portable and touchscreen Personal OBD Programmer which will allow your customers to program the ECUs of their vehicles in complete autonomy, using your preloaded modified maps. Thanks to Powergate3+, you will be able to remap the ECU of Mercedes SL-63 AMG, GLK-Class, G-Class and many other vehicles.
Powergate 3+ Decoder
This the tool that allows you to set and associate with your customer code all the Powergate3+ User you wish to sell to your customers. In order to protect your work, all the Modified Files you upload on the devices will be encoded.
Powergate3+ User
This is the tool you will send to your customers. It contains the Original file as well as your modified maps (up to 5 different stages for each original file). Each Powergate3+ User it's associated with your customer's vehicle. In case your customer should change the vehicle, Powergate3+ will be associated with the new one.
Software Alientech Manager
This is free obd2 tuning software created for the tuner. You'll be able to consult the vehicles list, customize in graphics and upload your maps on the Powergate3+ User, connect to Alientech Data Bank and get more information about all the Powergate3+ User devices associated to you. Alientech Manager can be installed on any PC.
Software user
This is free software that will be used by the final customer to download the Original File and upload your Modified Maps.
New Mercedes vehicles supported by Powergate3+
A45 AMG [Bosch MED17.7.2 TC1797]
A-Class [Bosch MED17.7.2 TC1797]
B-Class [Bosch MED17.7.2 TC1797]
C63 AMG [Bosch MED17.7.5 TC1793]
C-Class [Bosch MED17.7.1 TC1797]
C-Class [Bosch MED17.7.2 TC1797]
C-Class [Bosch MED17.7.3.1 TC1797]
C-Class Cabriolet [Bosch MED17.7.2 TC1797]
C-Class Cabriolet [Bosch MED17.7.3.1 TC1797]
C-Class Coupe [Bosch MED17.7.1 TC1797]
C-Class Coupe [Bosch MED17.7.2 TC1797]
C-Class Coupe [Bosch MED17.7.3.1 TC1797]
C-Class T-Model [Bosch MED17.7.1 TC1797]
C-Class T-Model [Bosch MED17.7.2 TC1797]
C-Class T-Model [Bosch MED17.7.3 TC1797]
C-Class T-Model [Bosch MED17.7.3.1 TC1797]
CL63 AMG [Bosch MED17.7.1 TC1797]
CLA45 AMG [Bosch MED17.7.2 TC1797]
CLA-Class [Bosch MED17.7.2 TC1797]
CLA-Class Shooting Brake [Bosch MED17.7.2 TC1797]
CL-Class [Bosch MED17.7.1 TC1797]
CLS63 AMG [Bosch MED17.7.1 TC1797]
CLS63 AMG [Bosch MED17.7.3 TC1797]
CLS-Class [Bosch MED17.7.1 TC1797]
CLS-Class [Bosch MED17.7.3 TC1797]
CLS-Class [Bosch MED17.7.3.1 TC1797]
CLS-Class Shooting Brake [Bosch MED17.7.1 TC1797]
CLS-Class Shooting Brake [Bosch MED17.7.3 TC1797]
CLS-Class Shooting Brake [Bosch MED17.7.3.1 TC1797]
E43 AMG [Bosch MED17.7.3 TC1797]
E63 AMG [Bosch MED17.7.1 TC1797]
E63 AMG [Bosch MED17.7.3 TC1797]
E-Class [Bosch MED17.7.1 TC1797]
E-Class [Bosch MED17.7.2 TC1797]
E-Class [Bosch MED17.7.3 TC1797]
E-Class [Bosch MED17.7.3.1 TC1797]
E-Class Cabriolet [Bosch MED17.7.1 TC1797]
E-Class Cabriolet [Bosch MED17.7.2 TC1797]
E-Class Cabriolet [Bosch MED17.7.3 TC1797]
E-Class Cabriolet [Bosch MED17.7.3.1 TC1797]
E-Class Coupe [Bosch MED17.7.1 TC1797]
E-Class Coupe [Bosch MED17.7.2 TC1797]
E-Class Coupe [Bosch MED17.7.3 TC1797]
E-Class Coupe [Bosch MED17.7.3.1 TC1797]
E-Class T-Model [Bosch MED17.7.1 TC1797]
E-Class T-Model [Bosch MED17.7.2 TC1797]
E-Class T-Model [Bosch MED17.7.3 TC1797]
E-Class T-Model [Bosch MED17.7.3.1 TC1797]
G AMG 6x6 [Bosch MED17.7.3 TC1797]
G63 AMG [Bosch MED17.7.3 TC1797]
G-Class [Bosch MED17.7.5 TC1793]
G-Class 4x4 Squared [Bosch MED17.7.5 TC1793]
GL63 AMG [Bosch MED17.7.3 TC1797]
GLA45 AMG [Bosch MED17.7.2 TC1797]
GLA-Class [Bosch MED17.7.2 TC1797]
GLC43 AMG [Bosch MED17.7.3 TC1797]
GLC43 AMG [Bosch MED17.7.3.1 TC1797]
GLC-Class [Bosch MED17.7.2 TC1797]
GLC-Class Coupe [Bosch MED17.7.2 TC1797]
GL-Class [Bosch MED17.7.3 TC1797]
GL-Class [Bosch MED17.7.3.1 TC1797]
GLE43 AMG [Bosch MED17.7.3 TC1797]
GLE63 AMG [Bosch MED17.7.3 TC1797]
GLE-Class [Bosch MED17.7.3 TC1797]
GLE-Class [Bosch MED17.7.3.1 TC1797]
GLE-Class Coupe [Bosch MED17.7.3 TC1797]
GLE-Class Coupe [Bosch MED17.7.3.1 TC1797]
GLK-Class [Bosch MED17.7.1 TC1797]
GLK-Class [Bosch MED17.7.2 TC1797]
GLS63 AMG [Bosch MED17.7.3 TC1797]
GLS-Class [Bosch MED17.7.3 TC1797]
GLS-Class [Bosch MED17.7.3.1 TC1797]
GT AMG [Bosch MED17.7.5 TC1793]
ML63 AMG [Bosch MED17.7.3 TC1797]
ML-Class [Bosch MED17.7.3 TC1797]
R-Class [Bosch MED17.7.1 TC1797]
S63 AMG [Bosch MED17.7.1 TC1797]
S63 AMG [Bosch MED17.7.3 TC1797]
S-Class [Bosch MED17.7.1 TC1797]
S-Class [Bosch MED17.7.3 TC1797]
S-Class [Bosch MED17.7.3.1 TC1797]
S-Class Cabriolet [Bosch MED17.7.3 TC1797]
S-Class Coupe [Bosch MED17.7.3 TC1797]
S-Class Maybach [Bosch MED17.7.3 TC1797]
S-Class Maybach [Bosch MED17.7.3.1 TC1797]
SL63 AMG [Bosch MED17.7.3 TC1797]
SLC43 AMG [Bosch MED17.7.3.1 TC1797]
SLC-Class [Bosch MED17.7.2 TC1797]
SL-Class [Bosch MED17.7.3 TC1797]
SL-Class [Bosch MED17.7.3.1 TC1797]
SLK-Class [Bosch MED17.7.1 TC1797]