Alientech tool update: New supported vehicles
4 December 2018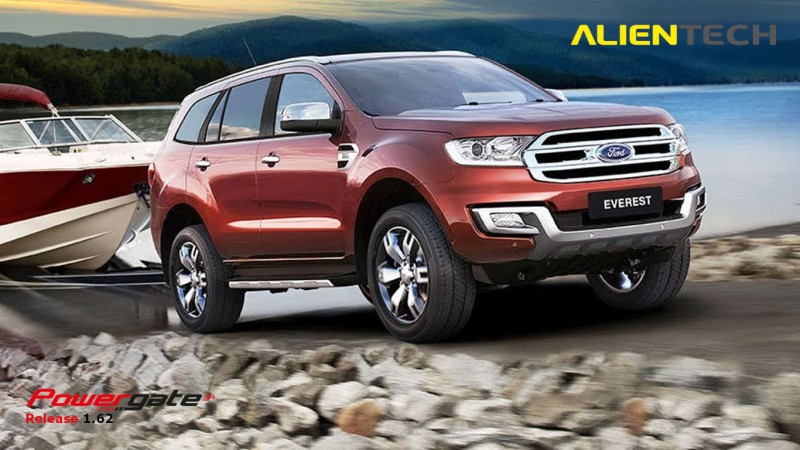 28 Nov 2018 POWERGATE3+: CONTINENTAL SID209 NOW SUPPORTED IN OBD!
Powergate3+ is the only tool you'll need to increase performance and reduce fuel consumption of your vehicle. Thanks to the latest Powergate3+ update, you'll be able to safely and easily reprogram your car, using the files that your dealer preloaded on your device.
Many new vehicles are now available on Powergate3+ including the most recent Ford Endeavour, Everest, Ranger T6, Tourneo and Transit equipped with Continental SID209!
New vehicles supported by Powergate3+:
Ford Endeavour 2.2 TDCi 6AT 118 kW (2015 – )
Continental SID209
Ford Endeavour 3.2 TDCi 6AT 147 kW (2015 – )
Continental SID209
Ford Everest 2.2 TDCi 6MT 118 kW (2015 – )
Continental SID209
Ford Everest 3.2 TDCi 6AT 147 kW (2015 – )
Continental SID209
Ford Ranger T6 2.2 TDCi 6AT 88 kW (2015 – )
Continental SID209
Ford Ranger T6 2.2 TDCi 6AT 92 kW (2015 – )
Continental SID209
Ford Ranger T6 2.2 TDCi 6AT 118 kW (2015 – )
Continental SID209
Ford Ranger T6 2.2 TDCi 6AT 110 kW (2015 – )
Continental SID209
Ford Ranger T6 2.2 TDCi 6MT 92 kW (2015 – )
Continental SID209
Ford Ranger T6 2.2 TDCi 6MT 88 kW (2015 – )
Continental SID209
Ford Ranger T6 2.2 TDCi 6MT 118 kW (2015 – )
Continental SID209
Ford Ranger T6 2.2 TDCi 6MT 110 kW (2015 – )
Continental SID209
Ford Ranger T6 3.2 TDCi 6AT 147 kW (2015 – )
Continental SID209
Ford Ranger T6 3.2 TDCi 6MT 147 kW (2015 – )
Continental SID209
Ford Tourneo Custom 2.2 TDCi 6MT 114 kW (2015 – )
Continental SID209
Ford Tourneo Custom 2.2 TDCi 6MT 92 kW (2015 – )
Continental SID209
Ford Tourneo Custom 2.2 TDCi 6MT 74 kW (2015 – )
Continental SID209
Ford Transit 2.2 TDCi 103 kW (2015 – )
Continental SID209
Ford Transit 2.2 TDCi 6MT 114 kW (2015 – )
Continental SID209
Ford Transit 2.2 TDCi 6MT 92 kW (2015 – )
Continental SID209
Ford Transit 2.2 TDCi 6MT 74 kW (2015 – )
Continental SID209
Ford Transit Custom 2.2 TDCi 6MT 114 kW (2015 – )
Continental SID209
Ford Transit Custom 2.2 TDCi 6MT 92 kW (2015 – )
Continental SID209
Ford Transit Custom 2.2 TDCi 6MT 74 kW (2015 – )
Continental SID209