Alientech tool update: K-Suite Release 3.80
18 March 2020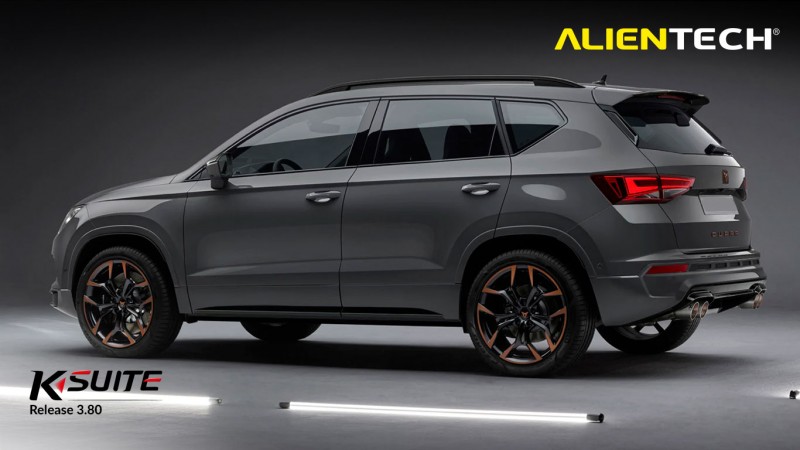 ECU Valeo V46.11, Continental Simos 18.10, Bosch MG1: now supported by K-TAG!
The number of Bosch, Valeo and Continental ECU's is becoming more and more extensive! From today the new models of the group VAG and PSA will be supported, like Audi, Bentley, Citroen, Cupra, Lamborghini, Opel, Peugeot, Porsche, Seat, Skoda and Volkswagen.

Through the activation JTAG Renesas, you can easily work on the engine control unit Valeo V46.11 with SH72544 microcontroller. It will be possible to read and write the entire content of the ECU, allowing all the necessary operations to the repairing, including the cloning. There are so many vehicles on which you can use this method, like Peugeot 2008, 108, 301, but also Citroen DS3, C3, C4 Cactus and many others.
But to become more and more competitive you can even work by K-TAG SM (Service Mode), on some of the latest models of Porsche, Bentley and Lamborghini, like Porsche Panamera, Bentley Continental, Lamborghini Urus, with Bosch MG1CS008 ECU with TC298 microcontroller. You will also be able to read the Continental ECU Simons 18.10 with TC1791 microcontroller through the standard connection Bootloader Tricore.

More news about the ECU SIMONS 18.10? Stay tuned because we are working in order to do all this also in OBD!
New ECUs supports by K-TAG
Audi S3 2.0 TFSI Quattro
Continental Simos 18.10 [RD, WR]
Audi S3 2.0 TFSI Quattro S-Tronic
Continental Simos 18.10 [RD, WR]
Cupra Ateca KH7 2.0 TFSI 7AT 4Drive
Continental Simos 18.10 [RD, WR]
Porsche Macan 95B 2.0 16v Turbo 7AT
Continental Simos 18.10 [RD, WR]
Seat Ateca KH7 2.0 TFSI 7AT 4Drive
Continental Simos 18.10 [RD, WR]
Seat Leon 5F1 2.0 TFSI Cupra 7AT
Continental Simos 18.10 [RD, WR]
Volkswagen Arteon 3H7 2.0 TSI 7AT
Continental Simos 18.10 [RD, WR]
Volkswagen Golf 5G1 2.0 TSI GTI 6MT
Continental Simos 18.10 [RD, WR]
Volkswagen Golf 5G1 2.0 TSI GTI 7AT
Continental Simos 18.10 [RD, WR]
Bentley Bentayga 4.0 V8 Turbo 8AT
Bosch MG1CS008 [RD, WR]
Bentley Continental Gt 4.0 V8 Turbo 8AT
Bosch MG1CS008 [RD, WR]
Lamborghini Urus 4.0 V8 Turbo 8AT
Bosch MG1CS008 [RD, WR]
Porsche Cayenne PO536 4.0 V8 Turbo 8AT
Bosch MG1CS008 [RD, WR]
Porsche Panamera GTS 971 4.0 V8 Turbo 8AT
Bosch MG1CS008 [RD, WR]
Porsche Panamera Turbo 971 4.0 V8 Turbo 8AT
Bosch MG1CS008 [RD, WR]
Porsche Panamera Turbo S 971 4.0 V8 Turbo E-Hybrid 8AT
Bosch MG1CS008 [RD, WR]

Citroen C1 1.2 PureTech 82
Valeo V46.11 [RD, WR, Clone]
Citroen C3 1.0 VTi 68
Valeo V46.11 [RD, WR, Clone]
Citroen C3 1.2 PureTech 68
Valeo V46.11 [RD, WR, Clone]
Citroen C3 1.2 PureTech 82
Valeo V46.11 [RD, WR, Clone]
Citroen C3 Aircross 1.2 PureTech 82
Valeo V46.11 [RD, WR, Clone]
Citroen C4 Cactus 1.2 PureTech 75
Valeo V46.11 [RD, WR, Clone]
Citroen C4 Cactus 1.2 PureTech 82
Valeo V46.11 [RD, WR, Clone]
Citroen C-Elysee 1.2 PureTech 82
Valeo V46.11 [RD, WR, Clone]
Citroen DS3 A55 1.2 PureTech 82
Valeo V46.11 [RD, WR, Clone]
Citroen DS3 A56 1.2 PureTech 82
Valeo V46.11 [RD, WR, Clone]
Opel Corsa F 1.2 75 5MT
Valeo V46.11 [RD, WR, Clone]
Peugeot 108 B3 1.2 PureTech 82
Valeo V46.11 [RD, WR, Clone]
Peugeot 2008 A94 1.2 PureTech 82
Valeo V46.11 [RD, WR, Clone]
Peugeot 208 1.0 VTi 68
Valeo V46.11 [RD, WR, Clone]
Peugeot 208 1.2 PureTech 75 5MT
Valeo V46.11 [RD, WR, Clone]
Peugeot 208 1.2 PureTech 82
Valeo V46.11 [RD, WR, Clone]
Peugeot 301 1.2 PureTech 68
Valeo V46.11 [RD, WR, Clone]
Peugeot 301 1.2 PureTech 82
Valeo V46.11 [RD, WR, Clone]
Peugeot 308 T9 1.2 PureTech 82
Valeo V46.11 [RD, WR, Clone]