Alientech tool update: K-Suite Release 3.78
4 March 2020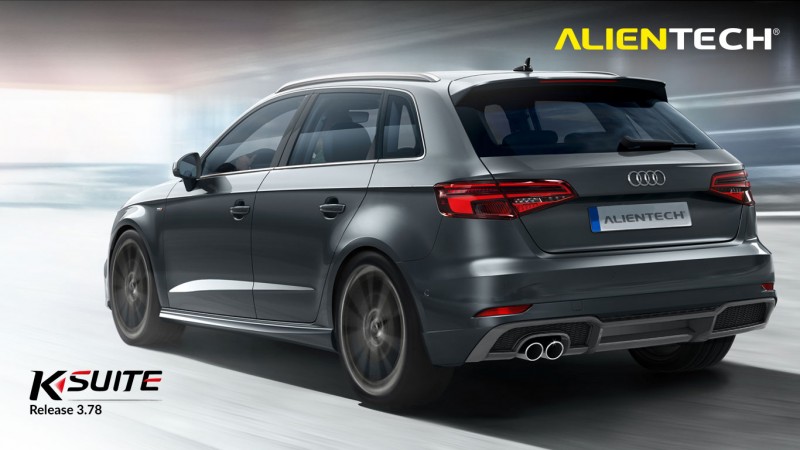 Service Mode (SM) increasingly rich: Marelli MJ8F3, MJ8DF, Bosch EDC17 and MD1!
After the last update that saw as protagonist the new Service Mode on the ECUs Continental Simos, Alientech's research and development department has been focusing in expanding the number of ECUs Magneti Marelli supported in Service Mode (SM).

Thanks to this latest K-Suite release, it will be possible to read and write on bench the MJ8F3 and MJ8DF ECUs without having to open them, significantly reducing the risks of damage.
But that's not all, in fact additional diesel control units have been added to Service Mode (SM): Bosch EDC17 and MD1.
With K-TAG, the Tricore activation and Service Mode (SM), so at a reasonable cost, and thanks to this new vehicles implementation, you can expand your business possibilities, in fact, not only the latest generation ECUs are supported, but also older ECUs, so that you can cover a large number of supported vehicles.

Become the reference point for chiptuning enthusiasts! Most of these ECUs are also supported by KESSv2 to make you increasingly competitive in this field.
New ECUs supported by K-TAG
Alfa Romeo Mito
Magneti Marelli MJ8DF [RD, WR]
Audi A3
Bosch EDC17CP14 [RD, WR]
Audi A3
Bosch MD1CP004 [RD, WR]
Audi A3 Cabriolet
Bosch MD1CP004 [RD, WR]
Audi A3 Sedan
Bosch MD1CP004 [RD, WR]
Audi A3 Sportback
Bosch EDC17CP14 [RD, WR]
Audi A3 Sportback
Bosch MD1CP004 [RD, WR]
Audi A4
Bosch EDC17CP14 [RD, WR]
Audi A4
Bosch MD1CP004 [RD, WR]
Audi A4 Allroad
Bosch MD1CP004 [RD, WR]
Audi A5
Bosch EDC17CP14 [RD, WR]
Audi A5
Bosch MD1CP004 [RD, WR]
Audi A5 Cabriolet
Bosch EDC17CP14 [RD, WR]
Audi A5 Cabriolet
Bosch MD1CP004 [RD, WR]
Audi A5 Sportback
Bosch EDC17CP14 [RD, WR]
Audi A5 Sportback
Bosch MD1CP004 [RD, WR]
Audi A6
Bosch EDC17CP14 [RD, WR]
Audi A6
Bosch MD1CP004 [RD, WR]
Audi A6 Allroad
Bosch EDC17CP14 [RD, WR]
Audi A7
Bosch MD1CP004 [RD, WR]
Audi A7 Sportback
Bosch MD1CP004 [RD, WR]
Audi Q3
Bosch MD1CP004 [RD, WR]
Audi Q5
Bosch EDC17CP14 [RD, WR]
Audi Q5
Bosch MD1CP004 [RD, WR]
Audi Q7
Bosch MD1CP004 [RD, WR]
Audi Q8
Bosch MD1CP004 [RD, WR]
Audi TT Coupe
Bosch EDC17CP14 [RD, WR]
Audi TT Roadster
Bosch EDC17CP14 [RD, WR]
BMW 2-Series
Bosch MD1CS001 (DDE803S) [RD, WR]
BMW 3-Series
Bosch MD1CP002 (DDE832C) [RD, WR]
BMW 3-Series
Bosch MD1CS001 (DDE803P) [RD, WR]
BMW 5-Series
Bosch MD1CP002 (DDE832C) [RD, WR]
BMW 5-Series
Bosch MD1CS001 (DDE803P) [RD, WR]
BMW 6-Series Gran Turismo
Bosch MD1CP002 (DDE832C) [RD, WR]
BMW 7-Series
Bosch MD1CP002 (DDE832C) [RD, WR]
BMW X1
Bosch MD1CS001 (DDE803S) [RD, WR]
BMW X2
Bosch MD1CS001 (DDE803S) [RD, WR]
BMW X3
Bosch MD1CP002 (DDE832C) [RD, WR]
BMW X4
Bosch MD1CP002 (DDE832C) [RD, WR]
BMW X7
Bosch MD1CP002 (DDE832C) [RD, WR]
Citroen Nemo
Magneti Marelli MJ8DF [RD, WR]
FIAT 500
Magneti Marelli MJ8DF [RD, WR]
FIAT 500C
Magneti Marelli MJ8DF [RD, WR]
FIAT 500L
Magneti Marelli MJ8F3 [RD, WR]
FIAT Doblo
Magneti Marelli MJ8DF [RD, WR]
FIAT Ducato
Magneti Marelli MJ8F3 [RD, WR]
FIAT Fiorino
Magneti Marelli MJ8DF [RD, WR]
FIAT Idea
Magneti Marelli MJ8DF [RD, WR]
FIAT Panda
Magneti Marelli MJ8DF [RD, WR]
FIAT Punto
Magneti Marelli MJ8DF [RD, WR]
FIAT Punto Evo
Magneti Marelli MJ8DF [RD, WR]
FIAT Qubo
Magneti Marelli MJ8DF [RD, WR]
FIAT Strada
Magneti Marelli MJ8DF [RD, WR]
Ford Ka
Magneti Marelli MJ8DF [RD, WR]
Ford Ka
Magneti Marelli MJ8F3 [RD, WR]
Lancia Musa
Magneti Marelli MJ8DF [RD, WR]
Lancia New Ypsilon
Magneti Marelli MJ8DF [RD, WR]
Mini Cooper D
Bosch MD1CS001 (DDE803S) [RD, WR]
Mini Cooper D Cabrio
Bosch MD1CS001 (DDE803S) [RD, WR]
Mini Cooper D Clubman
Bosch MD1CS001 (DDE803S) [RD, WR]
Mini Cooper D Countryman
Bosch MD1CS001 (DDE803S) [RD, WR]
Mini Cooper SD Clubman
Bosch MD1CS001 (DDE803S) [RD, WR]
Mini Cooper SD Countryman
Bosch MD1CS001 (DDE803S) [RD, WR]
Mini One D
Bosch MD1CS001 (DDE803S) [RD, WR]
Mini One D Clubman
Bosch MD1CS001 (DDE803S) [RD, WR]
Mini One D Countryman
Bosch MD1CS001 (DDE803S) [RD, WR]
Peugeot Bipper
Magneti Marelli MJ8DF [RD, WR]
Porsche Cayenne Diesel
Bosch EDC17CP14 [RD, WR]
Seat Altea
Bosch EDC17CP14 [RD, WR]
Seat Altea Freetrack
Bosch EDC17CP14 [RD, WR]
Seat Altea XL
Bosch EDC17CP14 [RD, WR]
Seat Exeo
Bosch EDC17CP14 [RD, WR]
Seat Exeo ST
Bosch EDC17CP14 [RD, WR]
Seat Leon FR
Bosch EDC17CP14 [RD, WR]
Seat Toledo
Bosch EDC17CP14 [RD, WR]
Skoda Octavia Combi RS
Bosch EDC17CP14 [RD, WR]
Skoda Octavia RS
Bosch EDC17CP14 [RD, WR]
Skoda Superb
Bosch EDC17CP14 [RD, WR]
Skoda Superb Combi
Bosch EDC17CP14 [RD, WR]
Skoda Yeti
Bosch EDC17CP14 [RD, WR]
Volkswagen Beetle
Bosch EDC17CP14 [RD, WR]
Volkswagen Bora
Bosch EDC17CP14 [RD, WR]
Volkswagen CC
Bosch EDC17CP14 [RD, WR]
Volkswagen Eos
Bosch EDC17CP14 [RD, WR]
Volkswagen Golf
Bosch EDC17CP14 [RD, WR]
Volkswagen Golf Plus
Bosch EDC17CP14 [RD, WR]
Volkswagen Golf Variant
Bosch EDC17CP14 [RD, WR]
Volkswagen Jetta
Bosch EDC17CP14 [RD, WR]
Volkswagen Passat
Bosch EDC17CP14 [RD, WR]
Volkswagen Passat CC
Bosch EDC17CP14 [RD, WR]
Volkswagen Passat Variant
Bosch EDC17CP14 [RD, WR]
Volkswagen Sagitar
Bosch EDC17CP14 [RD, WR]
Volkswagen Scirocco
Bosch EDC17CP14 [RD, WR]
Volkswagen Tiguan
Bosch EDC17CP14 [RD, WR]
Volkswagen Touareg
Bosch EDC17CP14 [RD, WR]
Volkswagen Touareg
Bosch MD1CP004 [RD, WR]
Volkswagen Vento
Bosch EDC17CP14 [RD, WR]