Alientech tool update: K-Suite release 3.71
14 January 2020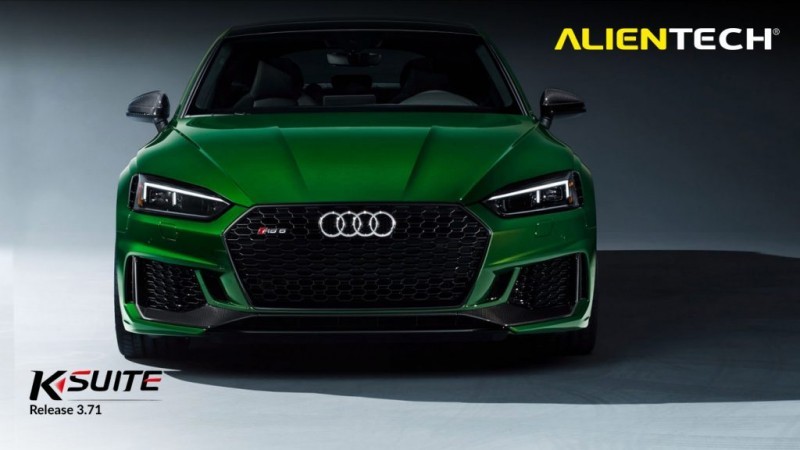 Thanks to the new Alientech tool update: K-Suite update 3.71 the latest generation petrol and diesel and hybrids ECUs will be supported. By downloading the new K-Suite update, you can become even more competitive, offering your customers an increasing number of supported vehicles.
Reduce the risk of ruining your ECU with this improved remapping equipment
Thanks to the Service Mode (SM), you can work without opening the ECU, reading and writing by connecting directly through the connector pins. In this way you reduce the risk of ruining your ECU, speeding up the step.
Audi RS5, Mercedes C 300D, Audi SQ8 V8 TDI, Porsche Macan Turbo, BMW M340i G20, Peugeot 208 HDI, VW Polo GTI, Lamborghini Urus, but also Porsche Cayenne Turbo S E-Hybrid are just some of the many models that are added to our vehicle list, making you become leader in this sector! Through this improved chiptuning equipment you can offer a complete and cutting-edge service to all your buyers and increase your customer package, offering them a remapping of the latest vehicles and not only diesel or petrol, but also hybrids!
New ECUs supported by K-TAG with Service Mode (SM)
Audi A1
Bosch MG1CS001 [RD, WR]
Audi A3
Bosch MG1CS001 [RD, WR]
Audi A3 Cabriolet
Bosch MG1CS001 [RD, WR]
Audi A3 Sedan
Bosch MG1CS001 [RD, WR]
Audi A3 Sportback
Bosch MG1CS001 [RD, WR]
Audi A4
Bosch MG1CS001 [RD, WR]
Audi A4 Allroad
Bosch MG1CS001 [RD, WR]
Audi A5
Bosch MG1CS001 [RD, WR]
Audi A5 Cabriolet
Bosch MG1CS001 [RD, WR]
Audi A5 Sportback
Bosch MG1CS001 [RD, WR]
Audi A6
Bosch MG1CS001 [RD, WR]
Audi A6
Bosch MG1CS002 [RD, WR]
Audi A6
Bosch MG1CS002 [RD, WR]
Audi A7
Bosch MG1CS001 [RD, WR]
Audi A7
Bosch MG1CS002 [RD, WR]
Audi A7
Bosch MG1CS002 [RD, WR]
Audi A7 Sportback
Bosch MG1CS001 [RD, WR]
Audi A8
Bosch MG1CS002 [RD, WR]
Audi A8
Bosch MG1CS002 [RD, WR]
Audi Q2
Bosch MG1CS001 [RD, WR]
Audi Q3
Bosch MG1CS001 [RD, WR]
Audi Q5
Bosch MG1CS001 [RD, WR]
Audi Q7
Bosch MG1CS001 [RD, WR]
Audi Q7
Bosch MG1CS002 [RD, WR]
Audi Q7
Bosch MG1CS002 [RD, WR
Audi Q8
Bosch MG1CS002 [RD, WR]
Audi Q8
Bosch MG1CS002 [RD, WR]
Audi RS4
Bosch MG1CS002 [RD, WR]
Audi RS4
Bosch MG1CS002 [RD, WR]
Audi RS5
Bosch MG1CS002 [RD, WR]
Audi RS5
Bosch MG1CS002 [RD, WR]
Audi S4
Bosch MG1CS002 [RD, WR]
Audi S4
Bosch MG1CS002 [RD, WR]
Audi S5
Bosch MG1CS002 [RD, WR]
Audi S5
Bosch MG1CS002 [RD, WR]
Audi SQ5
Bosch MG1CS002 [RD, WR]
Audi SQ5
Bosch MG1CS002 [RD, WR]
Audi SQ7
Bosch MD1CP014 [RD, WR]
Audi SQ8
Bosch MD1CP014 [RD, WR]
Audi TT Coupe
Bosch MG1CS001 [RD, WR]
Audi TT Roadster
Bosch MG1CS001 [RD, WR]
Bentley Bentayga
Bosch MD1CP014 [RD, WR]
Bentley Bentayga
Bosch MG1CS002 [RD, WR]
Bentley Bentayga
Bosch MG1CS002 [RD, WR]
Bentley Bentayga
Bosch MG1CS008 [RD, WR]
Bentley Continental Gt
Bosch MG1CS008 [RD, WR]
BMW 1-Series
Bosch MG1CS003 (DME_841) [RD, WR]
BMW 1-Series
Bosch MG1CS003 (DME_861) [RD, WR]
BMW 2-Series
Bosch MG1CS003 (DME_841) [RD, WR]
BMW 2-Series
Bosch MG1CS003 (DME_861) [RD, WR]
BMW 3-Series
Bosch MG1CS003 (DME_841) [RD, WR]
BMW 3-Series
Bosch MG1CS003 (DME_841H) [RD, WR]
BMW 3-Series
Bosch MG1CS003 (DME_861) [RD, WR]
BMW 3-Series
Bosch MG1CS003 (DME_86T0) [RD, WR]
BMW 3-Series GT
Bosch MG1CS003 (DME_841) [RD, WR]
BMW 3-Series GT
Bosch MG1CS003 (DME_861) [RD, WR]
BMW 4-Series
Bosch MG1CS003 (DME_841) [RD, WR]
BMW 4-Series Cabrio
Bosch MG1CS003 (DME_841) [RD, WR]
BMW 4-Series Cabrio
Bosch MG1CS003 (DME_861) [RD, WR]
BMW 4-Series Gran Coupè
Bosch MG1CS003 (DME_841) [RD, WR]
BMW 5-Series
Bosch MD1CS001 (DDE802L) [RD, WR]
BMW 5-Series
Bosch MG1CS003 (DME_840) [RD, WR]
BMW 5-Series
Bosch MG1CS003 (DME_840H) [RD, WR]
BMW 5-Series
Bosch MG1CS003 (DME_860) [RD, WR]
BMW 5-Series
Bosch MG1CS003 (DME_880) [RD, WR]
BMW 6-Series GT
Bosch MG1CS003 (DME_840) [RD, WR]
BMW 6-Series GT
Bosch MG1CS003 (DME_860) [RD, WR]
BMW 7-Series
Bosch MG1CS003 (DME_840) [RD, WR]
BMW 7-Series
Bosch MG1CS003 (DME_840H) [RD, WR]
BMW 7-Series
Bosch MG1CS003 (DME_860) [RD, WR]
BMW 7-Series
Bosch MG1CS003 (DME_880) [RD, WR]
BMW 7-Series
Bosch MG1CS003 (DME_8C0) [RD, WR]
BMW X3
Bosch MD1CS001 (DDE802L) [RD, WR]
BMW X3
Bosch MG1CS003 (DME_840) [RD, WR]
BMW X3
Bosch MG1CS003 (DME_860) [RD, WR]
BMW X4
Bosch MD1CS001 (DDE802L) [RD, WR]
BMW X4
Bosch MG1CS003 (DME_840) [RD, WR]
BMW X4
Bosch MG1CS003 (DME_860) [RD, WR]
BMW X7
Bosch MG1CS003 (DME_86T0) [RD, WR]
BMW Z4
Bosch MG1CS003 (DME_86T0) [RD, WR]
Citroen Berlingo
Bosch MD1CS003 [RD, WR]
Citroen C3
Bosch MD1CS003 [RD, WR]
Citroen C3 Aircross
Bosch MD1CS003 [RD, WR]
Citroen C4 Cactus
Bosch MD1CS003 [RD, WR]
Citroen C4 SpaceTourer
Bosch MD1CS003 [RD, WR]
Citroen C5 Aircross
Bosch MD1CS003 [RD, WR]
Citroen DS3 Crossback
Bosch MD1CS003 [RD, WR]
Citroen DS7 Crossback
Bosch MD1CS003 [RD, WR]
Citroen Grand C4 Spacetourer
Bosch MD1CS003 [RD, WR]
Citroen Jumpy Atlante
Bosch MD1CS003 [RD, WR]
Citroen Spacetourer
Bosch MD1CS003 [RD, WR]
Cupra Ateca
Bosch MG1CS001 [RD, WR]
Ford B-Max
Bosch MG1CS017 [RD, WR]
Ford C-Max
Bosch MG1CS017 [RD, WR]
Ford Ecosport
Bosch MG1CS017 [RD, WR]
Ford Fiesta
Bosch MG1CS017 [RD, WR]
Ford Focus
Bosch MG1CS017 [RD, WR]
Ford Mondeo
Bosch MG1CS017 [RD, WR]
Ford Mustang
Bosch MG1CS017 [RD, WR]
Lamborghini Urus
Bosch MG1CS008 [RD, WR]
Mercedes-Benz A-Class
Bosch MD1CP001 [RD, WR]
Mercedes-Benz C-Class
Bosch MD1CP001 [RD, WR]
Mercedes-Benz C-Class Coupe
Bosch MD1CP001 [RD, WR]
Mercedes-Benz C-Class T-Model
Bosch MD1CP001 [RD, WR]
Mercedes-Benz CLS-Class
Bosch MD1CP001 [RD, WR]
Mercedes-Benz E-Class
Bosch MD1CP001 [RD, WR]
Mercedes-Benz E-Class All Terrain
Bosch MD1CP001 [RD, WR]
Mercedes-Benz E-Class T-Model
Bosch MD1CP001 [RD, WR]
Mercedes-Benz G-Class
Bosch MD1CP001 [RD, WR]
Mercedes-Benz GLE-Class
Bosch MD1CP001 [RD, WR]
Mercedes-Benz S-Class
Bosch MD1CP001 [RD, WR]
Mercedes-Benz S-Class Cabriolet
Bosch MD1CP001 [RD, WR]
Mercedes-Benz S-Class Coupe
Bosch MD1CP001 [RD, WR]
Opel Combo
Bosch MD1CS003 [RD, WR]
Opel Corsa
Bosch MD1CS003 [RD, WR]
Opel Crossland X
Bosch MD1CS003 [RD, WR]
Opel Grandland X
Bosch MD1CS003 [RD, WR]
Peugeot 208
Bosch MD1CS003 [RD, WR]
Peugeot 3008
Bosch MD1CS003 [RD, WR]
Peugeot 308
Bosch MD1CS003 [RD, WR]
Peugeot 5008
Bosch MD1CS003 [RD, WR]
Peugeot 508
Bosch MD1CS003 [RD, WR]
Peugeot Expert
Bosch MD1CS003 [RD, WR]
Peugeot Partner
Bosch MD1CS003 [RD, WR]
Peugeot Rifter
Bosch MD1CS003 [RD, WR]
Peugeot Traveller
Bosch MD1CS003 [RD, WR]
Porsche Cayenne
Bosch MG1CS002 [RD, WR]
Porsche Cayenne
Bosch MG1CS002 [RD, WR]
Porsche Cayenne
Bosch MG1CS008 [RD, WR]
Porsche Cayenne S
Bosch MG1CS002 [RD, WR]
Porsche Cayenne S
Bosch MG1CS002 [RD, WR]
Porsche Macan S
Bosch MG1CS002 [RD, WR]
Porsche Macan S
Bosch MG1CS002 [RD, WR]
Porsche Macan Turbo
Bosch MG1CS002 [RD, WR]
Porsche Macan Turbo
Bosch MG1CS002 [RD, WR]
Porsche Panamera 4
Bosch MG1CS002 [RD, WR]
Porsche Panamera 4
Bosch MG1CS002 [RD, WR]
Porsche Panamera 4S
Bosch MG1CS002 [RD, WR]
Porsche Panamera 4S
Bosch MG1CS002 [RD, WR]
Porsche Panamera 4S Diesel
Bosch MD1CP014 [RD, WR]
Porsche Panamera GTS
Bosch MG1CS008 [RD, WR]
Porsche Panamera Turbo
Bosch MG1CS008 [RD, WR]
Porsche Panamera Turbo S
Bosch MG1CS008 [RD, WR]
Saic Maxus V80
Bosch MD1CS089 [RD, WR]
Seat Ateca
Bosch MG1CS001 [RD, WR]
Skoda Karoq
Bosch MG1CS001 [RD, WR]
Skoda Kodiaq
Bosch MG1CS001 [RD, WR]
Skoda Superb
Bosch MG1CS001 [RD, WR]
Skoda Superb Combi
Bosch MG1CS001 [RD, WR]
Volkswagen Arteon
Bosch MG1CS001 [RD, WR]
Volkswagen Passat
Bosch MG1CS001 [RD, WR]
Volkswagen Passat Alltrack
Bosch MG1CS001 [RD, WR]
Volkswagen Passat Variant
Bosch MG1CS001 [RD, WR]
Volkswagen Polo
Bosch MG1CS001 [RD, WR]
Volkswagen Tiguan
Bosch MG1CS001 [RD, WR]
Volkswagen Touareg
Bosch MD1CP014 [RD, WR]
Volkswagen T-Roc
Bosch MG1CS001 [RD, WR]