Alientech tool update: K-Suite release 3.70
9 January 2020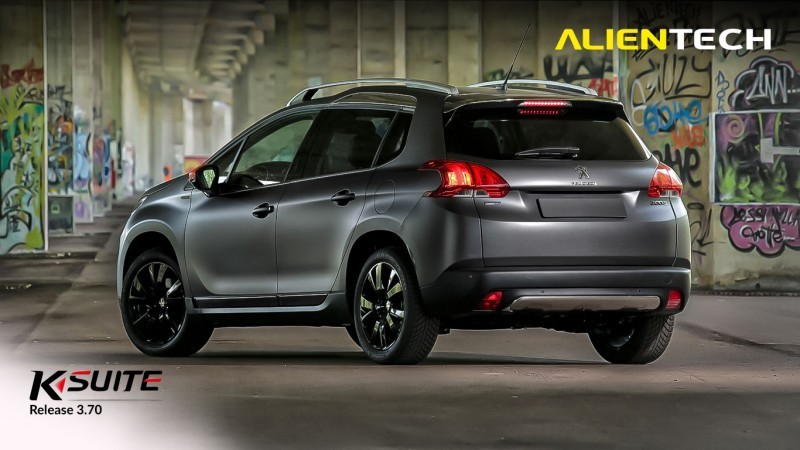 Many Euro 6 petrol models with Valeo VD46.1 control unit and SH72546 microcontroller, are now added to the list of vehicles supported by our OBD programmer!
Create a network of new collaborators with the latest K-Suite update
With this Alientech tool update you will be able to read and write, through the standard OBD communication line, new PSA group models, such as Peugeot 2008, 308, 5008, Partner Rifter, but also Citroen Berlingo, C3, C4 Cactus, C4 Picasso, DS3, DS7 and many other vehicles.
Thanks to this latest K-Suite update, it is possible to read and write the entire contents of the ECU, including the data contained in the EEPROM, via OBD.
These ECUs are also supported by K-TAG, through J-TAG mode. Become a leader in your sector, with Alientech you meet the needs of your customers and the garages you work with so you can create a network of new collaborators!
PSA ECU remapping supported in OBD2
Citroen Berlingo 1.2 PureTech 110
Valeo VD46.1 [RD, WR]
Citroen Berlingo 1.2 PureTech 130
Valeo VD46.1 [RD, WR]
Citroen C3 1.2 PureTech 110
Valeo VD46.1 [RD, WR]
Citroen C3 Aircross 1.2 PureTech 110
Valeo VD46.1 [RD, WR]
Citroen C3 Aircross 1.2 PureTech 130
Valeo VD46.1 [RD, WR]
Citroen C3 Picasso 1.2 PureTech 110
Valeo VD46.1 [RD, WR]
Citroen C3-XR 1.2 PureTech 85
Valeo VD46.1 [RD, WR]
Citroen C4 1.2 PureTech 110
Valeo VD46.1 [RD, WR]
Citroen C4 1.2 PureTech 130
Valeo VD46.1 [RD, WR]
Citroen C4 Cactus 1.2 PureTech 110
Valeo VD46.1 [RD, WR]
Citroen C4 Cactus 1.2 PureTech 130
Valeo VD46.1 [RD, WR]
Citroen C4 Picasso 1.2 PureTech 130
Valeo VD46.1 [RD, WR]
Citroen C4 SpaceTourer 1.2 PureTech 110
Valeo VD46.1 [RD, WR]
Citroen C4 SpaceTourer 1.2 PureTech 130
Valeo VD46.1 [RD, WR]
Citroen C5 Aircross 1.2 PureTech 130
Valeo VD46.1 [RD, WR]
Citroen DS3 A56 1.2 PureTech 110
Valeo VD46.1 [RD, WR]
Citroen DS3 Crossback 1.2 PureTech 100
Valeo VD46.1 [RD, WR]
Citroen DS3 Crossback 1.2 PureTech 130
Valeo VD46.1 [RD, WR]
Citroen DS4 1.2 PureTech 130
Valeo VD46.1 [RD, WR]
Citroen DS7 Crossback 1.2 PureTech 130
Valeo VD46.1 [RD, WR]
Peugeot 2008 A94 1.2 PureTech 110
Valeo VD46.1 [RD, WR]
Peugeot 2008 A94 1.2 PureTech 130
Valeo VD46.1 [RD, WR]
Peugeot 208 1.2 PureTech 100
Valeo VD46.1 [RD, WR]
Peugeot 208 1.2 PureTech 110
Valeo VD46.1 [RD, WR]
Peugeot 208 1.2 PureTech 130
Valeo VD46.1 [RD, WR]
Peugeot 3008 1.2 PureTech 130
Valeo VD46.1 [RD, WR]
Peugeot 3008 T8 1.2 PureTech 130
Valeo VD46.1 [RD, WR]
Peugeot 308 T9 1.2 PureTech 110
Valeo VD46.1 [RD, WR]
Peugeot 308 T9 1.2 Puretech 130
Valeo VD46.1 [RD, WR]
Peugeot 5008 T8 1.2 PureTech 130
Valeo VD46.1 [RD, WR]
Peugeot 5008 T87 1.2 PureTech 130
Valeo VD46.1 [RD, WR]
Peugeot Partner 1.2 PureTech 110
Valeo VD46.1 [RD, WR]
Peugeot Rifter 1.2 PureTech 110
Valeo VD46.1 [RD, WR]
Peugeot Rifter 1.2 Puretech 130
Valeo VD46.1 [RD, WR]