Alientech tool update: K-Suite Release 3.67
27 November 2019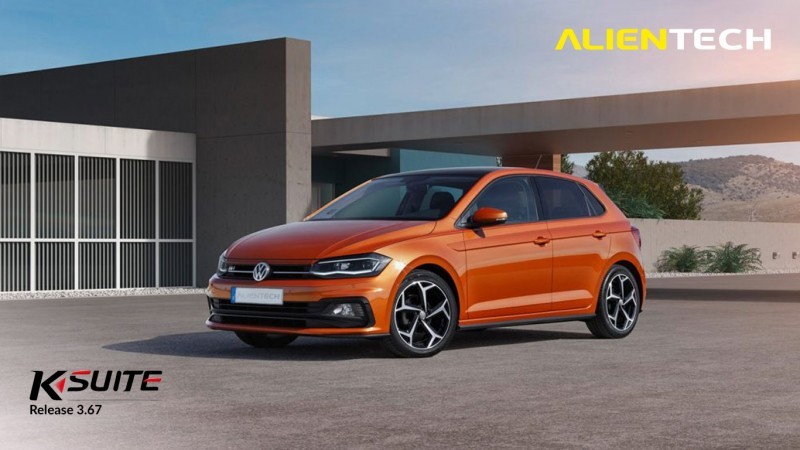 As of today, you can work through OBD on many latest generation vehicles with ECU Bosch MED17.1.27 and 1.0 TSI engines. Discover which vehicles are now supported by KESSv2.
New VAG vehicles are now supported by KESSv2
Audi A3, Seat Arona, Seat Ibiza, Skoda Fabia, Volkswagen Golf, Volkswagen Polo e Volkswagen Up, are just some of the many petrol models that, through the new K-Suite update, you can read and write. If you already own a KESSv2, you won't need to buy anything! You just have to connect your tool, read the ID of the ECU and, thanks to the OBD Virtual Reading mode, in a few seconds you'll have at your disposal the related Original File. The Virtual Reading feature has never been so effective! In case the calibration wasn't available, it would still be possible to read all the new ECUs thanks to K-TAG Service Mode.
VAG ECU remapping supported in OBD2
Audi A3 30 1.0 TFSI 6MT
Bosch MED17.1.27 [VR, WR]
Audi A3 30 1.0 TFSI S-Tronic
Bosch MED17.1.27 [VR, WR]
Audi A3 Sedan 30 1.0 TFSI 6MT
Bosch MED17.1.27 [VR, WR]
Audi A3 Sedan 30 1.0 TFSI S-Tronic
Bosch MED17.1.27 [VR, WR]
Audi A3 Sportback 30 1.0 TFSI 6MT
Bosch MED17.1.27 [VR, WR]
Audi A3 Sportback 30 1.0 TFSI S-Tronic
Bosch MED17.1.27 [VR, WR]
Seat Arona 1.0 TSI 6MT
Bosch MED17.1.27 [VR, WR]
Seat Arona 1.0 TSI 7AT
Bosch MED17.1.27 [VR, WR]
Seat Ibiza 6P 1.0 TSI 6MT
Bosch MED17.1.27 [VR, WR]
Skoda Fabia NJ3 1.0 TSI 6MT
Bosch MED17.1.27 [VR, WR]
Skoda Fabia NJ3 1.0 TSI 7AT
Bosch MED17.1.27 [VR, WR]
Volkswagen Golf 5G1 1.0 TSI 6MT
Bosch MED17.1.27 [VR, WR]
Volkswagen Golf 5G1 1.0 TSI 7AT
Bosch MED17.1.27 [VR, WR]
Volkswagen Polo 6C1 1.0 TSI 6MT
Bosch MED17.1.27 [VR, WR]
Volkswagen Polo 6C1 1.0 TSI 7AT
Bosch MED17.1.27 [VR, WR]
Volkswagen Up 122 1.0 TSI 5MT GTI
Bosch MED17.1.27 [VR, WR]