Alientech tool update: K-Suite Release 3.66
20 november 2019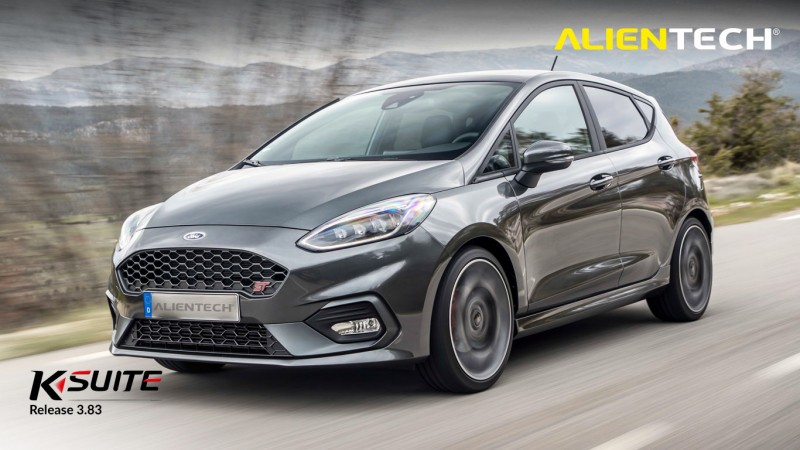 New BMW, Ford and VAG models with ECU Bosch MDG1 supported by K-TAG SM (Service Mode)!
New Audi, BMW, Ford, Mini, Seat, Skoda, Toyota and Volkswagen models now supported by K-TAG SM (Service Mode).
Remap the latest generation petrol and diesel ECUs: Bosch MD1CP004, MD1CS005, MG1CS011, MG1CS201 with microcontroller SPC5777 e TC298! Don't open the ECU!
From today, thanks to the new K-Suite update, you can use the new programming method Service Mode on some of the most popular models such as the 1.5 petrol, equipped with ECU Bosch MG1CS011.
There are many latest generation vehicles that, from today, you can remap thanks to K-TAG Service Mode (SM); make even more appealing Audi A3, Q5, BMW 8 Series, Ford Focus, Kuga, Mini Cooper S, Seat Leone, Skoda Karoq, Volkswagen Golf and T-Roc, and many others, read and write them on bench.
Service Mode (SM): how does it work? Read and write by connecting directly through the connector pins, optimizing and speeding up the steps.
New Audi supported by K-TAG with Service Mode (SM)
Audi A1 25 1.0 TFSI 5MT
Bosch MG1CS011 [RD, WR]
Audi A1 30 1.0 TFSI 6MT
Bosch MG1CS011 [RD, WR]
Audi A1 30 1.0 TFSI S-Tronic
Bosch MG1CS011 [RD, WR]
Audi A1 35 1.5 TFSI 6MT
Bosch MG1CS011 [RD, WR]
Audi A1 35 1.5 TFSI S-Tronic
Bosch MG1CS011 [RD, WR]
Audi A3 30 1.0 TFSI 6MT
Bosch MG1CS011 [RD, WR]
Audi A3 30 1.0 TFSI S-Tronic
Bosch MG1CS011 [RD, WR]
Audi A3 30 1.6 TDI
Bosch MD1CP004 [RD, WR]
Audi A3 30 1.6 TDI S-Tronic
Bosch MD1CP004 [RD, WR]
Audi A3 35 1.5 TFSI 6MT
Bosch MG1CS011 [RD, WR]
Audi A3 35 1.5 TFSI S-Tronic
Bosch MG1CS011 [RD, WR]
Audi A3 35 1.5 TGI 6MT
Bosch MG1CS011 [RD, WR]
Audi A3 35 1.5 TGI S-Tronic
Bosch MG1CS011 [RD, WR]
Audi A3 35 2.0 TDI
Bosch MD1CP004 [RD, WR]
Audi A3 35 2.0 TDI Quattro
Bosch MD1CP004 [RD, WR]
Audi A3 35 2.0 TDI Quattro S-Tronic
Bosch MD1CP004 [RD, WR]
Audi A3 40 2.0 TDI Quattro S-Tronic
Bosch MD1CP004 [RD, WR]
Audi A3 Cabriolet 30 1.6 TDI
Bosch MD1CP004 [RD, WR]
Audi A3 Cabriolet 30 1.6 TDI S-Tronic
Bosch MD1CP004 [RD, WR]
Audi A3 Cabriolet 35 1.5 TFSI 6MT
Bosch MG1CS011 [RD, WR]
Audi A3 Cabriolet 35 1.5 TFSI S-Tronic
Bosch MG1CS011 [RD, WR]
Audi A3 Cabriolet 35 1.5 TGI 6MT
Bosch MG1CS011 [RD, WR]
Audi A3 Cabriolet 35 1.5 TGI S-Tronic
Bosch MG1CS011 [RD, WR]
Audi A3 Cabriolet 35 2.0 TDI
Bosch MD1CP004 [RD, WR]
Audi A3 Cabriolet 35 2.0 TDI Quattro
Bosch MD1CP004 [RD, WR]
Audi A3 Cabriolet 35 2.0 TDI Quattro S-Tronic
Bosch MD1CP004 [RD, WR]
Audi A3 Cabriolet 40 2.0 TDI Quattro S-Tronic
Bosch MD1CP004 [RD, WR]
Audi A3 Sedan 30 1.0 TFSI 6MT
Bosch MG1CS011 [RD, WR]
Audi A3 Sedan 30 1.0 TFSI S-Tronic
Bosch MG1CS011 [RD, WR]
Audi A3 Sedan 30 1.6 TDI
Bosch MD1CP004 [RD, WR]
Audi A3 Sedan 30 1.6 TDI S-Tronic
Bosch MD1CP004 [RD, WR]
Audi A3 Sedan 35 1.5 TFSI 6MT
Bosch MG1CS011 [RD, WR]
Audi A3 Sedan 35 1.5 TFSI S-Tronic
Bosch MG1CS011 [RD, WR]
Audi A3 Sedan 35 1.5 TGI S-Tronic
Bosch MG1CS011 [RD, WR]
Audi A3 Sedan 35 2.0 TDI
Bosch MD1CP004 [RD, WR]
Audi A3 Sedan 35 2.0 TDI Quattro
Bosch MD1CP004 [RD, WR]
Audi A3 Sedan 35 2.0 TDI Quattro S-Tronic
Bosch MD1CP004 [RD, WR]
Audi A3 Sedan 40 2.0 TDI Quattro S-Tronic
Bosch MD1CP004 [RD, WR]
Audi A3 Sportback 30 1.0 TFSI 6MT
Bosch MG1CS011 [RD, WR]
Audi A3 Sportback 30 1.0 TFSI S-Tronic
Bosch MG1CS011 [RD, WR]
Audi A3 Sportback 30 1.6 TDI
Bosch MD1CP004 [RD, WR]
Audi A3 Sportback 30 1.6 TDI S-Tronic
Bosch MD1CP004 [RD, WR]
Audi A3 Sportback 35 1.5 TFSI 6MT
Bosch MG1CS011 [RD, WR]
Audi A3 Sportback 35 1.5 TFSI S-Tronic
Bosch MG1CS011 [RD, WR]
Audi A3 Sportback 35 1.5 TGI S-Tronic
Bosch MG1CS011 [RD, WR]
Audi A3 Sportback 35 2.0 TDI
Bosch MD1CP004 [RD, WR]
Audi A3 Sportback 35 2.0 TDI Quattro
Bosch MD1CP004 [RD, WR]
Audi A3 Sportback 35 2.0 TDI Quattro S-Tronic
Bosch MD1CP004 [RD, WR]
Audi A3 Sportback 40 2.0 TDI Quattro S-Tronic
Bosch MD1CP004 [RD, WR]
Audi A4 Allroad B9 40 2.0 TDI Quattro S-Tronic
Bosch MD1CP004 [RD, WR]
Audi A4 Allroad B9 45 3.0 TDI Quattro Tiptronic
Bosch MD1CP004 [RD, WR]
Audi A4 B9 35 1.5 TFSI S-Tronic
Bosch MG1CS011 [RD, WR]
Audi A4 B9 35 1.5 TSI 6MT
Bosch MG1CS011 [RD, WR]
Audi A4 B9 35 2.0 TDI
Bosch MD1CP004 [RD, WR]
Audi A4 B9 35 2.0 TDI S-Tronic
Bosch MD1CP004 [RD, WR]
Audi A4 B9 40 2.0 TDI S-Tronic
Bosch MD1CP004 [RD, WR]
Audi A4 B9 45 3.0 TDI Quattro Tiptronic
Bosch MD1CP004 [RD, WR]
Audi A4 B9 50 3.0 TDI Quattro Tiptronic
Bosch MD1CP004 [RD, WR]
Audi A5 Cabriolet F5 35 1.5 TFSI 6MT
Bosch MG1CS011 [RD, WR]
Audi A5 Cabriolet F5 35 1.5 TFSI S-Tronic
Bosch MG1CS011 [RD, WR]
Audi A5 Cabriolet F5 35 2.0 TDI
Bosch MD1CP004 [RD, WR]
Audi A5 Cabriolet F5 35 2.0 TDI S-Tronic
Bosch MD1CP004 [RD, WR]
Audi A5 Cabriolet F5 40 2.0 TDI Quattro S-Tronic
Bosch MD1CP004 [RD, WR]
Audi A5 Cabriolet F5 40 2.0 TDI S-Tronic
Bosch MD1CP004 [RD, WR]
Audi A5 Cabriolet F5 50 3.0 TDI Quattro Tiptronic
Bosch MD1CP004 [RD, WR]
Audi A5 F5 35 1.5 TFSI 6MT
Bosch MG1CS011 [RD, WR]
Audi A5 F5 35 1.5 TFSI S-Tronic
Bosch MG1CS011 [RD, WR]
Audi A5 F5 35 2.0 TDI
Bosch MD1CP004 [RD, WR]
Audi A5 F5 35 2.0 TDI S-Tronic
Bosch MD1CP004 [RD, WR]
Audi A5 F5 40 2.0 TDI Quattro S-Tronic
Bosch MD1CP004 [RD, WR]
Audi A5 F5 40 2.0 TDI S-Tronic
Bosch MD1CP004 [RD, WR]
Audi A5 F5 50 3.0 TDI Quattro Tiptronic
Bosch MD1CP004 [RD, WR]
Audi A5 Sportback F5 35 1.5 TFSI 6MT
Bosch MG1CS011 [RD, WR]
Audi A5 Sportback F5 35 1.5 TFSI S-Tronic
Bosch MG1CS011 [RD, WR]
Audi A5 Sportback F5 35 2.0 TDI
Bosch MD1CP004 [RD, WR]
Audi A5 Sportback F5 35 2.0 TDI S-Tronic
Bosch MD1CP004 [RD, WR]
Audi A5 Sportback F5 40 2.0 TDI Quattro S-Tronic
Bosch MD1CP004 [RD, WR]
Audi A5 Sportback F5 40 2.0 TDI S-Tronic
Bosch MD1CP004 [RD, WR]
Audi A5 Sportback F5 50 3.0 TDI Quattro Tiptronic
Bosch MD1CP004 [RD, WR]
Audi A6 C8 40 2.0 TDI S-Tronic
Bosch MD1CP004 [RD, WR]
Audi A6 C8 45 3.0 TDI Quattro Tiptronic
Bosch MD1CP004 [RD, WR]
Audi A6 C8 50 3.0 TDI Quattro Tiptronic
Bosch MD1CP004 [RD, WR]
Audi A7 C8 40 2.0 TDI S-Tronic
Bosch MD1CP004 [RD, WR]
Audi A7 C8 45 3.0 TDI Quattro Tiptronic
Bosch MD1CP004 [RD, WR]
Audi A7 C8 50 3.0 TDI Quattro Tiptronic
Bosch MD1CP004 [RD, WR]
Audi A7 Sportback C8 40 2.0 TDI S-Tronic
Bosch MD1CP004 [RD, WR]
Audi A7 Sportback C8 45 3.0 TDI Quattro Tiptronic
Bosch MD1CP004 [RD, WR]
Audi A7 Sportback C8 50 3.0 TDI Quattro Tiptronic
Bosch MD1CP004 [RD, WR]
Audi Q2 30 1.0 TFSI 6MT
Bosch MG1CS011 [RD, WR]
Audi Q2 35 1.5 TFSI 6MT
Bosch MG1CS011 [RD, WR]
Audi Q2 35 1.5 TFSI S-Tronic
Bosch MG1CS011 [RD, WR]
Audi Q3 F3 35 1.5 TFSI 6MT
Bosch MG1CS011 [RD, WR]
Audi Q3 F3 35 1.5 TFSI S-Tronic
Bosch MG1CS011 [RD, WR]
Audi Q3 F3 35 2.0 TDI
Bosch MD1CP004 [RD, WR]
Audi Q3 F3 35 2.0 TDI Quattro
Bosch MD1CP004 [RD, WR]
Audi Q3 F3 35 2.0 TDI Quattro S-Tronic
Bosch MD1CP004 [RD, WR]
Audi Q3 F3 40 2.0 TDI Quattro S-Tronic
Bosch MD1CP004 [RD, WR]
Audi Q5 FY 35 2.0 TDI Quattro S-Tronic
Bosch MD1CP004 [RD, WR]
Audi Q5 FY 40 2.0 TDI Quattro S-Tronic
Bosch MD1CP004 [RD, WR]
Audi Q5 FY 50 3.0 TDI Quattro Tiptronic
Bosch MD1CP004 [RD, WR]
Audi Q7 45 3.0 TDI Quattro Tiptronic
Bosch MD1CP004 [RD, WR]
Audi Q7 50 3.0 TDI Quattro Tiptronic
Bosch MD1CP004 [RD, WR]
Audi Q8 45 3.0 TDI Quattro Tiptronic
Bosch MD1CP004 [RD, WR]
Audi Q8 50 3.0 TDI Quattro Tiptronic
Bosch MD1CP004 [RD, WR]
New BMW supported by K-TAG with Service Mode (SM)
BMW 2-Series F22 218i 6MT
Bosch MG1CS201 [RD, WR]
BMW 2-Series F22 218i 7AT
Bosch MG1CS201 [RD, WR]
BMW 2-Series F22 220i 6MT
Bosch MG1CS201 [RD, WR]
BMW 2-Series F22 220i 8AT
Bosch MG1CS201 [RD, WR]
BMW 2-Series F23 218i 6MT
Bosch MG1CS201 [RD, WR]
BMW 2-Series F23 218i 7AT
Bosch MG1CS201 [RD, WR]
BMW 2-Series F45 216i 6MT
Bosch MG1CS201 [RD, WR]
BMW 2-Series F45 218i 6MT
Bosch MG1CS201 [RD, WR]
BMW 2-Series F45 218i 7AT
Bosch MG1CS201 [RD, WR]
BMW 2-Series F45 220i 6MT
Bosch MG1CS201 [RD, WR]
BMW 2-Series F45 220i 8AT
Bosch MG1CS201 [RD, WR]
BMW 2-Series F46 216i 6MT
Bosch MG1CS201 [RD, WR]
BMW 2-Series F46 218i 6MT
Bosch MG1CS201 [RD, WR]
BMW 2-Series F46 218i 7AT
Bosch MG1CS201 [RD, WR]
BMW 2-Series F46 220i 6MT
Bosch MG1CS201 [RD, WR]
BMW 2-Series F46 220i 8AT
Bosch MG1CS201 [RD, WR]
BMW 5-Series G30 530e iPerformance 8AT
Bosch MG1CS201 [RD, WR]
BMW 8-Series G14 M850i xDrive 8AT
Bosch MG1CS201 [RD, WR]
BMW 8-Series G15 M850i xDrive 8AT
Bosch MG1CS201 [RD, WR]
BMW 8-Series G16 M850i xDrive 8AT
Bosch MG1CS201 [RD, WR]
BMW M5-Series F90 M5 4.4 8AT
Bosch MG1CS201 [RD, WR]
BMW M5-Series F90 M5 Competition 4.4 8AT
Bosch MG1CS201 [RD, WR]
BMW X1 F48 sDrive 18i 6MT
Bosch MG1CS201 [RD, WR]
BMW X1 F48 sDrive20i 7AT
Bosch MG1CS201 [RD, WR]
BMW X1 F48 xDrive25Le 8AT
Bosch MG1CS201 [RD, WR]
BMW X1 F49 sDrive20i 7AT
Bosch MG1CS201 [RD, WR]
BMW X1 F49 sDriveL 18i 6MT
Bosch MG1CS201 [RD, WR]
BMW X1 F49 xDrive25Le 8AT
Bosch MG1CS201 [RD, WR]
BMW X2 F39 sDrive18i 6MT
Bosch MG1CS201 [RD, WR]
BMW X2 F39 sDrive18i 7AT
Bosch MG1CS201 [RD, WR]
BMW X2 F39 sDrive20i 7AT
Bosch MG1CS201 [RD, WR]
BMW X2 F39 xDrive20i 6MT
Bosch MG1CS201 [RD, WR]
BMW X5 G05 xDrive 50i 8AT
Bosch MG1CS201 [RD, WR]
BMW Z4 G29 20i sDrive 8AT
Bosch MG1CS201 [RD, WR]
New Ford supported by K-TAG with Service Mode (SM)
Ford Ecosport 1.5 TDCi 6MT
Bosch MD1CS005 [RD, WR]
Ford Fiesta 1.5 TDCi 6MT
Bosch MD1CS005 [RD, WR]
Ford Focus 1.5 TDCi 6MT
Bosch MD1CS005 [RD, WR]
Ford Focus 1.5 TDCi 8AT
Bosch MD1CS005 [RD, WR]
Ford Kuga 1.5 TDCi 6MT
Bosch MD1CS005 [RD, WR]
Ford Transit Connect 1.5 TDCi 6MT
Bosch MD1CS005 [RD, WR]
Ford Transit Connect 1.5 TDCi 8AT
Bosch MD1CS005 [RD, WR]
New Mini supported by K-TAG with Service Mode (SM)
Mini Cooper Clubman F54 1.5 6MT
Bosch MG1CS201 [RD, WR]
Mini Cooper F55 1.5 6MT
Bosch MG1CS201 [RD, WR]
Mini Cooper F56 1.5 6MT
Bosch MG1CS201 [RD, WR]
Mini Cooper F57 1.5 6MT
Bosch MG1CS201 [RD, WR]
Mini Cooper S F55 2.0 Turbo 6MT
Bosch MG1CS201 [RD, WR]
Mini Cooper S F55 2.0 Turbo 7AT
Bosch MG1CS201 [RD, WR]
Mini Cooper S F56 2.0 Turbo 6MT
Bosch MG1CS201 [RD, WR]
Mini Cooper S F56 2.0 Turbo 7AT
Bosch MG1CS201 [RD, WR]
Mini Cooper S F57 2.0 Turbo 6MT
Bosch MG1CS201 [RD, WR]
Mini Cooper S F57 2.0 Turbo 7AT
Bosch MG1CS201 [RD, WR]
Mini Cooper S JCW F55 2.0L Turbo 6MT
Bosch MG1CS201 [RD, WR]
Mini Cooper S JCW F55 2.0L Turbo 8AT
Bosch MG1CS201 [RD, WR]
Mini One F55 1.5 6MT
Bosch MG1CS201 [RD, WR]
New Seat supported by K-TAG with Service Mode (SM)
Seat Arona 1.5 TSI 6MT
Bosch MG1CS011 [RD, WR]
Seat Arona 1.5 TSI 7AT
Bosch MG1CS011 [RD, WR]
Seat Ibiza KJ 1.5 TSI 6MT
Bosch MG1CS011 [RD, WR]
Seat Ibiza KJ 1.5 TSI 7AT
Bosch MG1CS011 [RD, WR]
Seat Leon 5F1 1.5 TGI 6MT
Bosch MG1CS011 [RD, WR]
Seat Leon 5F1 1.5 TGI 7AT
Bosch MG1CS011 [RD, WR]
Seat Leon 5F1 1.5 TSI 6MT
Bosch MG1CS011 [RD, WR]
Seat Leon 5F1 1.5 TSI 7AT
Bosch MG1CS011 [RD, WR]
Seat Tarraco 1.5 TSI 6MT
Bosch MG1CS011 [RD, WR]
Seat Tarraco 1.5 TSI 7AT
Bosch MG1CS011 [RD, WR]
New Skoda supported by K-TAG with Service Mode (SM)
Skoda Karoq 1.5 TSI 6MT
Bosch MG1CS011 [RD, WR]
Skoda Karoq 1.5 TSI 7AT
Bosch MG1CS011 [RD, WR]
Skoda Octavia 5E3 1.5 TSI 6MT
Bosch MG1CS011 [RD, WR]
Skoda Octavia 5E3 1.5 TSI 7AT
Bosch MG1CS011 [RD, WR]
Skoda Octavia Combi 5E5 1.5 TSI 6MT
Bosch MG1CS011 [RD, WR]
Skoda Octavia Combi 5E5 1.5 TSI 7AT
Bosch MG1CS011 [RD, WR]
New Toyota supported by K-TAG with Service Mode (SM)
Toyota Supra A90 3.0 Turbo 8AT
Bosch MG1CS201 [RD, WR]
New Volkswagen supported by K-TAG with Service Mode (SM)
Volkswagen Golf 5G1 1.5 TGI 6MT
Bosch MG1CS011 [RD, WR]
Volkswagen Golf 5G1 1.5 TGI 7AT
Bosch MG1CS011 [RD, WR]
Volkswagen Golf 5G1 1.5 TSI 6MT
Bosch MG1CS011 [RD, WR]
Volkswagen Golf 5G1 1.5 TSI 7AT
Bosch MG1CS011 [RD, WR]
Volkswagen Golf Variant BV5 1.5 TGI 6MT
Bosch MG1CS011 [RD, WR]
Volkswagen Golf Variant BV5 1.5 TGI 7AT
Bosch MG1CS011 [RD, WR]
Volkswagen Golf Variant BV5 1.5 TSI 6MT
Bosch MG1CS011 [RD, WR]
Volkswagen Golf Variant BV5 1.5 TSI 7AT
Bosch MG1CS011 [RD, WR]
Volkswagen Polo AW 1.0 TSI 5MT
Bosch MG1CS011 [RD, WR]
Volkswagen Polo AW 1.5 TSI 6MT
Bosch MG1CS011 [RD, WR]
Volkswagen Polo AW 1.5 TSI 7AT
Bosch MG1CS011 [RD, WR]
Volkswagen T-Cross 1.0 TSI 5MT
Bosch MG1CS011 [RD, WR]
Volkswagen T-Cross 1.5 TSI 6MT
Bosch MG1CS011 [RD, WR]
Volkswagen T-Cross 1.5 TSI 7AT
Bosch MG1CS011 [RD, WR]
Volkswagen Tiguan AD1 1.5 TSI 6MT
Bosch MG1CS011 [RD, WR]
Volkswagen Tiguan AD1 1.5 TSI 7AT
Bosch MG1CS011 [RD, WR]
Volkswagen Touareg CR 3.0 V6 TDI 4Motion 8AT
Bosch MD1CP004 [RD, WR]
Volkswagen T-Roc A11 1.5 TSI 6MT
Bosch MG1CS011 [RD, WR]
Volkswagen T-Roc A11 1.5 TSI 7AT
Bosch MG1CS011 [RD, WR]