Alientech tool update: K-Suite Release 3.57
26 September 2019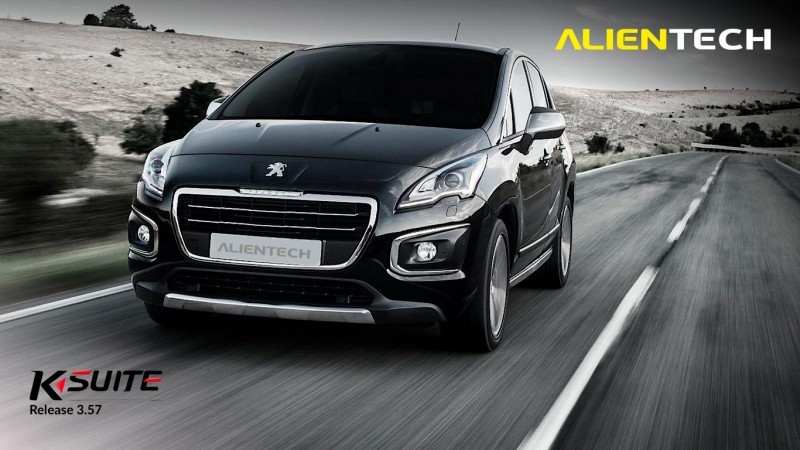 Thanks to this update of K-Suite for KESSv2, new Opel, Peugeot and Toyota vehicles, with ECU Bosch EDC17C60, are now supported!
What the improved Ecu tuning tool can do
Many models of Citroën and Peugeot, Opel Granland X and Toyota Proace with microprocessor TC1793, can now be read and written thanks to KESSv2, the programmer for engine and transmission ECUs via OBD port. Choose between Master tool, to have the complete control on reading, writing and editing using our remapping software and Slave tool, to read and then re-write ready to use files.
New vehicles supported by KESSv2:
Citroen C3 1.6 8v BlueHDI 75 55 KW
Bosch EDC17C60 [RD, WR]
Citroen C4 Cactus 1.6 Hdi 73 KW
Bosch EDC17C60 [RD, WR]
Citroen C4 Cactus 1.6 Hdi 68 KW
Bosch EDC17C60 [RD, WR]
Citroen DS3 A55 1.6 8v BlueHDI 75 55 KW
Bosch EDC17C60 [RD, WR]
Citroen DS3 A55 1.6 8v BlueHDI 100 73 KW
Bosch EDC17C60 [RD, WR]
Citroen DS3 A55 1.6 8v BlueHDI 115 85 KW
Bosch EDC17C60 [RD, WR]
Citroen DS3 A55 1.6 8v BlueHDI 120 88 KW
Bosch EDC17C60 [RD, WR]
Citroen DS3 A56 1.6 8v Cabrio BlueHDI 75 55 KW
Bosch EDC17C60 [RD, WR]
Citroen DS3 A56 1.6 8v Cabrio BlueHDI 100 73 KW
Bosch EDC17C60 [RD, WR]
Citroen DS3 A56 1.6 8v Cabrio BlueHDI 115 85 KW
Bosch EDC17C60 [RD, WR]
Citroen DS3 A56 1.6 8v Cabrio BlueHDI 120 88 KW
Bosch EDC17C60 [RD, WR]
Citroen DS4 B75 1.6 Hdi 69 KW
Bosch EDC17C60 [RD, WR]
Citroen DS4 B75 1.6 Hdi 82 KW
Bosch EDC17C60 [RD, WR]
Citroen DS5 B81 1.6 Hdi 69 KW
Bosch EDC17C60 [RD, WR]
Citroen DS5 B81 1.6 Hdi 82 KW
Bosch EDC17C60 [RD, WR]
Opel Grandland X 1.6 Ecotec 88 KW
Bosch EDC17C60 [RD, WR]
Peugeot 308 T9 1.6 BlueHDI 73 KW
Bosch EDC17C60 [RD, WR]
Peugeot 308 T9 1.6 BlueHDI 88 KW
Bosch EDC17C60 [RD, WR]
Peugeot 2008 A94 1.6 BlueHDi 100 FAP 73 KW
Bosch EDC17C60 [RD, WR]
Peugeot 3008 T8 1.6 BlueHDI 120 88 KW
Bosch EDC17C60 [RD, WR]
Peugeot 5008 T8 1.6 BlueHDI 120 88 KW
Bosch EDC17C60 [RD, WR]
Peugeot 5008 T87 1.6 BlueHDI 120 88 KW
Bosch EDC17C60 [RD, WR]
Peugeot 5008 T87 1.6 BlueHDI 100 73 KW
Bosch EDC17C60 [RD, WR]
Peugeot Partner 1.6 BlueHDi 88 KW
Bosch EDC17C60 [RD, WR]
Peugeot Partner 1.6 BlueHDi 72 KW
Bosch EDC17C60 [RD, WR]
Toyota Proace MDXxxx 1.6D 90 5MT 66 KW
Bosch EDC17C60 [RD, WR]
The strenghts of KESSv2:
Access to the ECU via OBD
Compatibility with all Brands
Automatic checksum correction
Activation sorted by vehicle type
Safe and supported programming
Update for new vehicles
Included features of KESSv2:
ECU files reading
ECU files writing
Single software manager: K-Suite
Illustrated multilingual manual
Reading and writing speed
Non-mandatory subscription