Alientech tool update: K-Suite Release 3.52
19 July 2019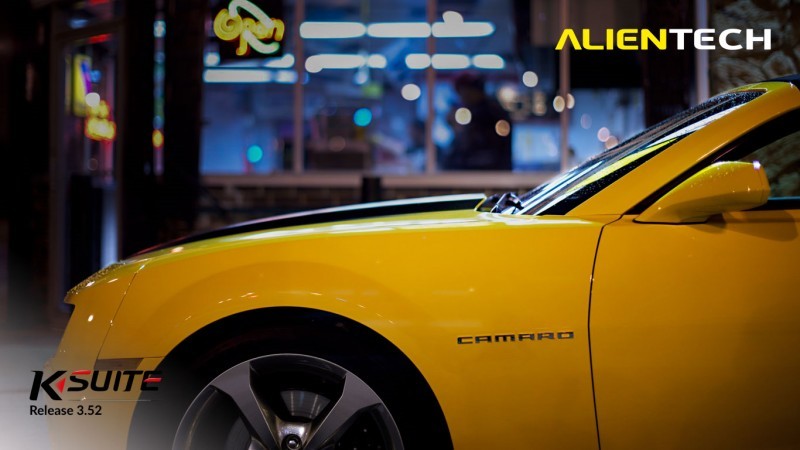 The ECUs Delco E39A MPC5566 and E39 MPC5566 are now supported by K-TAG and BAM connection thanks to the Alientech tool update: K-Suite Release 3.52.
What is possible with this improved chiptuning tool?
So what does this new update mean for you as an professional autotuner? With the activation of JTAG FREESCALE and the connection method BAM (Bus Access Module), it will be possible to obtain the complete contents of the ECU. This improved chiptuning tool has a cloning function that will allow you to repair the ECU, in case it was blocked or damaged. Thanks to the new K-Suite update, you can read, write and clone the ECUs of Chevrolet, Opel and Saab. These vehicles, already supported by KESSv2, now are also available for the bench remapping with K-TAG.
New ECUs supported by K-TAG with JTAG FREESCALE with Bus Access Module:
Chevrolet Equinox 2.4 16v ECOTEC 136 kW
Ac Delco E39 [RD, WR, CL]
Chevrolet Camaro 3.6 V6 1LS 241 kW
Ac Delco E39A [RD, WR, CL]
Chevrolet Camaro 3.6 V6 2LS Automatic 241 kW
Ac Delco E39A [RD, WR, CL]
Chevrolet Camaro 3.6 V6 LT 241 kW
Ac Delco E39A [RD, WR, CL]
Chevrolet Camaro 3.6 V6 LT Automatic 241 kW
Ac Delco E39A [RD, WR, CL]
Chevrolet Camaro 3.6 V6 LT Convertible 241 kW
Ac Delco E39A [RD, WR, CL]
Chevrolet Camaro 3.6 V6 LT Convertible Automatic 241 kW
Ac Delco E39A [RD, WR, CL]
Chevrolet Camaro 3.6 V6 LT RS 241 kW
Ac Delco E39A [RD, WR, CL]
Chevrolet Camaro 3.6 V6 LT RS 45th Anniversary Edition 241 kW
Ac Delco E39A [RD, WR, CL]
Chevrolet Camaro 3.6 V6 LT RS 45th Anniversary Edition Automatic 241 kW
Ac Delco E39A [RD, WR, CL]
Chevrolet Camaro 3.6 V6 LT RS Automatic 241 kW
Ac Delco E39A [RD, WR, CL]
Chevrolet Camaro 3.6 V6 LT Transformers 3 Edition 241 kW
Ac Delco E39A [RD, WR, CL]
Chevrolet Camaro 3.6 V6 LT Transformers 3 Edition Automatic 241 kW
Ac Delco E39A [RD, WR, CL]
Opel Astra J 2.0 Turbo Ecotec OPC 206 kW
Ac Delco E39A [RD, WR, CL]
Opel Insignia 35 2.0 Turbo 184 kW
Ac Delco E39A [RD, WR, CL]
Opel Astra J 1.6 Turbo ecoFlex 125 kW
Ac Delco E39A [RD, WR, CL]
Opel Insignia 68 1.6 SIDI Turbo ecoFLEX 125 kW
Ac Delco E39A [RD, WR, CL]
Opel Cascada 1.6 Turbo ecoFlex 125 kW
Ac Delco E39A [RD, WR, CL]
Opel Insignia 35 1.6 SIDI Turbo ecoFLEX 125 kW
Ac Delco E39A [RD, WR, CL]
Opel Insignia 68 2.0 Turbo 184 kW
Ac Delco E39A [RD, WR, CL]
Opel Insignia 69 1.6 SIDI Turbo ecoFLEX 125 kW
Ac Delco E39A [RD, WR, CL]
Opel Insignia 69 2.0 Turbo 184 kW
Ac Delco E39A [RD, WR, CL]
Opel Zafira C 1.6 Turbo 125 kW
Ac Delco E39A [RD, WR, CL]
Opel Zafira Tourer 1.6 Turbo 125 kW
Ac Delco E39A [RD, WR, CL]
Saab 95 2.0 16v Turbo 162 kW
Ac Delco E39 [RD, WR, CL]
This improved Alientech tool will perform the following operations:
WR=Writing
RD=Reading
CL=Cloning