Alientech tool update: K-Suite Release 3.46
6 June 2019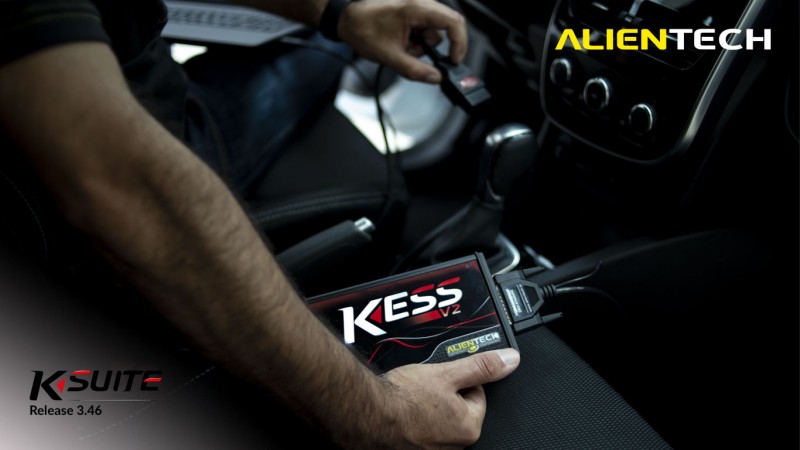 Thanks to this update of K-Suite for KESSv2, many of the most famous brands are supported, such as: Mercedes, Renault, Dacia, Nissan, Fiat and Opel, equipped with ECU Bosch EDC17C84!
To read and write these vehicles you just need KESSv2 and the OBD2 standard cable: these are the only tools you'll need to work safely and efficiently.
We also have another important news: a preview of some new protocols.
From today, the following vehicles ECUs, will be available in "coming soon" in the next few days:
BMW Motorrad – Bosch ME17.2.4 BMS-MP – Can – Virtual Reading and Writing
Ford – Bosch MED17.0.7 – Can – Reading and Writing
Land Rover – Bosch EDC17CP55 – Flexray – Reading and Writing
Land Rover – Bosch MED17.8.32 – Flexray – Reading and Writing
Triumph – Keihin SH72531 – Can – Reading and Writing
Bosch EDC17C84 ECU remapping now supported in OBD2:
Dacia Dokker MPV 1.5 dCi 5MT
Bosch EDC17C84 [RD, WR]
Dacia Dokker Stepway 1.5 dCi 5MT
Bosch EDC17C84 [RD, WR]
Dacia Duster 1.5 dCi 6MT
Bosch EDC17C84 [RD, WR]
Dacia Lodgy MPV 1.5 dCi 5MT
Bosch EDC17C84 [RD, WR]
Dacia Lodgy Stepway 1.5 dCi 5MT
Bosch EDC17C84 [RD, WR]
Dacia Logan 1.5 dCi 5MT
Bosch EDC17C84 [RD, WR]
Dacia Logan 1.5 dCi 6MT
Bosch EDC17C84 [RD, WR]
Dacia Logan Mcv 1.5 dCi 5MT
Bosch EDC17C84 [RD, WR]
Dacia Logan Mcv 1.5 dCi 6MT
Bosch EDC17C84 [RD, WR]
Dacia Sandero 1.5 dCi 5MT
Bosch EDC17C84 [RD, WR]
Dacia Sandero 1.5 dCi 6MT
Bosch EDC17C84 [RD, WR]
Dacia Sandero Stepway 1.5 dCi 5MT
Bosch EDC17C84 [RD, WR]
Dacia Sandero Stepway 1.5 dCi 6MT
Bosch EDC17C84 [RD, WR]
FIAT Talento 1.6 16v EcoJet TwinTurbo 6MT
Bosch EDC17C84 [RD, WR]
FIAT Talento 1.6 16v EcoJet TwinTurbo 6MT
Bosch EDC17C84 [RD, W]R
Mercedes-Benz Citan W415 109 CDI
Bosch EDC17C84 [RD, WR]
Nissan March 1.5 dCi 90
Bosch EDC17C84 [RD, WR]
Nissan Micra K14 1.5 dCi 90
Bosch EDC17C84 [RD, WR]
Nissan Note 1.5 dCi 90
Bosch EDC17C84 [RD, WR]
Nissan Nv200 1.5 dCi 90
Bosch EDC17C84 [RD, WR]
Nissan Nv300 1.6 dCi 6MT
Bosch EDC17C84[RD, WR]
Nissan Qashqai J11 1.6 16v dCi
Bosch EDC17C84 [RD, WR]
Nissan X-Trail T32 1.6 16v dCi
Bosch EDC17C84 [RD, WR]
Nissan X-Trail T32 2.0 16v dCiBosch EDC17C84 [RD, WR]
Opel Vivaro B 1.6 BiTurbo CDTi
Bosch EDC17C84 [RD, WR]
Renault Captur 1.5 dCi 6MT
Bosch EDC17C84 [RD, WR]
Renault Clio 1.5 dCi 5MT
Bosch EDC17C84 [RD, WR]
Renault Clio 1.5 dCi 6AT
Bosch EDC17C84 [RD, WR]
Renault Duster 1.5 dCi 6MT
Bosch EDC17C84 [RD, WR]
Renault Espace 1.6 dCi 6AT
Bosch EDC17C84 [RD, WR]
Renault Espace 1.6 dCi 6MT
Bosch EDC17C84 [RD, WR]
Renault Grand Scenic 1.6 dCi
Bosch EDC17C84 [RD, WR]
Renault Kadjar 1.6 dCi 6MT
Bosch EDC17C84 [RD, WR]
Renault Kangoo 1.5 dCi 5MT
Bosch EDC17C84 [RD, WR]
Renault Koleos 2.0 dCi 6MT
Bosch EDC17C84 [RD, WR]
Renault Koleos 2.0 dCi AT
Bosch EDC17C84 [RD, WR]
Renault Logan 1.5 dCi 5MT
Bosch EDC17C84 [RD, WR]
Renault Logan 1.5 dCi 6MT
Bosch EDC17C84 [RD, WR]
Renault Megane 1.6 dCi 6AT
Bosch EDC17C84 [RD, WR]
Renault Megane 1.6 dCi 6MT
Bosch EDC17C84 [RD, WR]
Renault Megane GT 1.6 dCi 6AT
Bosch EDC17C84 [RD, WR]
Renault Sandero 1.5 dCi 5MT
Bosch EDC17C84 [RD, WR]
Renault Sandero 1.5 dCi 6MT
Bosch EDC17C84 [RD, WR]
Renault Sandero Stepway 1.5 dCi 5MT
Bosch EDC17C84 [RD, WR]
Renault Sandero Stepway 1.5 dCi 6MT
Bosch EDC17C84 [RD, WR]
Renault Scenic 1.6 dCi
Bosch EDC17C84 [RD, WR]
Renault Talisman 1.6 16v dCi 6MT
Bosch EDC17C84 [RD, WR]
Renault Trafic 1.6 dCi 6MT
Bosch EDC17C84 [RD, WR]
FUNCTIONS:
WR = Writing
RD = Reading