Alientech tool update: K-Suite Release 3.44
23 May 2019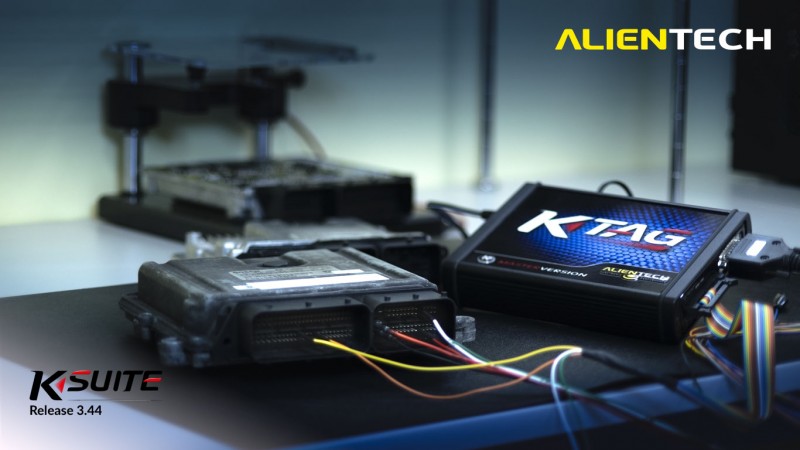 The number of ECUs supported by K-TAG Tricore Service Mode, increases more and more!
With the most recent K-Suite update, it's possible to work on the bench with K-TAG without opening the ECU on control units with microcontrollers TC1724, TC1762, TC1767, TC1793, TC1796 and TC1797.
TRICORE SERVICE MODE
You won't have to buy new hardware, cables or adapters! To be able to use the new TSM (Tricore Service Mode) activation for free, all you need is an active subscription on K-TAG Master or Slave with Tricore-ST activation and you can work safely!
Remap the ECU on bench without having to open it, directly through the connector! With K-TAG you can read and write the ECUs of Jeep, Ford, Land Rover, Polaris, Suzuki, Ford, PSA and VAG groups.
Download now the new K-Suite update to work easily on bench without opening the ECU!
New ECUs supported by K-TAG with Tricore SM:
BOSCH EDC17CP27 IROM TC1796 JEEP TSM
BOSCH EDC17CP42 IROM TC1797 FORD TSM
BOSCH EDC17CP42 IROM TC1797 LAND ROVER TSM
BOSCH EDC17CP42 IROM TC1797 PSA TSM
BOSCH M17.8.7 IROM TC1762 POLARIS TSM
BOSCH ME17.9.61 IROM TC1724 SUZUKI TSM
BOSCH MED17.5.1 XROM TC1796 VAG TSM
BOSCH MED17.0.1 IROM TC1767 FORD TSM
BOSCH MED17.1.62 IROM TC1793 VAG TSM