Alientech news update: K-Suite release 4.11
11 November 2020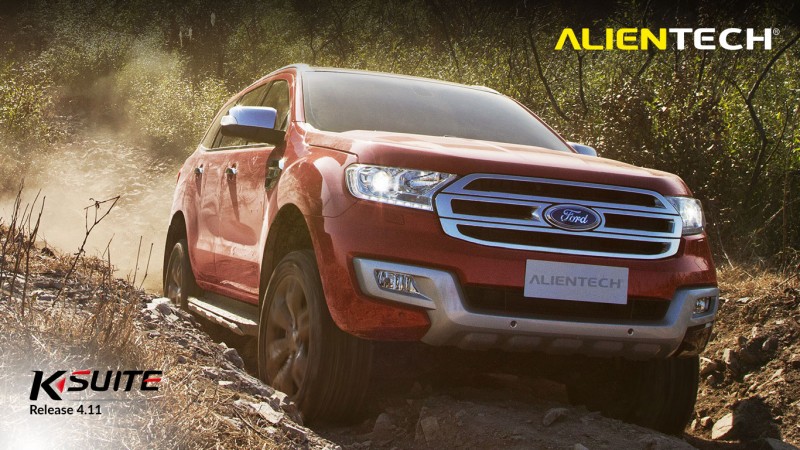 K-TAG: new protocols for Bosch EDC16 in Service Mode!
READING, WRITING, AND CLONING WITHOUT OPENING THE ECU BOSCH EDC16 THROUGH K-TAG SERVICE MODE.
This K-Suite update introduces new protocols with read, write and clone functions for some Bosch EDC16s.
In addition to the three new protocols dedicated to EDC16, we have introduced the protocol in Boot for Bosch EDC15.

It is about vehicles diffused and on the market for a few years already and that, of course, you must have had in your workshop. That is why the K-Suite update becomes important and above all very useful.

On such vehicles, on sale since 2003, it becomes fundamental to intervene for recalibrations, reparations, and operations also quite complex: professionality and speed gets decisive to make a vehicle efficient again. With K-TAG and thanks to the Service Mode, you will be able to work safely and minimize the margin of error.
BOSCH EDC16C3, BOSCH EDC16C7
Ford Endeavour 2.5 TDCi 5MT
Bosch EDC16C7 [RD, WR, Clone]
Ford Endeavour 3.0 TDCi 5MT
Bosch EDC16C7 [RD, WR, Clone]
Ford Everest 2.5 TDCi 5MT
Bosch EDC16C7 [RD, WR, Clone]
Ford Everest 3.0 TDCi 5MT
Bosch EDC16C7 [RD, WR, Clone]
Ford Focus 1.6 TDCi 5MT
Bosch EDC16C3 [RD, WR, Clone]
Ford Focus 1.6 TDCi AT
Bosch EDC16C3 [RD, WR, Clone]
Ford Focus C-Max DM2 1.6 TDCi 5MT
Bosch EDC16C3 [RD, WR, Clone]
Ford Focus C-Max DM2 1.6 TDCi 6AT
Bosch EDC16C3 [RD, WR, Clone]
Ford Ranger 2.5 TDCi 5AT
Bosch EDC16C7 [RD, WR, Clone]
Ford Ranger 2.5 TDCi 5MT
Bosch EDC16C7 [RD, WR, Clone]
Ford Ranger 3.0 TDCi 5AT
Bosch EDC16C7 [RD, WR, Clone]
Ford Ranger 3.0 TDCi 5MT
Bosch EDC16C7 [RD, WR, Clone]
Mazda 2 DE 1.6 MZ-CD 5MT
Bosch EDC16C3 [RD, WR, Clone]
Mazda 3 BK 1.6 MZ-CD 5MT
Bosch EDC16C3 [RD, WR, Clone]
Mazda Bt-50 J97M 2.5 MZR-CD
Bosch EDC16C7-7 [RD, WR, Clone]
BOSCH EDC16U31
Chrysler 300C 3.0 V6 CRD
Bosch EDC16U31 [RD, WR, Clone]
Chrysler Sebring 2.0 16v CRD
Bosch EDC16U31 [RD, WR, Clone]
Chrysler Voyager 2.8 CRD
Bosch EDC16U31 [RD, WR, Clone]
Dodge Avenger 2.0 16v CRD
Bosch EDC16U31 [RD, WR, Clone]
Dodge Caliber 2.0 16v CRD
Bosch EDC16U31 [RD, WR, Clone]
Dodge Journey 2.0 16v CRD
Bosch EDC16U31 [RD, WR, Clone]
Jeep Commander XK 3.0 V6 CRD
Bosch EDC16U31 [RD, WR, Clone]
Jeep Compass MK49 2.0 CRD
Bosch EDC16U31 [RD, WR, Clone]
Jeep Grand Cherokee WK 3.0 CRD
Bosch EDC16U31 [RD, WR, Clone]
Jeep Liberty KJ 2.8 16 VCRD
Bosch EDC16U31 [RD, WR, Clone]
Jeep Patriot 2.0 CRD
Bosch EDC16U31 [RD, WR, Clone]
Jeep Wrangler 2.8 CRD
Bosch EDC16U31 [RD, WR, Clone]
Mitsubishi Colt Z30 1.5 16v DI-D
Bosch EDC16C31 [RD, WR, Clone]
Mitsubishi Colt Z30 1.5 16v DI-D
Bosch EDC16U31 [RD, WR, Clone]
Mitsubishi Grandis NA 2.0 16v DI-D
Bosch EDC16U31 [RD, WR, Clone]
Mitsubishi Lancer CX-CY 2.0 16v DI-D
Bosch EDC16U31 [RD, WR, Clone]
Mitsubishi Outlander CW 2.0 16v DI-D 4WD
Bosch EDC16U31 [RD, WR, Clone]
BOSCH EDC16C39
Buick Excelle 2.0 TDCi
Bosch EDC16C39 [RD, WR, Clone]
Chevrolet Captiva 2.0 16v VCDi 150 2WD
Bosch EDC16C39 [RD, WR, Clone]
Chevrolet Captiva 2.0 16v VCDi 150 4WD
Bosch EDC16C39 [RD, WR, Clone]
Chevrolet Captiva 2.0 16v VCDi 150 4WD Automatic
Bosch EDC16C39 [RD, WR, Clone]
Chevrolet Cruze 2.0 16v VCDi 125
Bosch EDC16C39 [RD, WR, Clone]
Chevrolet Cruze 2.0 16v VCDi 150
Bosch EDC16C39 [RD, WR, Clone]
Chevrolet Cruze 2.0 16v VCDi 150 Automatic
Bosch EDC16C39 [RD, WR, Clone]
Chevrolet Epica V250 2.0 16v VCDi
Bosch EDC16C39 [RD, WR, Clone]
Chevrolet Epica V250 2.0 16v VCDi Automatic
Bosch EDC16C39 [RD, WR, Clone]
Chevrolet Estate J200 2.0 16v VCDi
Bosch EDC16C39 [RD, WR, Clone]
Chevrolet Estate J200 2.0 16v VCDi Automatic
Bosch EDC16C39 [RD, WR, Clone]
Chevrolet Lacetti J200 2.0 16v VCDi
Bosch EDC16C39 [RD, WR, Clone]
Chevrolet Lacetti J200 2.0 16v VCDi Automatic
Bosch EDC16C39 [RD, WR, Clone]
Chevrolet Nubira J200 2.0 16v VCDi
Bosch EDC16C39 [RD, WR, Clone]
Chevrolet Nubira J200 2.0 16v VCDi Automatic
Bosch EDC16C39 [RD, WR, Clone]
Chevrolet Optra J200 2.0 16v VCDi
Bosch EDC16C39 [RD, WR, Clone]
Chevrolet Optra J200 2.0 16v VCDi Automatic
Bosch EDC16C39 [RD, WR, Clone]
Chevrolet Tosca V250 2.0 16v VCDi
Bosch EDC16C39 [RD, WR, Clone]
Chevrolet Tosca V250 2.0 16v VCDi Automatic
Bosch EDC16C39 [RD, WR, Clone]
Chevrolet Vectra 1.9 16v CDTI
Bosch EDC16C39 [RD, WR, Clone]
Daewoo Epica V250 2.0 16v VCDi
Bosch EDC16C39 [RD, WR, Clone]
Daewoo Epica V250 2.0 16v VCDi Automatic
Bosch EDC16C39 [RD, WR, Clone]
Daewoo Lacetti J200 2.0 16v VCDi
Bosch EDC16C39 [RD, WR, Clone]
Daewoo Lacetti J200 2.0 16v VCDi Automatic
Bosch EDC16C39 [RD, WR, Clone]
Daewoo Nubira J200 2.0 16v VCDi
Bosch EDC16C39 [RD, WR, Clone]
Daewoo Nubira J200 2.0 16v VCDi Automatic
Bosch EDC16C39 [RD, WR, Clone]
Daewoo Tosca V250 2.0 16v VCDi
Bosch EDC16C39 [RD, WR, Clone]
Daewoo Tosca V250 2.0 16v VCDi Automatic
Bosch EDC16C39 [RD, WR, Clone]
Daewoo Winstorm 2.0 16v VCDi 125 2WD
Bosch EDC16C39 [RD, WR, Clone]
Daewoo Winstorm 2.0 16v VCDi 150 2WD
Bosch EDC16C39 [RD, WR, Clone]
Daewoo Winstorm 2.0 16v VCDi 150 4WD
Bosch EDC16C39 [RD, WR, Clone]
Daewoo Winstorm 2.0 16v VCDi 150 4WD Automatic
Bosch EDC16C39 [RD, WR, Clone]
Holden Astra H 1.9 CDTI
Bosch EDC16C39 [RD, WR, Clone]
Holden Captiva 2.0 16v VCDi 125 2WD
Bosch EDC16C39 [RD, WR, Clone]
Holden Captiva 2.0 16v VCDi 150 2WD
Bosch EDC16C39 [RD, WR, Clone]
Holden Captiva 2.0 16v VCDi 150 4WD
Bosch EDC16C39 [RD, WR, Clone]
Holden Captiva 2.0 16v VCDi 150 4WD Automatic
Bosch EDC16C39 [RD, WR, Clone]
Holden Colorado 2.8 TD
Bosch EDC16C39 [RD, WR, Clone]
Holden Cruze J300 2.0 VCDI
Bosch EDC16C39 [RD, WR, Clone]
Holden Epica V250 2.0 16v VCDi
Bosch EDC16C39 [RD, WR, Clone]
Holden Epica V250 2.0 16v VCDi Automatic
Bosch EDC16C39 [RD, WR, Clone]
Holden Lacetti 2.0 TDCI
Bosch EDC16C39 [RD, WR, Clone]
Holden Vectra C 1.9 16v CDTI
Bosch EDC16C39 [RD, WR, Clone]
Holden Viva J200 2.0 16v VCDi
Bosch EDC16C39 [RD, WR, Clone]
Holden Viva J200 2.0 16v VCDi Automatic
Bosch EDC16C39 [RD, WR, Clone]
Holden Zafira B 1.9 CDTI
Bosch EDC16C39 [RD, WR, Clone]
Opel Antara A 2.0 CDTI
Bosch EDC16C39 [RD, WR, Clone]
Opel Astra H 1.9 CDTI
Bosch EDC16C39 [RD, WR, Clone]
Opel Astra H 1.9 CDTI Ecotec
Bosch EDC16C39 [RD, WR, Clone]
Opel Signum 1.9 CDTI
Bosch EDC16C39 [RD, WR, Clone]
Opel Signum 1.9 CDTI Ecotec
Bosch EDC16C39 [RD, WR, Clone]
Opel Vectra C 1.9 CDTI
Bosch EDC16C39 [RD, WR, Clone]
Opel Vectra C 1.9 CDTI Ecotec
Bosch EDC16C39 [RD, WR, Clone]
Opel Zafira B 1.9 CDTI Ecotec
Bosch EDC16C39 [RD, WR, Clone]
Saab 93 1.9 8v TiD
Bosch EDC16C39 [RD, WR, Clone]
Saab 93 1.9 16v TiDS
Bosch EDC16C39 [RD, WR, Clone]
Saab 93 1.9 16v TTiD
Bosch EDC16C39 [RD, WR, Clone]
Saturn Astra H 1.9 CDTI
Bosch EDC16C39 [RD, WR, Clone]
Vauxhall Astra H 1.9 CDTI
Bosch EDC16C39 [RD, WR, Clone]
Vauxhall Vectra C 1.9 16v CDTI
Bosch EDC16C39 [RD, WR, Clone]
Vauxhall Zafira B 1.9 CDTI
Bosch EDC16C39 [RD, WR, Clone]
BOSCH EDC15C7 ST10C167
Hyundai Accent LC 1.5 12v CRDi
Bosch EDC15C7 [RD, WR, Clone]
Hyundai Accent LC 1.5 12v CRTD
Bosch EDC15C7 [RD, WR, Clone]
Hyundai Accent LC 1.5 12v TD
Bosch EDC15C7 [RD, WR, Clone]
Hyundai Elantra XD 2.0 16v CRDi
Bosch EDC15C7 [RD, WR, Clone]
Hyundai Elantra XD 2.0 16v CRTD
Bosch EDC15C7 [RD, WR, Clone]
Hyundai Getz TB 1.5 12v CRDi
Bosch EDC15C7 [RD, WR, Clone]
Hyundai Getz TB 1.5 12v CRTD
Bosch EDC15C7 [RD, WR, Clone]
Hyundai H-1 A1 2.5 16v CRDi
Bosch EDC15C7 [RD, WR, Clone]
Hyundai H-200 A1 2.5 16v CRDi
Bosch EDC15C7 [RD, WR, Clone]
Hyundai H-200 A1 2.5 16v CRDi Automatic
Bosch EDC15C7 [RD, WR, Clone]
Hyundai Matrix FC 1.5 12v CRDi
Bosch EDC15C7 [RD, WR, Clone]
Hyundai Matrix FC 1.5 16v CRDi VGT
Bosch EDC15C7 [RD, WR, Clone]
Hyundai Santa Fe CM 2.0 16v CRDi VGT 2WD
Bosch EDC15C7 [RD, WR, Clone]
Hyundai Santa Fe CM 2.0 16v CRDi VGT 2WD Automatic
Bosch EDC15C7 [RD, WR, Clone]
Hyundai Santa Fe SM 2.0 16v CRDi 2WD
Bosch EDC15C7 [RD, WR, Clone]
Hyundai Santa Fe SM 2.0 16v CRDi 2WD Automatic
Bosch EDC15C7 [RD, WR, Clone]
Hyundai Santa Fe SM 2.0 16v CRDi 4WD
Bosch EDC15C7 [RD, WR, Clone]
Hyundai Santa Fe SM 2.0 16v CRDi 4WD Automatic
Bosch EDC15C7 [RD, WR, Clone]
Hyundai Santa Fe SM 2.0 16v CRDi GLS 4WD
Bosch EDC15C7 [RD, WR, Clone]
Hyundai Santa Fe SM 2.0 16v CRDi VGT 4WD
Bosch EDC15C7 [RD, WR, Clone]
Hyundai Santa Fe SM 2.0 16v CRDi VGT 4WD Automatic
Bosch EDC15C7 [RD, WR, Clone]
Hyundai Santa Fe SM 2.0 16v CRTD 4WD
Bosch EDC15C7 [RD, WR, Clone]
Hyundai Santa Fe SM 2.0 16v CRTD 4WD Automatic
Bosch EDC15C7 [RD, WR, Clone]
Hyundai Starex A1 2.5 16v CRDi
Bosch EDC15C7 [RD, WR, Clone]
Hyundai Starex A1 2.5 16v CRDi Automatic
Bosch EDC15C7 [RD, WR, Clone]
Hyundai Trajet XG 2.0 16v CRDi
Bosch EDC15C7 [RD, WR, Clone]
Hyundai Trajet XG 2.0 16v CRDi Automatic
Bosch EDC15C7 [RD, WR, Clone]
Hyundai Trajet XG 2.0 16v CRDi VGT
Bosch EDC15C7 [RD, WR, Clone]
Hyundai Trajet XG 2.0 16v CRDi VGT Automatic
Bosch EDC15C7 [RD, WR, Clone]
Hyundai Trajet XG 2.0 16v CRTD
Bosch EDC15C7 [RD, WR, Clone]
Hyundai Trajet XG 2.0 16v CRTD Automatic
Bosch EDC15C7 [RD, WR, Clone]
Hyundai Tucson JM 2.0 16v CRDi 2WD
Bosch EDC15C7 [RD, WR, Clone]
Hyundai Tucson JM 2.0 16v CRDi 2WD Automatic
Bosch EDC15C7 [RD, WR, Clone]
Hyundai Tucson JM 2.0 16v CRDi 4WD
Bosch EDC15C7 [RD, WR, Clone]
Hyundai Tucson JM 2.0 16v CRDi 4WD Automatic
Bosch EDC15C7 [RD, WR, Clone]
Hyundai Tucson JM 2.0 16v CRDi 4WD MXL Automatic
Bosch EDC15C7 [RD, WR, Clone]
Hyundai Verna MC 1.5 16v CRDi VGT
Bosch EDC15C7 [RD, WR, Clone]
Hyundai Verna MC 1.5 16v CRDi VGT Automatic
Bosch EDC15C7 [RD, WR, Clone]
Kia Carens 2.0 8v CRDI
Bosch EDC15C7 [RD, WR, Clone]
Kia Cerato 1.5 8v CRDI
Bosch EDC15C7 [RD, WR, Clone]
Kia Cerato 2.0 8v CRDI
Bosch EDC15C7 [RD, WR, Clone]
Kia Rio JB 1.5 8v CRDI
Bosch EDC15C7 [RD, WR, Clone]
Kia Sorento 2.5 CRDI
Bosch EDC15C7 [RD, WR, Clone]
Kia Sportage 2.0 8v CRDI
Bosch EDC15C7 [RD, WR, Clone]