Alientech news update: K-Suite Release 3.82
2 April 2020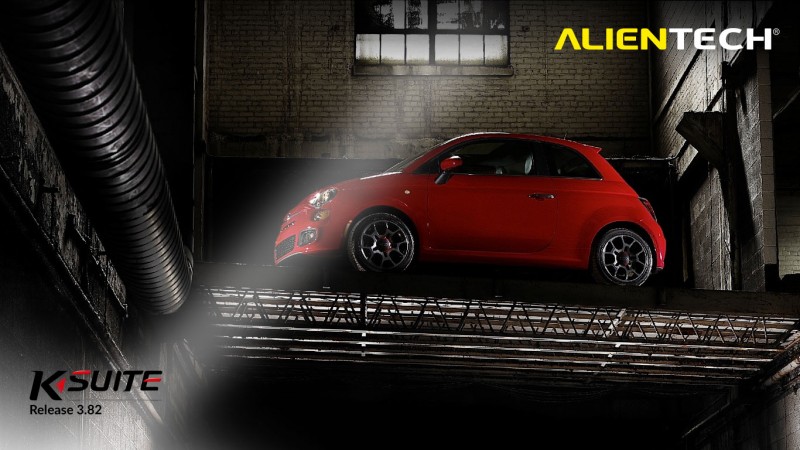 ECU Marelli MJD6F3, MJD6JF, IAW 10GF and Continental CM2350B now supported by K-TAG!
What is the Alientech goal? To develop more and more complex updates, but intended to simplify the daily work, by reading and writing on the bench!

To make your operations even more simple and fast, they have focused on the re-elaboration of the existing protocols, allowing you to reduce the modifications timing, so you will be able to save valuable time, but how? With K-TAG Service Mode (SM), you will be able to speed up the passages greatly, by reading and writing on the bench without opening the ECU, the content of the ECUS Marelli MJD6F3, MJD6JF with microcontroller MPC563. These ECUS are mounted on Fiat 500, Doblò, Grande Punto, Alfa Romeo Mito, Lancia Ypsilon, Musa and many other vehicles.

But that's not all, to satisfy all the kind of markets, they have expanded the supported ECUS number, moving easily from the Italian to American one!

The keyword is, here too: simplicity! Indeed, by activating K-TAG Freescale with BAM (Bus Access Module) connection, you will be able to simplify the connection between K-TAG and the Marelli ECUS IAW 10GF installed on 1.8 Flex engines (flexible-fuel), very popular in Latin America; in this way, you will read, write and clone the entire content of the ECU!

The news doesn't end here, in fact starting from today also the ECU Continental CM2350B with engine Cummins will be supported, equipped on the Dodge Ram. Then it will be possible to read and write the entire content of the ECU by activating the JTAG Freescale, allowing all these operations necessary for repairing, including the cloning itself.
New ECUs supported by K-TAG
Alfa Romeo Mito 1.3 JTDm (90)
Magneti Marelli MJD6F3 [RD, WR]
FIAT 500 1.3 16v Multijet 5MT (75 hp)
Magneti Marelli MJD6F3 [RD, WR]
FIAT 500C 1.3 16v Multijet 5MT (75 hp)
Magneti Marelli MJD6F3 [RD, WR]
FIAT Doblo 1.3 16v Multijet DPF
Magneti Marelli MJD6F3 [RD, WR]
FIAT Fiorino 1.3 16v Mjet
Magneti Marelli MJD6F3 [RD, WR]
FIAT Grande Punto 199 1.3 16v Multijet 75 DPF
Magneti Marelli MJD6F3 [RD, WR]
FIAT Grande Punto 199 1.3 16v Multijet 90
Magneti Marelli MJD6F3 [RD, WR]
FIAT Grande Punto 199 1.3 16v Multijet 90 Automatic
Magneti Marelli MJD6F3 [RD, WR]
FIAT Grande Punto 199 1.3 16v Multijet 90 DPF
Magneti Marelli MJD6F3 [RD, WR]
FIAT Idea 1.3 16v Mjet
Magneti Marelli MJD6F3 [RD, WR]
FIAT Linea 1.3 16v Mjet DPF
Magneti Marelli MJD6F3 [RD, WR]
FIAT Palio 1.3 16v Mjet
Magneti Marelli MJD6F3 [RD, WR]
FIAT Panda 1.3 16v Multijet DPF
Magneti Marelli MJD6F3 [RD, WR]
FIAT Qubo 1.3 16v Mjet
Magneti Marelli MJD6F3 [RD, WR]
FIAT Strada 1.3 16v Mjet DPF
Magneti Marelli MJD6F3 [RD, WR]
Lancia Musa 1.3 16v Mjet
Magneti Marelli MJD6F3 [RD, WR]
Lancia Ypsilon 1.3 16v Mjet
Magneti Marelli MJD6F3 [RD, WR]

FIAT Doblo 1.3 16v Multijet
Magneti Marelli MJD6JF [RD, WR]
FIAT Idea 1.3 16v Mjet
Magneti Marelli MJD6JF [RD, WR]
FIAT Palio 1.3 16v Mjet
Magneti Marelli MJD6JF [RD, WR]
FIAT Panda 1.3 16v Multijet
Magneti Marelli MJD6JF [RD, WR]
FIAT Panda 1.3 16v Multijet 4x4
Magneti Marelli MJD6JF [RD, WR]
FIAT Punto 188 1.3 16v Multijet
Magneti Marelli MJD6JF [RD, WR]
FIAT Punto 188 1.3 16v Multijet
Magneti Marelli MJD6JF [RD, WR]
FIAT Punto 188 1.3 16v Multijet Automatic
Magneti Marelli MJD6JF [RD, WR]
FIAT Punto Evo 199 1.3 16v Multijet 90
Magneti Marelli MJD6JF [RD, WR]
FIAT Punto Evo 199 1.3 16v Multijet 90 Automatic
Magneti Marelli MJD6JF [RD, WR]
Lancia Musa 1.3 16v Mjet
Magneti Marelli MJD6JF [RD, WR]
Lancia Ypsilon 1.3 16v Mjet
Magneti Marelli MJD6JF [RD, WR]
FIAT Argo (X6H) 1.0 6v FireFly FLEX
Magneti Marelli IAW 10GF [RD, WR, Clone]
FIAT Argo (X6H) 1.3 8v FireFly FLEX
Magneti Marelli IAW 10GF [RD, WR, Clone]
FIAT Argo (X6H) 1.8 16v E.TorQ FLEX
Magneti Marelli IAW 10GF [RD, WR, Clone]
FIAT Cronos (X6S) 1.3 8v FireFly FLEX
Magneti Marelli IAW 10GF [RD, WR, Clone]
FIAT Cronos (X6S) 1.8 16v E.TorQ FLEX
Magneti Marelli IAW 10GF [RD, WR, Clone]
FIAT Mobi 1.0 6v FireFly FLEX
Magneti Marelli IAW 10GF [RD, WR, Clone]
FIAT Toro 1.8 16v E.TorQ FLEX
Magneti Marelli IAW 10GF [RD, WR, Clone]
FIAT Uno 1.0 6v FireFly FLEX
Magneti Marelli IAW 10GF [RD, WR, Clone]
FIAT Uno 1.3 8v FireFly FLEX
Magneti Marelli IAW 10GF [RD, WR, Clone]
Jeep Renegade BU 1.8 16v E.TorQ FLEX
Magneti Marelli IAW 10GF [RD, WR, Clone]
Dodge RAM 2500 6.7 L6
Continental CM2350B [RD, WR, Clone]
Dodge RAM 3500 6.7 L6
Continental CM2350B [RD, WR, Clone]
Dodge RAM Chassis Cab 6.7 L6
Continental CM2350B [RD, WR, Clone]