Secons ltd
PoCOM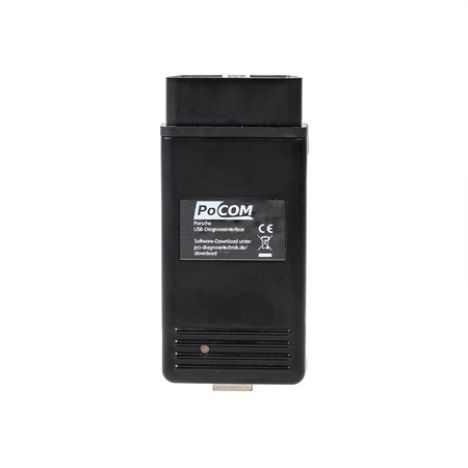 New!
Product information
PoCOM diagnostic tool for Porsche
PoCOM supports all OBD2 vehicles from 1996. The manufacturer tries to keep the software compatible with the PIWIS and PIWIS II dealer tools where possible.

Users of the VAG-COM/VCDS® or the Durametric devices will also be able to use this.

PoCOM comes with an OBD2 to USB interface and is designed for Windows 2000/XP/Vista/7/8/10 or Linux or macOS/X (using Wine emulation). The hardware requirements are very low compared to dealer tools.

The OBD2 to USB PoCOM interface includes 2 multiplexed ISO9141 K-lines and L-lines, high-speed CAN-BUS and analog measurement circuits. Supported protocols also include KW-71, KW-1281, KWP2000, VW TP1.6, VW TP2.0, ISO15765, and UDS ISO14229.
Product features:
Fully multiplexed all-in-one smart USB2.0 interface

Automatic ECU recognition

Automatic vehicle scan

ECU Identification

Read Error Code (DTC)

Clear Error Code

Read freeze-frame

Measured values ​​/ live data

Record live data

Print diagnosis protocol

Actuator tests

ECU coding

Configuration
The product contains:
PoCOM OBD2 USB interface with USB cable

Link to PoCOM software and installation instructions

Free updates
The warranty period is 2 years.
Manufacturer product number