CMD Flashtec
CMDFlash Slave Full
Product information
The CMDFlash tool is a reader/programmer supporting BDM, EOBD K-LINE, EOBD CAN-BUS, EOBD PWM for all the new generation ECUs. With BDM you need to unplug the ECU from the vehicle, open and connect it to our tool using a connector available on every Bosch EDC16, Marelli, Siemens and Delphi ECUs.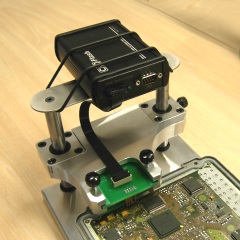 This tool can be sold as a plug-in of our Map3d software or stand-alone tool.
The Software allows you to read/write the Eprom (29bl802 / M58), the internal firmware and the serial e2prom containing the car's codes. Checksum correction algoritm is automatic for all the ECU families, this mean you don't have to care about checksums calculations.
With this tool it is possible to read all the ecu's eprom, and after a bad map tuning, a system hung or an interrupted write operation it is always possible to restart the program operation to restore the ECU and start the car. All the ECU data can be stored in a single file with additional info like brand, model, plague, chassis number, data, note, customer etc. With search facilities and information directly integrated in Microsoft Windows Explorer.

CMDFlash Slave Full includes:
OBD KLine, CANBUS, DoiP ENET
VAG FRF/ODX/SGO flasher
BOOT/Bench Interface for all supported processors ST10,C167,RENESAS,TRICORE,TC29x,MPC5777.
BDM - MPC5xx
Read and write crypted files only
All accessories included for OBD, boot and bench
High current Power supply suitable for BOOT - Bench and BDM
Enet Cable
SGW Adapter FCA group
One year free subscription ( value 1100CHF)
( tool is tied to one master only)
*MPC55xx BDM, positionig frames with adapters and Industrial Vehicles are not included
(Note: These 10 Free credits are only available if the slave is linked to the Master version of Dyno-chiptuningfiles).
TRANSFER: Slave transfer involves fees and requires mandatory subscription update (in case subscription is not active).
Please note that this tool utilizes an annual subscription to provide updates and automatic functionality. When purchasing this tool, one year of activation is included. Afterward, the annual fee depends on the version: Master or Slave. The prices can be found on the subscription page of this tool.
* Please note that we obligate Slave users to be linked to our Master tool for at least one year when purchasing a slave tool in combination with free DCF credits from Tuning-shop.com.
Manufacturer product number
CMD Flashtec
CMDFlash Slave Full