Autotuner Tool
Autotuner Flasher tool SLAVE version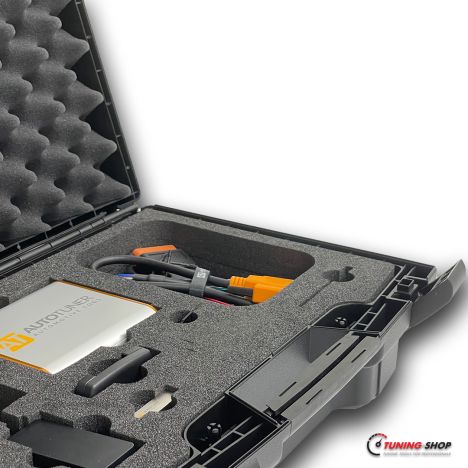 +10 FREE Credits
Slave
Product information
Autotuner is the latest automotive OBD flasher tool generation designed for chiptuning professionals. Whether you already possess a diagnostic tool or not, Autotuner design quality and ease of use are made for you. Autotuner is a universal tool able to read information from most ECUs and microcontrollers available on the market in boot tricore Infineon (BSL) or via the OBD diagnostic socket.
Autotuner Flasher tool Slave version includes:
Autotuner Flasher Slave (Tool)
Datalogging function
Carrying case
OBD cable
USB cable
Universal cable + universal box
USB key with drivers
Power adapter
Probe Positioner + testprobe and cable
Free updates
(Note: These 10 Free credits are only available if the slave is linked to the Master version of Dyno-chiptuningfiles).
TRANSFER: Slave transfer incurs cost and requires an approval from the current Master, possibly a mandatory update of the subscription (if the subscription is not active). The Slave user must have purchased a minimum of 10 Slave Credits from dyno-chiptuning-files.com.
* Please note that we require Slave users to be linked to our Master tool for at least one year when purchasing a Slave tool in combination with free DCF credits from Tuning-shop.com.

Manufacturer product number
Autotuner Tool
Autotuner Flasher tool SLAVE version