Magic Motorsport tool update: Flex 3.13.0.0
30 September 2019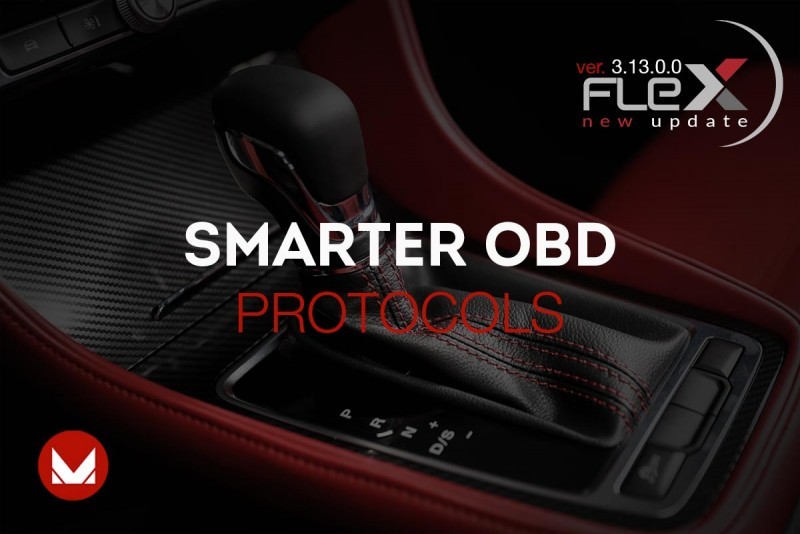 Smart, fast and safe: that is how we would define the results of our last efforts. Our new Flex update implements many OBD protocols for both engine and transmission control units,
Smarter OBD protocols
In order to improve the user experience, our developers realized smart solutions that are able to identify automatically the best way to read or write the control unit you are connected to.
This applies for example on the very common VAG DSG DQ200 (7 speed dry clutch gearbox) & DQ250 (6 speed wet clutch gearbox) families, which used to include many protocols and versions. On Flex everything can be done without having to worry about not being able to identify which type of DQ200 or DQ250 you are dealing with.
The same logic was used to realize a generic Ford Continental EMS2xxx protocol which includes already several different new ECUs not available by X17, and more will come later on. Of course this is also accompanied by a general improvement of the stability and speed compared with the same protocols on older tools.
New protocols added:
Audi Temic ALL DQ200 (DQ200Dxx/DQ200-MQB/DQ200G2/DQ200G2_PQ) OBD autodetect: Virtual Read/Read(when available)/Write/Checksum Maps
Audi Temic ALL DQ250 (DQ250Exx/DQ250Fxx/DQ250-MQB) OBD autodetect: Virtual Read/Read(when available)/Write/Checksum Maps
Audi Temic DQ400 OBD: Virtual Read/Write/Checksum Maps
Citroen Bosch EDC17C10 OBD: Virtual Read/Read/Write/Checksum Maps
Dacia Bosch MD1CS006 TC298TP Bench Read/Write/Checksum Internal Flash, Read/Write Internal EEPROM, Full Read/Full Write Backup/Restore
Fiat Bosch EDC17C10 OBD: Virtual Read/Read/Write/Checksum Maps
Ford Bosch MED17.0 TC1767 Bench: Read/Write/Checksum Internal Flash, Read/Write/Checksum Internal EEPROM, Full Read/Full Write Clone/Restore
Ford Bosch MED17.0 TC1767 Boot: Read/Write/Checksum Internal Flash, Read/Write/Checksum Internal EEPROM, Full Read/Full Write Clone/Restore
Ford Continental EMS2102 OBD: Read/Write/Checksum Maps
Ford Continental EMS2208 OBD: Read/Write/Checksum Maps
Ford Continental EMS2302 OBD: Read/Write/Checksum Maps
Ford Continental EMS2303 OBD: Read/Write/Checksum Maps
Ford Continental EMS24xx OBD: Read/Write/Checksum Maps
Ford Continental EMS2510 OBD: Read/Write/Checksum Maps
Ford Continental EMS2511 OBD: Read/Write/Checksum Maps
Lincoln Bosch MED17.0 TC1767 Bench: Read/Write/Checksum Internal Flash, Read/Write/Checksum Internal EEPROM, Full Read/Full Write Clone/Restore
Lincoln Bosch MED17.0 TC1767 Boot: Read/Write/Checksum Internal Flash, Read/Write/Checksum Internal EEPROM, Full Read/Full Write Clone/Restore
Lincoln Continental EMS2208 OBD: Read/Write/Checksum Maps
Lincoln Continental EMS24xx OBD: Read/Write/Checksum Maps
Peugeot Bosch EDC17C10 OBD: Virtual Read/Read/Write/Checksum Maps
Peugeot Bosch MEVD17.4.2 TC1767/97 Boot: Read/Write/Checksum Internal flash, Read/Write/Checksum Internal EEPROM, Full Read/Full Write Clone/Restore
Renault Bosch MD1CS006 TC298TP Bench: Read/Write/Checksum Internal Flash, Read/Write Internal EEPROM, Full Read/Full Write Backup/Restore
Seat Temic ALL DQ200 (DQ200Dxx/DQ200-MQB/DQ200G2/DQ200G2_PQ) OBD autodetect: Virtual Read/Read(when available)/Write/Checksum Maps
Seat Temic ALL DQ250 (DQ250Exx/DQ250Fxx/DQ250-MQB) OBD autodetect: Virtual Read/Read(when available)/Write/Checksum Maps
Shelby Continental EMS24xx OBD: Read/Write/Checksum Maps
Skoda Temic ALL DQ200 (DQ200Dxx/DQ200-MQB/DQ200G2/DQ200G2_PQ) OBD autodetect: Virtual Read/Read(when available)/Write/Checksum Maps
Skoda Temic ALL DQ250 (DQ250Exx/DQ250Fxx/DQ250-MQB) OBD autodetect: Virtual Read/Read(when available)/Write/Checksum Maps
Volkswagen (VW) Temic ALL DQ200 (DQ200Dxx/DQ200-MQB/DQ200G2/DQ200G2_PQ) OBD autodetect: Virtual Read/Read(when available)/Write/Checksum Maps
Volkswagen (VW) Temic ALL DQ250 (DQ250Exx/DQ250Fxx/DQ250-MQB) OBD autodetect: Virtual Read/Read(when available)/Write/Checksum Maps
Volkswagen (VW) Temic DQ400 OBD: Virtual Read/Write/Checksum Maps
Bugfixes:
BMW Bosch MEV17.2.1 Bench & Boot: added access to read and write external flash
MB Bosch EDC16CP31 BDM: fixed a protocol issue
Software improvements:
BMW Bosch EDC17, MEVD17 and MDG1 (Fxx & Gxx) OBD ENET: added warning in case vehicle battery status is less than 13,7V