Magic Motorsport news update: Stage X just got a little bit better!
7 December 2021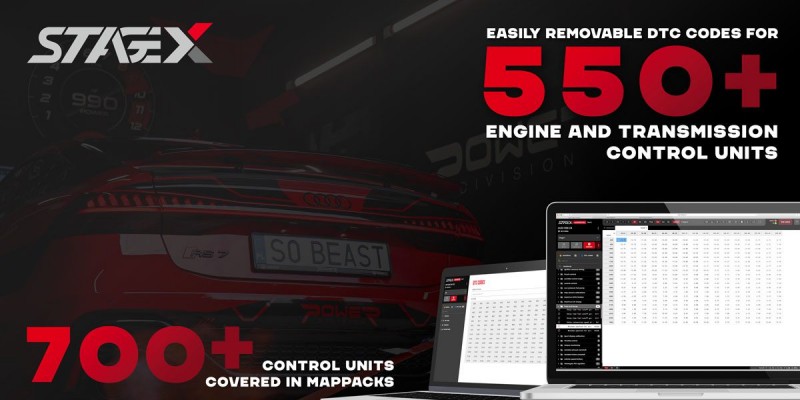 StageX Just Got a Lot Better
New mappacks for petrol ECUs, 8HP TCU's, and new TCU DTC solutions
We've been hard at work on StageX this holiday season! With the latest update, you can now work on over 700 well known ECU's and TCU's spread across almost every car manufacturer. In addition, over 550 control units are now equipped with easy DTC removal. ECU's such as MG1CS008, SIMOS18.x, DCM6.2, DMC7.1 ECU's are now available, as well as many TCU's like the 8HP, DQ500, DQ381, and DQ250! Just create a project and start editing with our complete solutions.
New Mappacks for Petrol Engines with ECU MG1CS008 and SIMOS18.x
Now you can work on new Audi, Lamborghini, and Porsche petrol models with our complete mappacks for MG1CS008 ECU's! In addition, you can use our mappacks to tune the well established SIMOS 18.x on Volkswagen, Seat, Skoda, and Audi petrol engines. We've included very map you'll need to properly tune and repair these engines.
New Mappacks for TCU's 8HP, 8HP Gen.1, 8HP Gen.2
The latest update includes new mappacks for Alfa Romeo 8HP TCUs, and BMW, AUDI, VOLKSWAGEN 8HP Gen.1 and 8HP Gen.2 TCUs — each of them contains hundreds of maps to give you complete solutions for every modification and scenario.
Easy DTC removal for many TCU's - from DQ200 to DQ501 !
Huge update for TCU DTC algorithms! Now on you can easily erase any DTC code from many well known transmission control units like the DQ200, DQ250, DQ500, DQ501, DQ380, and DQ381 plus many more!