Magic Motorsport news update: New ECU & TCU programming cables
17 November 2021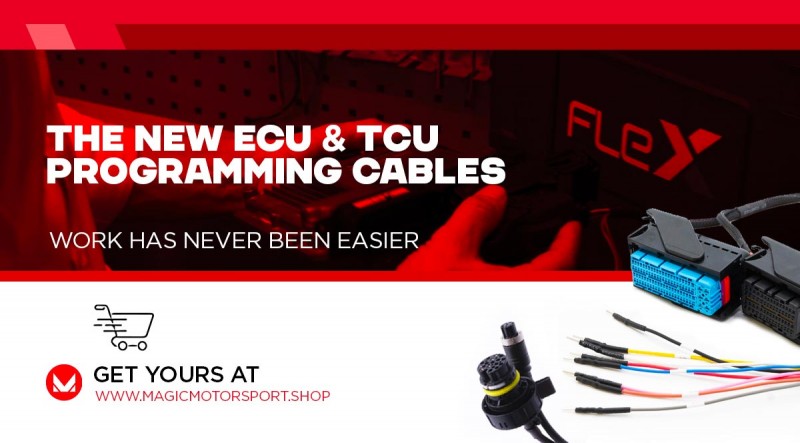 New ECU and TCU Cable Kits for FlexBox
Fast and Safe Vehicle Control Unit Connections
Four new cable kits for Flexbox Bench mode programming.
Make your work easier and get the new cables with connectors for engine control units (ECU) and automatic transmissions (TCU) at www.magicmotorsport.shop*.

FLK06 TCU kit VAG FlexBox port F cables composed of 4 cables for the reprogramming of Temic DQ200, DQ250, DL501 and Continental / Bosch DQ500 control units.

FLK06B kit TCU cable ZF (6/8 HP) – DKG composed of five cables for bench programming of Continental ZF 6HP and Bosch ZF 8HP type 1,2,3 and DKG generation 2 automatic gearboxes.

FLK11A ECU Connector VAG / MDG1 / EDC17 / PCR kit consists of six cables for reprogramming Bosch and Simos engine ECUs; including MG1CS001, MED17.5.5, MED9.5.10, PCR2.1 just to name a few.

FLK11B Kit ECU Connector EDC / MDG (FCA-MB) consists of four cables for bench programming of Marelli and Bosch engine control units; MM10JA, EDC17C49, MD1CP001, EDC16CP31 are just some of the programmable ECUs.

The cables can also be purchased individually.
* Starting November 22nd get the cable kits at a discounted price. Take advantage of Black Friday with Magicmotorsport!