Magic Motorsport news update: Flex 6.6.0.0
3 March 2022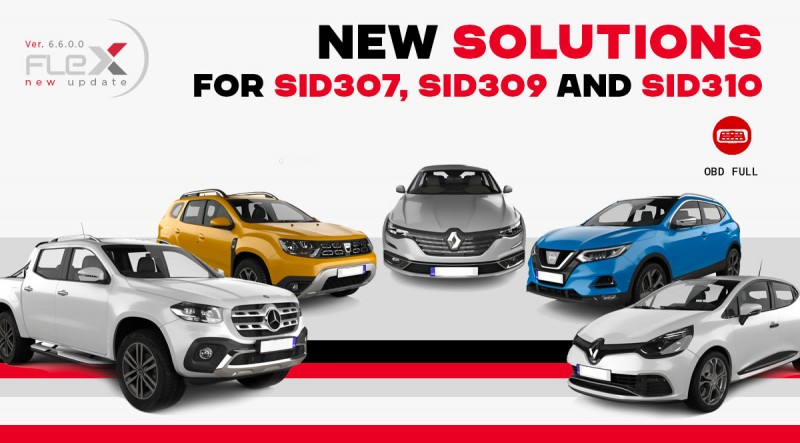 Flex Updates to Version 6.6.0.0
New OBD Full solutions

New update for Flex. With version 6.6.0.0 released by Magicmotorsport come OBD Full solutions for Renault, Nissan, Dacia and Mercedes vehicles.
Now you can get full access to flash and EEPROM memory directly from the diagnostic socket on Continental ECUs such as SID307, SID309, and SID310 in the UDS and KWP versions.
The protocol allows chiptuning professionals to perform a complete full backup before each operation, which ensures maximum safety during processing.
Supported vehicles:
Nissan Juke 1.5 dCi K9K
Renault Kangoo II 1.5 dCi K9K
Renault Megane III 1.5 dCi K9K
Dacia Duster dCi 1.5 K9K
Opel Movano B 2.3 CDTI
Renault Captur III 1.5 dCi K9K
Mercedes X-Class 220 CDI (2.3)
Nissan Navara 2.3 dCi Bi-Turbo
Nissan X-Trail 1.6 dCi
Renault Clio IV 1.5 dCi
The new OBD Full protocols are available for the following software packages:
FLS0.1 – SW Flex ECU (car, van, bike) OBD + Bench
FLS0.10 – SW Flex Infineon TC17xx / TCxxx
FLS0.5 – FULL Flex package
Read time: ~ 2 minutes | Write time: ~ 40 seconds
* The timing for the patch (during the connection phase) may vary from 15 to 30 minutes.
New protocols added:
Dacia Continental SID307 Read / Write / Checksum Internal Flash; Read / Write Internal EEPROM; Full Backup
Nissan Continental SID307 Read / Write / Checksum Internal Flash; Read / Write Internal EEPROM; Full Backup
Renault Continental SID307 Read / Write / Checksum Internal Flash; Read / Write Internal EEPROM; Full Backup
Dacia Continental SID309 Read / Write / Checksum Internal Flash; Read / Write Internal EEPROM; Full Backup
Nissan Continental SID309 Read / Write / Checksum Internal Flash; Read / Write Internal EEPROM; Full Backup
Opel Continental SID309 Read / Write / Checksum Internal Flash; Read / Write Internal EEPROM; Full Backup
Nissan Continental SID309 Read / Write / Checksum Internal Flash; Read / Write Internal EEPROM; Full Backup
Dacia Continental SID310 Read / Write / Checksum Internal Flash; Read / Write Internal EEPROM; Full Backup
Nissan Continental SID310 Read / Write / Checksum Internal Flash; Read / Write Internal EEPROM; Full Backup
Renault Continental SID310 Read / Write / Checksum Internal Flash; Read / Write Internal EEPROM; Full Backup
Opel Continental SID309 Read / Write / Checksum Internal Flash; Read / Write Internal EEPROM; Full Backup