Magic Motorsport news update: Flex 5.4.0.0
13 October 2020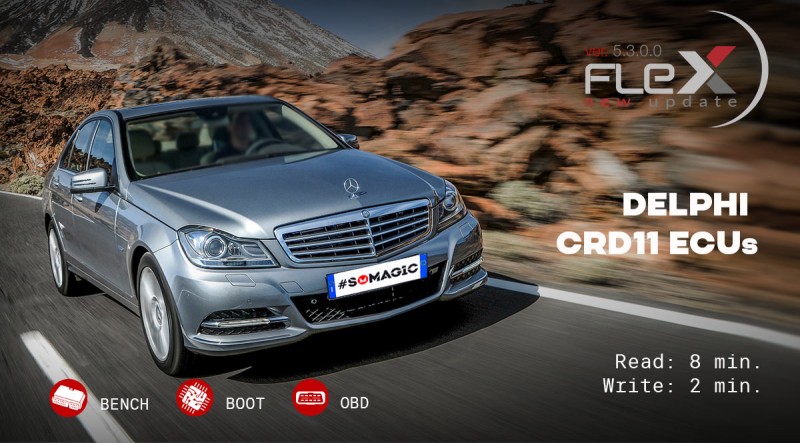 FLEX version 5.4.0.0 is ready!
Our latest FLEX update allows you to program the DELPHI CRD11 engine control units equipped on Mercedes vehicles, in OBD.
MAGICMOTORSPORT releases version 5.4.0.0 of FLEX for working on 2007 Mercedes-Benz C-Class (W204) and E-Class (W211) cars to name a few. With this new OBD protocol, you can read the ECU in just 8 minutes while writing takes only 2 minutes and 30 seconds.
Bench solutions are also now available for BOSCH ME7.0 and ME7.0.1 engine control units that come equipped on Volvo vehicles. Along with new Bootloader solutions for Magneti Marelli IAW5SF8, IAW5SF9, IAW5SFH equipped on FCA group vehicles.
New protocols added:
MB DELPHI CRD11 OBD: Read / Write / Checksum Maps
FCA BOSCH EDC15C5 OBD: Read / Write / Checksum / Recovery Maps
Volvo ME7.0.1 BENCH: Read / Write / Checksum Internal Flash; Read / Write ExtEeprom; Full Backup
Volvo ME7.0 BENCH: Read / Write / Checksum Internal Flash; Read / Write ExtEeprom; Full Backup
VAG BOSCH ME7.1 BOOT: Read / Write / Checksum Internal Flash; Read / Write ExtEeprom; Full Backup
PSA VISTEON DCU-102 BOOT: Read / Write / Checksum IntFlash
FCA Marelli IAW5SF8 (HW4xx) BOOT: Read / Write / Checksum IntFlash
IVECO Marelli IAW5SF8 (HW4xx) BOOT: Read / Write / Checksum IntFlash
FCA Marelli IAW5SF9 (HW4xx) BOOT: Read / Write / Checksum IntFlash
FCA Marelli IAW5SFH (HW4xx) BOOT: Read / Write / Checksum IntFlash
KIA CONTINENTAL SIM2K-259 BOOT: Read / Write / Checksum IntFlash, Read / Write / Checksum ExtEeprom, Full Backup
Bug fixes:
AUDI BOSCH MED9.1.2 – BDM external flash writing fixed
MB BOSCH MED17.7.3 OBD writing fixed
Software improvements:
Added New CRC for VW BOSCH MED17.1.62
Added New CRC FORD BOSCH MD1CS005
Added OBD support for EDC15VM + _29F800