Magic Motorsport news update: Flex 5.15.0.0
7 June 2021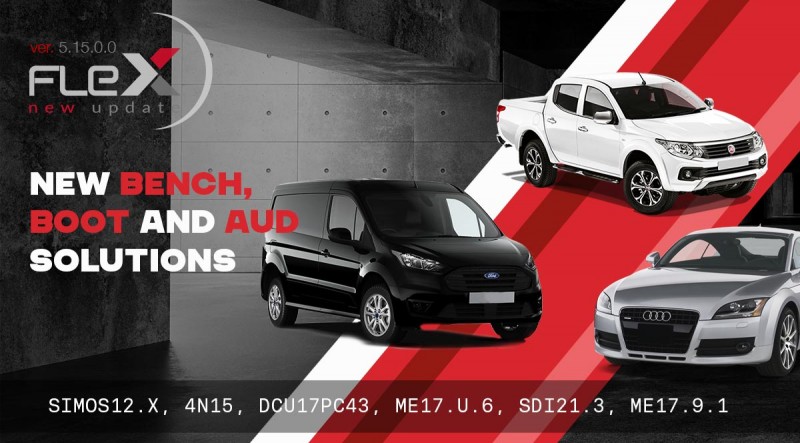 FLEX version 5.15.0.0 is ready
New solutions for Bench, Boot and AUD programming
Magicmotorsport has released new solutions for the programming in Bench, Bootloader and AUD of Continental, Bosch and Denso engine control units.
The new FLEX update version 5.15.0.0 allows totally safe work in bench of the Continental Simos 12.1 and Simos 12.2 ECUs installed in Audi branded cars, such as the TT (8J) 2.0 TFSI and in the Volkswagen Passat B7 1.8 TSI just to name a few.
With the new FLEX SW version you can also program Bosch, Denso and Continental engine control units in Boot, AUD and Bench.
New added protocols:
(BENCH)
ECU – AUDI CONTINENTAL SIMOS12.x : Read/Write/Checksum Internal Flash; Internal Eeprom Read/Write; Full Backup
ECU – HYUNDAI BOSCH ME17.9.1: Read/Write/Checksum Internal Flash; Internal Eeprom Read/Write; Full Backup
ECU – FIAT DENSO 4N15: Read/Write/Checksum Internal Flash; External Eeprom Read/Write; Full Backup
ACM – FORD BOSCH DCU17PC43: Read/Write/Checksum Internal Flash; Internal Eeprom Read/Write; Full Backup
ECU – GEELY BOSCH MED17.8.2: Read/Write/Checksum Internal Flash; Internal Eeprom Read/Write; Full Backup
ECU – CHEVROLET SAILD BOSCH ME17.8.8 HW2: Read/Write/Checksum Internal Flash; Internal Eeprom Read/Write; Full Backup
ECU – GEELY BOSCH MED17.8.10 HW2: Read/Write/Checksum Internal Flash; Internal Eeprom Read/Write; Full Backup
ECU – GREAT WALL BOSCH MED17.8.10 HW2: Read/Write/Checksum Internal Flash; Internal Eeprom Read/Write; Full Backup
ECU – SAIC BOSCH MED17.8.10 HW2: Read/Write/Checksum Internal Flash; Internal Eeprom Read/Write; Full Backup
(BOOT)
ACM – FORD BOSCH DCU17PC43: Read/Write/Checksum Internal Flash; Internal Eeprom Read/Write; Full Backup
ECU – CF-MOTO BOSCH ME17.U.6: Read/Write/Checksum Internal Flash; Internal Eeprom Read/Write; Full Backup
ECU – PORSCHE CONTINENTAL SDI21.3: Read/Write/Checksum Maps; Internal Eeprom Read/Write; Full Backup
ECU – PSA CONTINENTAL SID801A: Read/Write/Checksum External Flash
TCU – KIA CONTINENTAL SIM2K-341 TCU: Read/Write/Checksum Internal Flash; Internal Eeprom Read/Write; Full Backup
TCU – HYUNDAI CONTINENTAL SIM2K-341 TCU: Read/Write/Checksum Internal Flash; Internal Eeprom Read/Write; Full Backup
ECU – BMW BOSCH EDC15C4: Read/Write/Checksum External Flash; Read/Write External Eeprom; Full Backup
ECU – VW BOSCH EDC15P: Read/Write/Checksum External Flash; Read/Write External Eeprom; Full Backup
ECU – VW BOSCH EDC15VM+: Read/Write/Checksum External Flash; Read/Write External Eeprom; Full Backup
ECU – GEELY BOSCH MED17.8.2: Read/Write/Checksum Internal Flash; Internal Eeprom Read/Write; Full Backup
(AUD)
ECU – OPEL DENSO MB275800-8884: Read/Write/Checksum Internal Flash
ECU – MITSUBISHI DENSO 4N14: Read/Write/Checksum Internal Flash
ECU – FIAT DENSO 4N15: Read/Write/Checksum Internal Flash
ECU – MAZDA DENSO RF7x: Read/Write/Checksum Internal Flash
ECU – MAZDA DENSO RF8x: Read/Write/Checksum Internal Flash
ECU – RENAULT SAGEM S3000: Read/Write/Checksum Internal Flash; External Eeprom Read/Write; Full Backup
Bugfix:
Fixed identification issue with Smart BOSCH EDC16C32
Fixed GM DELCO E39 reading issue
Fixed reading issue on MB SIM266 BDM

Software Improvements:
Improved generic OBD UDS writing for SIMOS18, SIMOS16 and EDC17 ECUs
Added new version of 8GMW (USA)
Added new MD1CP014 version for OBD programming
Added new CRC for Continental EMS3120
Improved PSA BOSCH EDC17C60 write Full Backup option
Added new CRC for SIM2K-260