Magic Motorsport news update: Flex 5.12.0.0
22 March 2021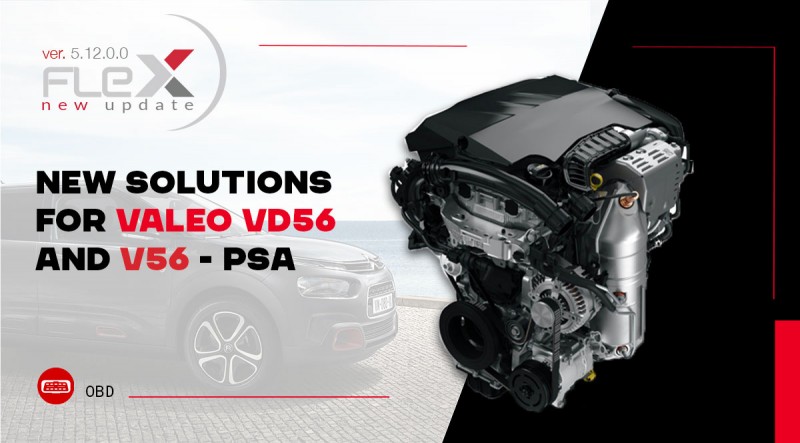 FLEX version 5.12.0.0 is ready
New solutions for Valeo VD56 and V56 – PSA
Magicmotorsport releases new OBD solutions (with UNLOCK in BOOT mode) for programming the Valeo VD56 and Valeo V56 engine control units used by Peugeot, Citroen, DS, Opel and Toyota car groups.
Starting today with FLEX you can fully recalibrate the new 1.2 PureTech 3-cylinder in-line engine equipped by Citroen C4 Cactus 2018, Opel Combo [E] 2019 and Toyota Proace City 2020, just to name a few.
With the FLEX 5.12.0.0 update, our new supported engine control units are SIEMENS SID901, BOSCH M7.4.4, BOSCH ME7.4.5, BOSCH ME17.9.56 equipped on Ford, PSA and Honda vehicles.
New protocols added:
New OBD solutions for Valeo VD56.x; V56.x
Citroen Valeo VD56.x OBD: Read / Write / Checksum Maps
Opel Valeo VD56.x OBD: Read / Write / Checksum Maps
Peugeot Valeo VD56.x OBD: Read / Write / Checksum Maps
DS Valeo VD56.x OBD: Read / Write / Checksum Maps
Toyota Valeo VD56.x OBD: Read / Write / Checksum Maps
Citroen Valeo VD56.x BOOT: Read / Write / Checksum Internal Flash, Read / Write Internal Eeprom, Full Backup / (OBD Unlock)
Opel Valeo VD56.x BOOT: Read / Write / Checksum Internal Flash, Read / Write Internal Eeprom, Full Backup / (OBD Unlock)
Peugeot Valeo VD56.x BOOT: Read / Write / Checksum Internal Flash, Read / Write Internal Eeprom, Full Backup / (OBD Unlock)
DS Valeo VD56.x BOOT: Read / Write / Checksum Internal Flash, Read / Write Internal Eeprom, Full Backup / (OBD Unlock)
Toyota Valeo VD56.x BOOT: Read / Write / Checksum Internal Flash, Read / Write Internal Eeprom, Full Backup / (OBD Unlock)
Citroen Valeo V56.x OBD: Read / Write / Checksum Maps
Opel Valeo V56.x OBD: Read / Write / Checksum Maps
Peugeot Valeo V56.x OBD: Read / Write / Checksum Maps
Citroen Valeo V56.x BOOT: Read / Write / Checksum Internal Flash, Read / Write Internal Eeprom, Full Backup / (OBD Unlock)
Opel Valeo V56.x BOOT: Read / Write / Checksum Internal Flash, Read / Write Internal Eeprom, Full Backup / (OBD Unlock)
Peugeot Valeo V56.x BOOT: Read / Write / Checksum Internal Flash, Read / Write Internal Eeprom, Full Backup / (OBD Unlock)
New BENCH and BOOT Solutions
AUDI CONTINENTAL SIMOS8.2x BOOT: Read / Write / Checksum Internal Flash, Read / Write / Checksum External Flash
CITROEN BOSCH M7.4.4 BOOT: Read / Write / Checksum External Flash, Read / Write External Eeprom
CITROEN BOSCH ME7.4.5 BOOT: Read / Write / Checksum External Flash, Read / Write External Eeprom
FIAT BOSCH DCU17PC42: Read / Write / Checksum Internal Flash, Read / Write Internal Eeprom, Full Backup
FORD SIEMENS SID901 CAN BOOT: Read / Write / Checksum External Flash
MERCEDES BOSCH DCU17PC42 BOOT: Read / Write / Checksum Internal Flash, Read / Write Internal Eeprom, Full Backup
OPEL BOSCH DCU17PC42 BOOT: Read / Write / Checksum Internal Flash, Read / Write Internal Eeprom, Full Backup
RENAULT BOSCH DCU17PC42 BOOT: Read / Write / Checksum Internal Flash, Read / Write Internal Eeprom, Full Backup
SAAB BOSCH EDC17CP21 BENCH: Read / Write / Checksum Internal Flash, Read / Write Internal Eeprom, Full Backup
VAUXHALL BOSCH DCU17PC42 BOOT: Read / Write / Checksum Internal Flash, Read / Write Internal Eeprom, Full Backup
VW CONTINENTAL SIMOS7.1 BOOT: Read / Write / Checksum External Flash, Read / Write External Eeprom
VW CONTINENTAL SIMOS7.8 BOOT: Read / Write / Checksum External Flash, Read / Write External Eeprom
HONDA BOSCH ME17.9.56 BENCH: Read / Write / Checksum Internal Flash, Read / Write Internal Eeprom, Full Backup
Bug Fixes:
BMW BOSCH ME9.2.2 fixed writing issue in BDM mode
Fixed and improved VAG ZF GS19 OBD reading and writing
Software Improvements:
Added BENCH support for BOSCH EDC17CP18 without External Flash
Added new CRC for SIMOS16.1
Added new CRC for SIMOS16.21