Magic Motorsport news update: Flex 5.10.0.0
3 February 2021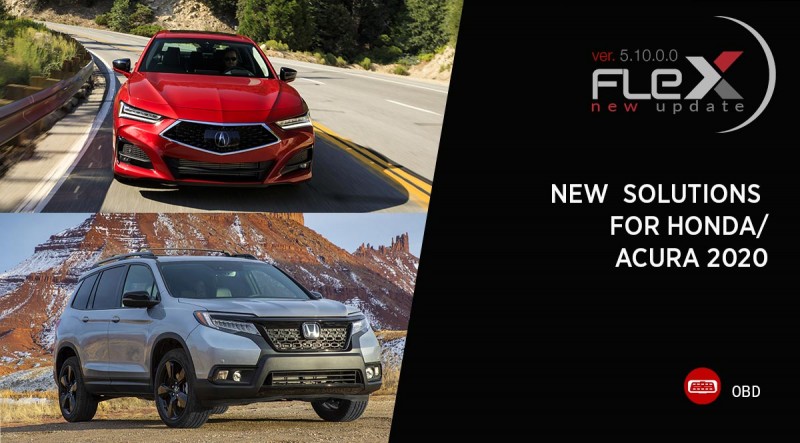 New OBD solutions for Honda / Acura 2020
FLEX version 5.10.0.0 is ready
MAGICMOTORSPORT releases new OBD solutions for programming on Keihin engine ECUs with Aurix TC275 MCU.
With version 5.10.0.0 of FLEX you'll be able to work on Honda and Acura branded vehicles manufactured from 2020 onward.
Safe programming in OBD for vehicles equipped with the J35Y6 3.5 V6 aspirated engine, managed by the latest generation of Keihin electronics. Among the supported vehicles are the Acura TLX, HONDA Odyssey EX-L and HONDA Passport (YF7 / 8), just to name a few.
Risk-free recalibration of maps as a result of verified reading and writing times of just 4 minutes.
In addition, with the latest FLEX update it's possible to work in Bootloader mode on Continental EMS-S8 engine control units installed on heavy vehicles of the Swedish company, Volvo Scania.
New protocols added:
Honda Keihin TC275 OBD: Read / Write Checksum Maps
Acura Keihin TC275 OBD: Read / Write Checksum Maps
Volvo Scania Continental EMS S8 BOOT: Read / Write Checksum Internal Flash; Read / Write External Eeprom; Full Backup
PORSCHE Continental SDI6 BOOT: Read / Write Checksum Internal Flash; Read / Write External Eeprom; Full Backup
Bug Fixes:
Fixed OBD writing issue on BMW BOSCH EDC17CP09 Fxx
Fixed OBD reading error on VAG BOSCH EDC16CP34
Fixed OBD autodetection on VAG BOSCH ALxxx
Fixed OBD writing on MED9.1 M&S
Software Improvements:
Added new CRC for Mistubishi W6DGA
Added new CRC for MB BOSCH ME2.8.1
Added new CRC for OPEL DELCO E78
Improved OBD writing on VAG BOSCH EDC17C54 protocol