Alientech tool update: Powergate 3 release 1.76.2
22 October 2019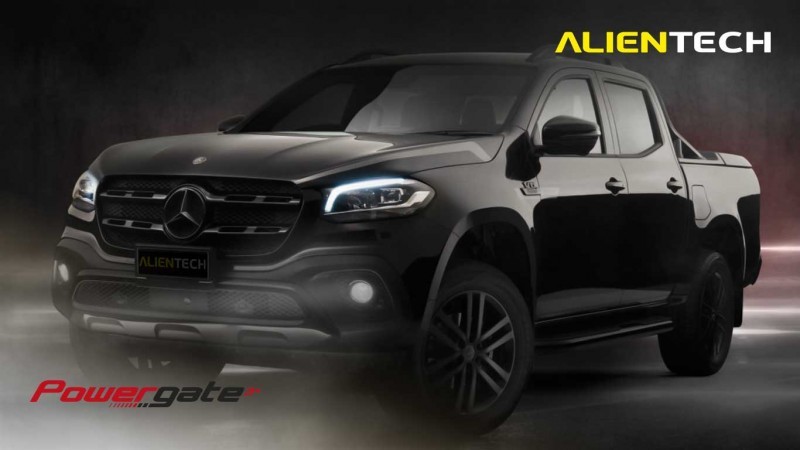 As of today, new Mercedes vehicles with ECU Bosch EDC17C66 and EDC17CP57, with microcontroller TC1793, are now supported by Powergate3+.
Expand your range of business opportunities with this OBD programmer
This Alientech tool update is not only cars, but also for commercial vehicles, like the Sprinter, Viano, Vito models and pick-up trucks, like Mercedes X-Class. With Powergate3+, Alientech Personal OBD Programmer, you can offer a complete service to all your customers! But there's more: these vehicles are also supported by KESSv2, the OBD Programmer and K-TAG, the on-bench Programmer. As of today you can expand your range of business opportunities!
The new Mercedes vehicles supported by Powergate3+
C-Class Cabriolet A205 220 BlueTEC 4Matic 9AT
Bosch EDC17CP57 [RD, WR]
C-Class Cabriolet A205 220 BlueTEC 9AT
Bosch EDC17CP57 [RD, WR]
C-Class Cabriolet A205 250 BlueTEC 9AT
Bosch EDC17CP57 [RD, WR]
C-Class Coupe C205 220 BlueTEC 4Matic 9AT
Bosch EDC17CP57 [RD, WR]
C-Class Coupe C205 220 BlueTEC 9AT
Bosch EDC17CP57 [RD, WR]
C-Class Coupe C205 250 BlueTEC 4Matic 9AT
Bosch EDC17CP57 [RD, WR]
C-Class Coupe C205 250 BlueTEC 9AT
Bosch EDC17CP57 [RD, WR]
C-Class T-Model S205 180 BlueTEC 6MT
Bosch EDC17C66 [RD, WR]
C-Class T-Model S205 200 BlueTEC 6MT
Bosch EDC17C66 [RD, WR]
C-Class T-Model S205 220 BlueTec 6MT
Bosch EDC17CP57 [RD, WR]
C-Class T-Model S205 220 BlueTec 7AT
Bosch EDC17CP57 [RD, WR]
C-Class T-Model S205 220 BlueTEC BlueEFFICIENCY 7AT
Bosch EDC17CP57 [RD, WR]
C-Class T-Model S205 250 BlueTEC 4Matic 7AT
Bosch EDC17CP57 [RD, WR]
C-Class T-Model S205 250 BlueTEC 7AT
Bosch EDC17CP57 [RD, WR]
C-Class T-Model S205 300 BlueTEC HYBRID 7AT
Bosch EDC17CP57 [RD, WR]
C-Class W205 180 BlueTEC 6MT
Bosch EDC17C66 [RD, WR]
C-Class W205 200 BlueTEC 6MT
Bosch EDC17C66 [RD, WR]
C-Class W205 250 BlueTEC 4Matic 7AT
Bosch EDC17CP57 [RD, WR]
C-Class W205 250 BlueTEC 7AT
Bosch EDC17CP57 [RD, WR]
C-Class W205 300 BlueTEC HYBRID 7AT
Bosch EDC17CP57 [RD, WR]
CLS-Class C218 350 BlueTEC 4MATIC 7AT
Bosch EDC17CP57 [RD, WR]
CLS-Class C218 350 BlueTEC 9AT
Bosch EDC17CP57 [RD, WR]
CLS-Class Shooting Brake X218 350 BlueTEC 4MATIC 7AT
Bosch EDC17CP57 [RD, WR]
CLS-Class Shooting Brake X218 350 BlueTEC 9AT
Bosch EDC17CP57 [RD, WR]
E-Class Cabriolet A207 350 BlueTEC 7AT
Bosch EDC17CP57 [RD, WR]
E-Class Coupe C207 350 BlueTEC 7AT
Bosch EDC17CP57 [RD, WR]
E-Class W213 350 d 9AT
Bosch EDC17CP57 [RD, WR]
G-Class Professional W463 350 D 7AT
Bosch EDC17CP57 [RD, WR]
G-Class W463 350 d 7AT
Bosch EDC17CP57 [RD, WR]
GLC-Class Coupe C253 220 d 4Matic 9AT
Bosch EDC17CP57 [RD, WR]
GLC-Class Coupe C253 250 d 4Matic 9AT
Bosch EDC17CP57 [RD, WR]
GLC-Class Coupe C253 350 d 4Matic 9AT
Bosch EDC17CP57 [RD, WR]
GLC-Class X253 220 d 4Matic 9AT
Bosch EDC17CP57 [RD, WR]
GLC-Class X253 250 d 4Matic 9AT
Bosch EDC17CP57 [RD, WR]
GLC-Class X253 350 d 4Matic 9AT
Bosch EDC17CP57 [RD, WR]
GLE-Class Coupe C292 350 d 4MATIC 9AT
Bosch EDC17CP57 [RD, WR]
GLE-Class W166 250 d 4MATIC 9AT
Bosch EDC17CP57 [RD, WR]
GLE-Class W166 250 d 9AT
Bosch EDC17CP57 [RD, WR]
GLE-Class W166 350 d 4MATIC 9AT
Bosch EDC17CP57 [RD, WR]
ML-Class W166 250 BlueTEC 4Matic 7AT
Bosch EDC17CP57 [RD, WR]
S-Class V221 250 CDI BlueEFFICIENCY 7AT
Bosch EDC17CP57 [RD, WR]
S-Class V222 300 BlueTEC Hybrid 7AT
Bosch EDC17CP57 [RD, WR]
S-Class V222 350 BlueTec 4Matic 7AT
Bosch EDC17CP57 [RD, WR]
S-Class V222 350 BlueTec 7AT
Bosch EDC17CP57 [RD, WR]
S-Class V222 350 D 4Matic 7AT
Bosch EDC17CP57 [RD, WR]
S-Class V222 350 D 7AT
Bosch EDC17CP57 [RD, WR]
S-Class W221 250 CDI BlueEFFICIENCY 7AT
Bosch EDC17CP57 [RD, WR]
S-Class W222 300 BlueTEC Hybrid 7AT
Bosch EDC17CP57 [RD, WR]
S-Class W222 350 BlueTec 4Matic 7AT
Bosch EDC17CP57 [RD, WR]
S-Class W222 350 BlueTec 7AT
Bosch EDC17CP57 [RD, W]
S-Class W222 350 D 4Matic 7AT
Bosch EDC17CP57 [RD, WR]
S-Class W222 350 D 7AT
Bosch EDC17CP57 [RD, WR]
Sprinter W906 213 BlueTEC
Bosch EDC17CP57 [RD, WR]
Sprinter W906 216 BlueTEC
Bosch EDC17CP57 [RD, WR]
Sprinter W906 313 BlueTEC
Bosch EDC17CP57 [RD, WR]
Sprinter W906 316 CDI
Bosch EDC17CP57 [RD, WR]
Sprinter W906 413 BlueTEC
Bosch EDC17CP57 [RD, WR]
Sprinter W906 416 BlueTEC
Bosch EDC17CP57 [RD, WR]
Sprinter W906 513 BlueTEC
Bosch EDC17CP57 [RD, WR]
Sprinter W906 516 BlueTEC
Bosch EDC17CP57 [RD, WR]
V-Class W447 200 CDI 6MT
Bosch EDC17C66 [RD, WR]
V-Class W447 200 CDI 7AT
Bosch EDC17C66 [RD, WR]
V-Class W447 220 CDI 6MT
Bosch EDC17C66 [RD, WR]
V-Class W447 220 CDI 7AT
Bosch EDC17C66 [RD, WR]
V-Class W447 250 BlueTEC 4Matic 7AT
Bosch EDC17C66 [RD, WR]
V-Class W447 250 BlueTEC 7AT
Bosch EDC17C66v[RD, WR]
Viano W639 2.2 CDI 4Matic 6MT
Bosch EDC17CP57 [RD, WR]
Vito W447 109 CDI 6MT
Bosch EDC17C66 [RD, WR]
Vito W447 111 CDI 6MT
Bosch EDC17C66 [RD, WR]
Vito W447 114 CDI 6MT
Bosch EDC17C66 [RD, WR]
Vito W447 114 CDI 7AT
Bosch EDC17C66 [RD, WR]
Vito W447 116 CDI 6MT
Bosch EDC17C66 [RD, WR]
Vito W447 116 CDI 7AT
Bosch EDC17C66 [RD, WR]
Vito W447 119 BlueTEC 4X4 7AT
Bosch EDC17C66 [RD, WR]
Vito W447 119 BlueTEC 7AT
Bosch EDC17C66 [RD, WR]
Vito W639 116 CDI 4Matic
Bosch EDC17CP57 [RD, WR]
X-Class 470 350 d 7AT
Bosch EDC17CP57 [RD, WR]