Alientech tool update: Powergate 3 release 1.76
15 October 2019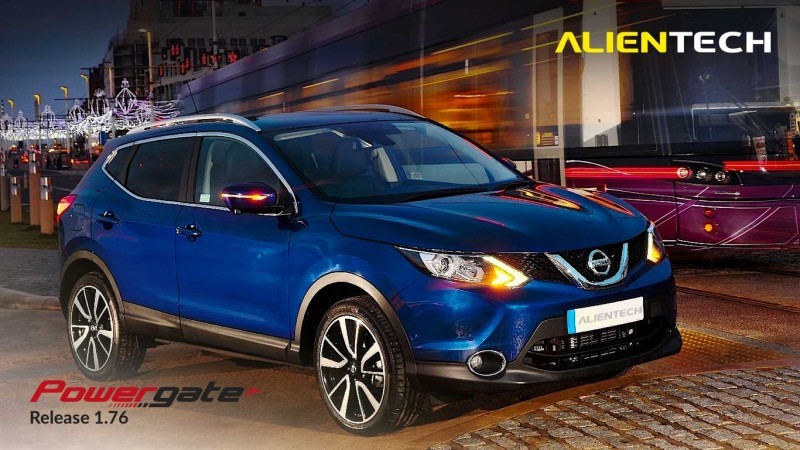 As of today, Dacia, Fiat, Mercedes, Nissan, Opel and Renault vehicles, equipped with ECU Bosch EDC17C84, are supported by Powergate3+ too! Now you can provide a complete offer to your customers, as these vehicles are also supported by K-TAG and KESSv2!
Expand your business with this improved chiptuning software
You can expand your business because more vehicles are now supported by K-TAG and KESSv2. The Dacia Sandero, Duster, Logan, as well as Nissan Qashqai, Renault Clio, but also commercial vehicles such as Nissan NV200 and Renault Traffic, are just some of the vehicles that join the wide range of those supported.
The new vehicles supported by Powergate3+
Dacia Dokker MPV 1.5 dCi 5MT
Bosch EDC17C84
Dacia Dokker Stepway 1.5 dCi 5MT
Bosch EDC17C84
Dacia Duster 1.5 dCi 6MT
Bosch EDC17C84 Dacia
Lodgy MPV 1.5 dCi 5MT
Bosch EDC17C84
Dacia Lodgy Stepway 1.5 dCi 5MT
Bosch EDC17C84
Dacia Logan 1.5 dCi 5MT
Bosch EDC17C84
Dacia Logan 1.5 dCi 6MT
Bosch EDC17C84
Dacia Logan Mcv 1.5 dCi 5MT
Bosch EDC17C84
Dacia Logan Mcv 1.5 dCi 6MT
Bosch EDC17C84 Dacia
Sandero 1.5 dCi 5MT
Bosch EDC17C84
Dacia Sandero 1.5 dCi 6MT
Bosch EDC17C84
Dacia Sandero Stepway 1.5 dCi 5MT
Bosch EDC17C84
Dacia Sandero Stepway 1.5 dCi 6MT
Bosch EDC17C84
FIAT Talento 1.6 16v EcoJet TwinTurbo 6MT (125 hp)
Bosch EDC17C84
FIAT Talento 1.6 16v EcoJet TwinTurbo 6MT (145 hp)
Bosch EDC17C84
FIAT Talento 1.6 16v EcoJet TwinTurbo 6MT (95 hp)
Bosch EDC17C84
Mercedes-Benz Citan W415 109 CDI
Bosch EDC17C84
Nissan Evalia 1.5 dCi 90
Bosch EDC17C84
Nissan March 1.5 dCi 90
Bosch EDC17C84
Nissan Micra K14 1.5 dCi 90
Bosch EDC17C84
Nissan Note 1.5 dCi 90
Bosch EDC17C84
Nissan Nv200 1.5 dCi 90
Bosch EDC17C84
Nissan Nv300 1.6 dCi 6MT
Bosch EDC17C84
Nissan Qashqai J11 1.6 16v dCi
Bosch EDC17C84
Nissan X-Trail T32 1.6 16v dCi
Bosch EDC17C84
Nissan X-Trail T32 2.0 16v dCi
Bosch EDC17C84
Opel Vivaro B 1.6 BiTurbo CDTi
Bosch EDC17C84
Renault Captur 1.5 dCi 6MT
Bosch EDC17C84
Renault Clio 1.5 dCi 5MT
Bosch EDC17C84
Renault Clio 1.5 dCi 6AT
Bosch EDC17C84
Renault Duster 1.5 dCi 6MT
Bosch EDC17C84
Renault Espace 1.6 dCi 6AT
Bosch EDC17C84
Renault Espace 1.6 dCi 6MT
Bosch EDC17C84
Renault Grand Scenic 1.6 dCi
Bosch EDC17C84
Renault Kadjar 1.6 dCi 6MT
Bosch EDC17C84
Renault Kangoo 1.5 dCi 5MT
Bosch EDC17C84
Renault Koleos 2.0 dCi 6MT
Bosch EDC17C84
Renault Koleos 2.0 dCi AT
Bosch EDC17C84
Renault Logan 1.5 dCi 5MT
Bosch EDC17C84
Renault Logan 1.5 dCi 6MT
Bosch EDC17C84
Renault Megane 1.6 dCi 6AT
Bosch EDC17C84
Renault Megane 1.6 dCi 6MT
Bosch EDC17C84
Renault Megane GT 1.6 dCi 6AT
Bosch EDC17C84
Renault Sandero 1.5 dCi 5MT
Bosch EDC17C84
Renault Sandero 1.5 dCi 6MT
Bosch EDC17C84
Renault Sandero Stepway 1.5 dCi 5MT
Bosch EDC17C84
Renault Sandero Stepway 1.5 dCi 6MT
Bosch EDC17C84
Renault Scenic 1.6 dCi
Bosch EDC17C84
Renault Talisman 1.6 16v dCi 6MT
Bosch EDC17C84
Renault Trafic 1.6 dCi 6MT
Bosch EDC17C84