Alientech tool update: Powergate 3 release 1.72
24 August 2019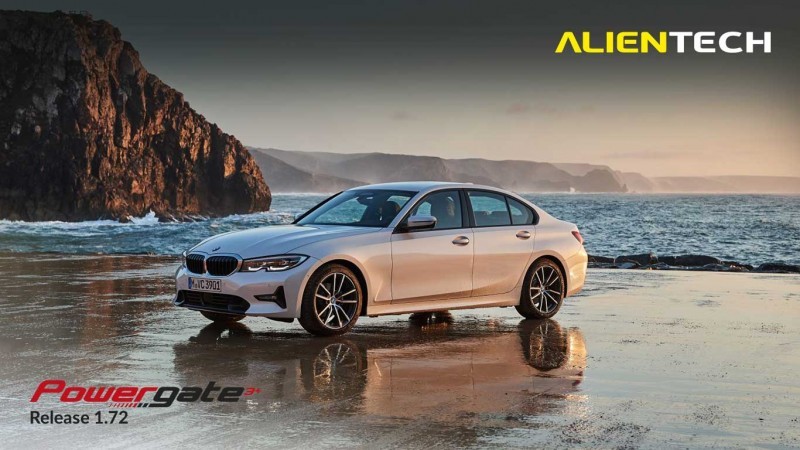 The new Alientech tool update: Powergate 3 release 1.72 is released. Thanks to this new OBD2 software update the ECU's Bosch MG1CS003, MD1CP002 and MD1CS001 are now supported by Powergate3+.
How the improved ECU tuning tool will influence your business (in a good way)
The portable ECU's programmer Alientech branded, will allow you to reprogram the ECU of your vehicle in complete autonomy. Thanks to the direct connection to the vehicle through the diagnostic connection (OBD2 software), you can read and write the ECU of your vehicle. It's a technological innovative solution that will help you attract new customers, even the ones far away from you. Set and customize the Powergate3+ and send it to a customer, wherever he may be. Don't miss the opportunity to create a huge number and a new way of business!
New BMW F Series and G Series supported by powergate3+
1-Series F20 125i 8AT 165 kW
Bosch MG1CS003 (DME_841) SPC5777M
1-Series F20 120i 6MT 135 kW
Bosch MG1CS003 (DME_841) SPC5777M
1-Series F20 M140i 8AT 250 kW
Bosch MG1CS003 (DME_861) SPC5777M
2-Series F22 230i 8AT 185 kW
Bosch MG1CS003 (DME_841) SPC5777M
2-Series F23 220i 6MT 135 kW
Bosch MG1CS003 (DME_841) SPC5777M
2-Series F22 230i xDrive 8AT 185 kW
Bosch MG1CS003 (DME_841) SPC5777M
2-Series F22 M240i 8AT 250 kW
Bosch MG1CS003 (DME_861) SPC5777M
3-Series G20 330d 8AT 195 kW
Bosch MD1CP002 (DDE832C) SPC5777M
3-Series F35 330Li 8AT 185 kW
Bosch MG1CS003 (DME_841) SPC5777M
3-Series F30 330i 8AT 185 kW
Bosch MG1CS003 (DME_841) SPC5777M
3-Series F30 320i 8AT 135 kW
Bosch MG1CS003 (DME_841) SPC5777M
3-Series F35 320Li 8AT 135 kW
Bosch MG1CS003 (DME_841) SPC5777M
3-Series F30 330i xDrive 8AT 185 kW
Bosch MG1CS003 (DME_841) SPC5777M
3-Series F30 330e Hybrid 8AT 185 kW
Bosch MG1CS003 (DME_841H) SPC5777M
3-Series F31 340i 8AT 240 kW
Bosch MG1CS003 (DME_861) SPC5777M
3-Series F30 340i 8AT 240 kW
Bosch MG1CS003 (DME_861) SPC5777M
3-Series GT F34 330i 8AT 185 kW
Bosch MG1CS003 (DME_841) SPC5777M
3-Series GT F34 320i 8AT 135 kW
Bosch MG1CS003 (DME_841) SPC5777M
3-Series GT F34 330i xDrive 8AT 185 kW
Bosch MG1CS003 (DME_841) SPC5777M
3-Series GT F34 340i 8AT 240 kW
Bosch MG1CS003 (DME_861) SPC5777M
4-Series F32 420i 8AT 135 kW
Bosch MG1CS003 (DME_841) SPC5777M
4-Series F32 420i 6MT 135 kW
Bosch MG1CS003 (DME_841) SPC5777M
4-Series Cabrio F33 420i 8AT 135 kW
Bosch MG1CS003 (DME_841) SPC5777M
4-Series Cabrio F33 440i 8AT 240 kW
Bosch MG1CS003 (DME_861) SPC5777M
4-Series Gran Coupè F36 420i 8AT 135 kW
Bosch MG1CS003 (DME_841) SPC5777M
5-Series G30 530d M 8AT 195 kW
Bosch MD1CP002 (DDE832C) SPC5777M
5-Series G30 540d xDrive 8AT 235 kW
Bosch MD1CP002 (DDE832C) SPC5777M
5-Series G30 530d xDrive M 8AT 195 kW
Bosch MD1CP002 (DDE832C) SPC5777M
5-Series G31 530d xDrive 8AT 195 kW
Bosch MD1CP002 (DDE832C) SPC5777M
5-Series G30 530d 8AT 195 kW
Bosch MD1CP002 (DDE832C) SPC5777M
5-Series G31 530d xDrive M 8AT 195 kW
Bosch MD1CP002 (DDE832C) SPC5777M
5-Series G30 530d xDrive 8AT 195 kW
Bosch MD1CP002 (DDE832C) SPC5777M
5-Series G31 530d M 8AT 195 kW
Bosch MD1CP002 (DDE832C) SPC5777M
5-Series G30 525d 8AT 170 kW
Bosch MD1CP002 (DDE832C) SPC5777M
5-Series G31 525d 8AT 170 kW
Bosch MD1CP002 (DDE832C) SPC5777M
5-Series G31 530d 8AT 195 kW
Bosch MD1CP002 (DDE832C) SPC5777M
5-Series G31 M550d xDrive 8AT 294 kW
Bosch MD1CP002 (DDE832C) SPC5777M
5-Series G31 540d xDrive 8AT 235 kW
Bosch MD1CP002 (DDE832C) SPC5777M
5-Series G30 M550d xDrive 8AT 294 kW
Bosch MD1CP002 (DDE832C) SPC5777M
5-Series G31 520d 6MT 140 kW
Bosch MD1CS001 (DDE802L) SPC5777M
5-Series G31 520d xDrive 8AT 140 kW
Bosch MD1CS001 (DDE802L) SPC5777M
5-Series G30 520d 6MT 140 kW
Bosch MD1CS001 (DDE802L) SPC5777M
5-Series G30 520d 8AT 140 kW
Bosch MD1CS001 (DDE802L) SPC5777M
5-Series G30 520d xDrive 8AT 140 kW
Bosch MD1CS001 (DDE802L) SPC5777M
5-Series G31 520d 8AT 140 kW
Bosch MD1CS001 (DDE802L) SPC5777M
5-Series G38 520Li 8AT 135 kW
Bosch MG1CS003 (DME_840) SPC5777M
5-Series G38 530Li 8AT 165 kW
Bosch MG1CS003 (DME_840) SPC5777M
5-Series G30 530i 8AT 135 kW
Bosch MG1CS003 (DME_840) SPC5777M
5-Series G30 530i xDrive 8AT 185 kW
Bosch MG1CS003 (DME_840) SPC5777M
5-Series G30 530i 8AT 185 kW
Bosch MG1CS003 (DME_840) SPC5777M
5-Series G31 530i xDrive 8AT 185 kW
Bosch MG1CS003 (DME_840) SPC5777M
5-Series G31 530i 8AT 185 kW
Bosch MG1CS003 (DME_840) SPC5777M
5-Series G31 520i 8AT 128 kW
Bosch MG1CS003 (DME_840) SPC5777M
5-Series G31 520i 128 kW
Bosch MG1CS003 (DME_840) SPC5777M
5-Series G30 520i 8AT 128 kW
Bosch MG1CS003 (DME_840) SPC5777M
5-Series G30 520i 128 kW
Bosch MG1CS003 (DME_840) SPC5777M
5-Series G38 530Le iPerformance 8AT 185 kW
Bosch MG1CS003 (DME_840H) SPC5777M
5-Series G30 530e iPerformance 8AT 185 kW
Bosch MG1CS003 (DME_840H) SPC5777M
5-Series G38 540Li 8AT 250 kW
Bosch MG1CS003 (DME_860) SPC5777M
5-Series G30 540i 8AT 250 kW
Bosch MG1CS003 (DME_860) SPC5777M
6-Series Gran Turismo G32 630d xDrive 8AT 195 kW
Bosch MD1CP002 (DDE832C) SPC5777M
6-Series Gran Turismo G32 630d 8AT 195 kW
Bosch MD1CP002 (DDE832C) SPC5777M
6-Series GT G32 630i 8AT 190 kW
Bosch MG1CS003 (DME_840) SPC5777M
6-Series GT G32 640i 8AT 250 kW
Bosch MG1CS003 (DME_860) SPC5777M
7-Series G12 750Ld xDrive 8AT 294 kW
Bosch MD1CP002 (DDE832C) SPC5777M
7-Series G11 750d xDrive 8AT 294 kW
Bosch MD1CP002 (DDE832C) SPC5777M
7-Series G12 740Ld xDrive 8AT 235 kW
Bosch MD1CP002 (DDE832C) SPC5777M
7-Series G11 740d xDrive 8AT 235 kW
Bosch MD1CP002 (DDE832C) SPC5777M
7-Series G12 730Ld xDrive 8AT 195 kW
Bosch MD1CP002 (DDE832C) SPC5777M
7-Series G11 730d xDrive 8AT 195 kW
Bosch MD1CP002 (DDE832C) SPC5777M
7-Series G12 730Ld 8AT 195 kW
Bosch MD1CP002 (DDE832C) SPC5777M
7-Series G11 730d 8AT 195 kW
Bosch MD1CP002 (DDE832C) SPC5777M
7-Series G12 725Ld 8AT 170 kW
Bosch MD1CP002 (DDE832C) SPC5777M
7-Series G11 725d 8AT 170 kW
Bosch MD1CP002 (DDE832C) SPC5777M
7-Series G12 730Li 8AT 190 kW
Bosch MG1CS003 (DME_840) SPC5777M
7-Series G11 730i 8AT 190 kW
Bosch MG1CS003 (DME_840) SPC5777M
7-Series G12 740Le iPerformance 8AT 240 kW
Bosch MG1CS003 (DME_840H) SPC5777M
7-Series G11 740e iPerformance 8AT 240 kW
Bosch MG1CS003 (DME_840H) SPC5777M
7-Series G12 740Li 8AT 240 kW
Bosch MG1CS003 (DME_860) SPC5777M
7-Series G11 740i 8AT 240 kW
Bosch MG1CS003 (DME_860) SPC5777M
X3 G01 xDrive30d 8AT 195 kW
Bosch MD1CP002 (DDE832C) SPC5777M
X3 G01 xDrive20d 8AT 140 kW
Bosch MD1CS001 (DDE802L) SPC5777M
X3 G01 xDrive30i 8AT 185 kW
Bosch MG1CS003 (DME_840) SPC5777M
X3 G08 xDrive20i 8AT 135 kW
Bosch MG1CS003 (DME_840) SPC5777M
X3 G08 xDrive30i 8AT 185 kW
Bosch MG1CS003 (DME_840) SPC5777M
X3 G01 xDrive20i 8AT 135 kW
Bosch MG1CS003 (DME_840) SPC5777M
X3 G01 sDrive18i 8AT 128 kW
Bosch MG1CS003 (DME_840) SPC5777M
X3 G01 sDrive18i 128 kW
Bosch MG1CS003 (DME_840) SPC5777M
X3 G01 sDrive30i 8AT 185 kW
Bosch MG1CS003 (DME_840) SPC5777M
X3 G01 M40i 8AT 260 kW
Bosch MG1CS003 (DME_860) SPC5777M
X4 G02 M40d xDrive 8AT 240 kW
Bosch MD1CP002 (DDE832C) SPC5777M
X4 G02 30d xDrive 8AT 195 kW
Bosch MD1CP002 (DDE832C) SPC5777M
X4 G02 25d xDrive 8AT 170 kW
Bosch MD1CP002 (DDE832C) SPC5777M
X4 G02 20d xDrive 8AT 140 kW
Bosch MD1CS001 (DDE802L) SPC5777M
X4 G02 30i xDrive 8AT 185 kW
Bosch MG1CS003 (DME_840) SPC5777M
X4 G02 20i xDrive 8AT 135 kW
Bosch MG1CS003 (DME_840) SPC5777M
X4 G02 M40i 8AT 260 kW
Bosch MG1CS003 (DME_860) SPC5777M
X7 G07 30d xDrive 8AT 195 kW
Bosch MD1CP002 (DDE832C) SPC5777M
X7 G07 M50d xDrive 8AT 294 kW
Bosch MD1CP002 (DDE832C) SPC5777M