Alientech tool update: K-Suite Release 3.72
23 January 2020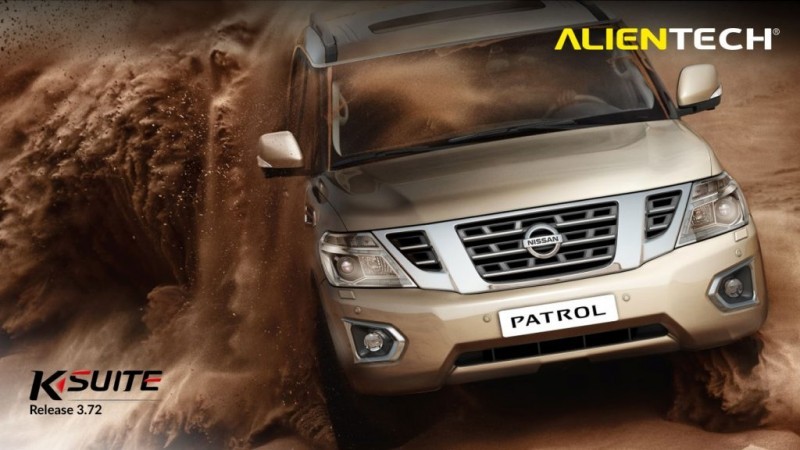 From today you can work via OBD on new Infiniti and Nissan models with ECU Hitachi BED431, NEC029 and NEC030, with micro SH72531, SH72533, SH72543.
Gain better performance with KESSv2
New Petrol vehicles such as Nissan Patrol Y26 V6, Nissan Qashqai, but also hybrids, like as Nissan Maxima V6 and Nissan Elgrand V6, from today are supported by KESSv2, Alientech OBD Programmer to write in a few minutes the original or modified file in the vehicle ECU through the OBD port. But not only that, these vehicles are also supported by K-TAG. In this you can offer a complete package to your customers!

KESSv2, is not only designed for cars, but can also be connected to motorcycles, trucks, tractors and boats to read and write the parameters of the engine or of the transmission. Thanks to KESSv2, you can gain better performance, maximise the services of the vehicles and facing problems that a standard diagnosis cannot solve. Thanks to this last K-Suite update, in addition to supporting new hybrid engines, it is possible to read and write the entire contents of the ECU, including the data contained in the EEPROM, via OBD.
Infiniti and Nissan ecu remapping supported in OBD2
Infiniti QX60 3.5 V6 CVT
Hitachi NEC030 [RD, WR]
Infiniti QX60 L50 2.5 16v Hybrid AWD
Hitachi NEC029 [RD, WR]
Infiniti QX60 L50 2.5 16v Hybrid AWD
Hitachi NEC030 [RD, WR]
Infiniti QX60 L50 2.5 16v Hybrid FWD
Hitachi NEC029 [RD, WR]
Infiniti QX60 L50 2.5 16v Hybrid FWD
Hitachi NEC030 [RD, WR]
Nissan Altima Coupè L33 2.5 16v 6MT
Hitachi NEC029 [RD, WR]
Nissan Altima Coupè L33 2.5 16v 6MT
Hitachi NEC030 [RD, WR]
Nissan Altima Coupè L33 2.5 16v CVT
Hitachi NEC029 [RD, WR]
Nissan Altima Coupè L33 2.5 16v CVT
Hitachi NEC030 [RD, WR]
Nissan Altima Coupè L33 3.5 V6 CVT
Hitachi NEC030 [RD, WR]
Nissan Altima L33 2.5 16v 6MT
Hitachi NEC029 [RD, WR]
Nissan Altima L33 2.5 16v 6MT
Hitachi NEC030 [RD, WR]
Nissan Altima L33 2.5 16v CVT
Hitachi NEC029 [RD, WR]
Nissan Altima L33 2.5 16v CVT
Hitachi NEC030 [RD, WR]
Nissan Altima L33 3.5 V6 CVT
Hitachi NEC030 [RD, WR]
Nissan Cefiro J31 3.5 V6 CVT
Hitachi NEC030 [RD, WR]
Nissan Elgrand E52 2.5 16v CVT
Hitachi NEC029 [RD, WR]
Nissan Elgrand E52 2.5 16v CVT
Hitachi NEC030 [RD, WR]
Nissan Elgrand E52 3.5 V6 CVT
Hitachi NEC030 [RD, WR]
Nissan Frontier D23 2.5 16v 6MT
Hitachi NEC029 [RD, WR]
Nissan Frontier D23 2.5 16v 6MT
Hitachi NEC030 [RD, WR]
Nissan Frontier D23 2.5 16v 7AT
Hitachi NEC029 [RD, WR]
Nissan Frontier D23 2.5 16v 7AT
Hitachi NEC030 [RD, WR]
Nissan Frontier D40 4.0 V6 5AT
Hitachi NEC030 [RD, WR]
Nissan Juke F15 1.6 DIG-T CVT
Hitachi BED431-xxx [RD, WR]
Nissan Juke F15 1.6 DIG-T Nismo CVT
Hitachi BED431-xxx [RD, WR]
Nissan Juke F15 1.6 Nismo RS CVT
Hitachi BED431-xxx [RD, WR]
Nissan Maxima A36 3.5 V6 CVT
Hitachi NEC030 [RD, WR]
Nissan Murano Z52 2.5 16v Hybrid 6AT
Hitachi NEC029 [RD, WR]
Nissan Murano Z52 2.5 16v Hybrid 6AT
Hitachi NEC030 [RD, WR]
Nissan Murano Z52 3.5 V6 CVT
Hitachi NEC030 [RD, WR]
Nissan NV Passenger 4.0 V6 5AT
Hitachi NEC030 [RD, WR]
Nissan NV1500 4.0 V6 5AT
Hitachi NEC030 [RD, WR]
Nissan NV2500HD 4.0 V6 5AT
Hitachi NEC030 [RD, WR]
Nissan Pathfinder R52 2.5 16v Hybrid 6AT
Hitachi NEC029 [RD, WR]
Nissan Pathfinder R52 2.5 16v Hybrid 6AT
Hitachi NEC030 [RD, WR]
Nissan Pathfinder R52 3.5 V6 CVT
Hitachi NEC030 [RD, WR]
Nissan Patrol Y62 4.0 V6 5AT
Hitachi NEC030 [RD, WR]
Nissan Pulsar C13 1.6 DIG-T 6MT
Hitachi BED431-xxx [RD, WR]
Nissan Qashqai J11 2.0 16v CVT
Hitachi BED431-xxx [RD, WR]
Nissan Qashqai J11 2.0 16v Hybrid CVT
Hitachi BED431-xxx [RD, WR]
Nissan Quest RE52 3.5 V6 CVT
Hitachi NEC030 [RD, WR]
Nissan Rogue 2.5 16v CVT
Hitachi NEC029 [RD, WR]
Nissan Rogue 2.5 16v CVT
Hitachi NEC030 [RD, WR]
Nissan Rogue Sport 2.0 16v CVT
Hitachi BED431-xxx [RD, WR]
Nissan Sentra B17 1.6 DIG-T Nismo CVT
Hitachi BED431-xxx [RD, WR]
Nissan Sentra B17 1.6 DIG-T SR CVT
Hitachi BED431-xxx [RD, WR]
Nissan Serena C26 2.0 16v CVT
Hitachi BED431-xxx [RD, WR]
Nissan Serena C27 2.0 16v CVT
Hitachi BED431-xxx [RD, WR]
Nissan Sylphy B17 1.6 DIG-T CVT
Hitachi BED431-xxx [RD, WR]
Nissan Teana L33 1.6 DIG-T CVT
Hitachi BED431-xxx [RD, WR]
Nissan Teana L33 2.5 16v CVT
Hitachi NEC029 [RD, WR]
Nissan Teana L33 2.5 16v CVT
Hitachi NEC030 [RD, WR]
Nissan Teana L33 3.5 V6 CVT
Hitachi NEC030 [RD, WR]
Nissan Terra D23 2.5 16v 6MT
Hitachi NEC029 [RD, WR]
Nissan Terra D23 2.5 16v 6MT
Hitachi NEC030 [RD, WR]
Nissan Terra D23 2.5 16v 7AT
Hitachi NEC029 [RD, WR]
Nissan Terra D23 2.5 16v 7AT
Hitachi NEC030 [RD, WR]
Nissan Tiida C12 1.6 DIG-T CVT
Hitachi BED431-xxx [RD, WR]
Nissan X-Trail T32 1.6 DIG-T 6MT
Hitachi BED431-xxx [RD, WR]
Nissan X-Trail T32 2.0 16v CVT
Hitachi BED431-xxx [RD, WR]
Nissan X-Trail T32 2.5 16v CVT
Hitachi NEC029 [RD, WR]
Nissan X-Trail T32 2.5 16v CVT
Hitachi NEC030 [RD, WR]