Alientech tool update: K-Suite Release 3.69
11 December 2019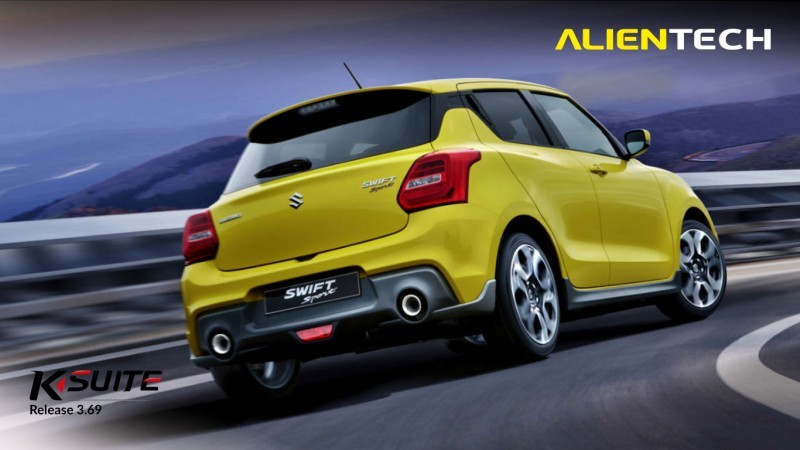 In addition to increasing the number of cars supported, Alientech has also increased the number of models of work vehicles, commercial vehicles and motorcycles on which you can work without opening the ECU!
Become a leader in the chiptuning sector with this improved ECU remapping tool
Thanks to this new Alientech tool update you can make quickly and easily an ECU remap, based on the specific requests of your client. You don't have to open the ECU: read and write by connecting directly through the connector pin. In this way you reduce the risk of damaging your ECU. With the new K-Suite update you will be able to work on petrol and diesel vehicles with Bosch ECU EDC17C55, EDC17CP22, ME17.2.42 and ME17.9.6. Become a leader in the chiptuning sector by offering remapping on work vehicles, such as the Kubota tractor, but also different models of motorcycles, such as BMW Motorrad.
To the vehicles list are also added numerous new models of cars and commercial vehicles supported by K-TAG SM (Service Mode) such as come JMC New Generation Transit, Suzuki Swift, Volvo C30, C70, but also S40 and S80. Do you already have a K-TAG subscription? The new activation Service Mode will contain all the communication protocols included in the Tricore Service Mode activation. Download the new update and become even more competitive by starting to work on motorcycle or tractor ECUs!
New supported vehicles by K-TAG SM (Service Mode)
BMW Motorrad R 1250 K50 R 1250 GS
Bosch ME17.2.42 BMS-O [RD, WR]
BMW Motorrad R 1250 K51 R 1250 GS Adventure
Bosch ME17.2.42 BMS-O [RD, WR]
BMW Motorrad R 1250 K52 R 1250 RT
Bosch ME17.2.42 BMS-O [RD, WR]
BMW Motorrad R 1250 K53 R 1250 R
Bosch ME17.2.42 BMS-O [RD, WR]
BMW Motorrad R 1250 K54 R 1250 RS
Bosch ME17.2.42 BMS-O [RD, WR]
BMW Motorrad S 1000 K67 S 1000 RR
Bosch ME17.2.42 BMS-O [RD, WR]
JMC New Generation Transit 2.8 TD
Bosch EDC17C55 [RD, WR]
Kubota L60 Series L6060 2.4L
Bosch EDC17C55 [RD, WR]
Suzuki Splash 1.2 VVT
Bosch ME17.9.6 [RD, WR]
Suzuki Swift Sport ZC32S 1.6 16v VVT 6MT
Bosch ME17.9.6 [RD, WR]
Suzuki Swift Sport ZC32S 1.6 16v VVT CVT
Bosch ME17.9.6 [RD, WR]
Suzuki Swift ZC 1.2 VVT
Bosch ME17.9.6 [RD, WR]
Suzuki SX4 1.6 16v VVT 6MT
Bosch ME17.9.6 [RD, WR]
Volvo C30 2.0 20v D3
Bosch EDC17CP22 [RD, WR]
Volvo C30 2.0 20v D4
Bosch EDC17CP22 [RD, WR]
Volvo C70 2.0 20v D
Bosch EDC17CP22 [RD, WR]
Volvo C70 2.0 20v D3
Bosch EDC17CP22 [RD, WR]
Volvo S40 2.0 20v D3
Bosch EDC17CP22 [RD, WR]
Volvo S40 2.0 20v D4
Bosch EDC17CP22 [RD, WR]
Volvo S60 2.4 20v D5
Bosch EDC17CP22 [RD, WR]
Volvo S80 2.4 20v D
Bosch EDC17CP22 [RD, WR]
Volvo S80 2.4 20v D5
Bosch EDC17CP22 [RD, WR]
Volvo V50 2.0 20v D3
Bosch EDC17CP22 [RD, WR]
Volvo V50 2.0 20v D4
Bosch EDC17CP22 [RD, WR]
Volvo V60 2.0 20v D3
Bosch EDC17CP22 [RD, WR]
Volvo V60 2.4 20v D5
Bosch EDC17CP22 [RD, WR]
Volvo V70 2.4 20v D
Bosch EDC17CP22 [RD, WR]
Volvo V70 2.4 20v D5
Bosch EDC17CP22 [RD, WR]
Volvo XC60 2.0 20v D3 DRIVe
Bosch EDC17CP22 [RD, WR]
Volvo XC60 2.4 20v D
Bosch EDC17CP22 [RD, WR]
Volvo XC60 2.4 20v D DRIVe
Bosch EDC17CP22 [RD, WR]
Volvo XC60 2.4 20v D5
Bosch EDC17CP22 [RD, WR]
Volvo XC70 2.0 20v D3 DRIVe
Bosch EDC17CP22 [RD, WR]
Volvo XC70 2.4 20v D
Bosch EDC17CP22 [RD, WR]
Volvo XC70 2.4 20v D DRIVe
Bosch EDC17CP22 [RD, WR]
Volvo XC70 2.4 20v D5
Bosch EDC17CP22 [RD, WR]
Volvo XC90 2.4 20v D5
Bosch EDC17CP22 [RD, WR]