Alientech tool update: K-Suite Release 3.48
20 June 2019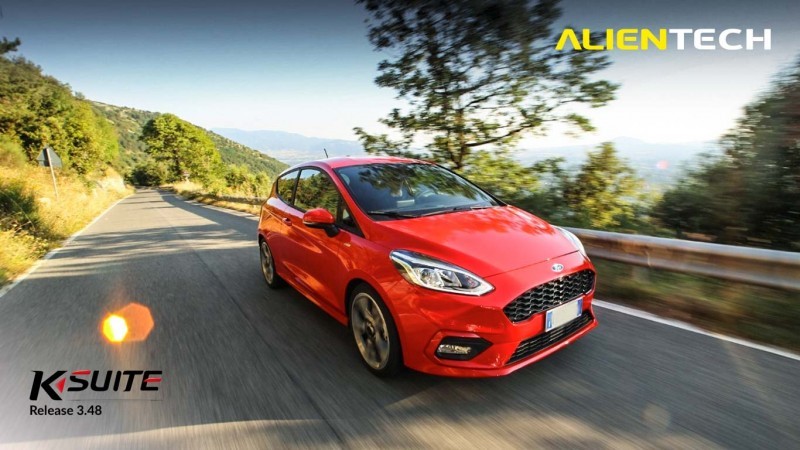 We are happy to announce that new Ford vehicles are equipped with the new Alientech tool update: ECU MED17, now supported in OBD! The protocol dedicated to Ford, with ECU Bosch MED17.0.7, in coming soon in our latest KESSv2 release, is now available for everyone in OBD! Thanks to this ECU remapping tool it is now possible to read and write directly through the OBD2 connector without having to remove or disconnect the ECU from the vehicle.
From today the 1.0 3-cylinder Ford EcoBoost engine, thanks to the several requests from our customers, is supported in OBD! Make attractive a small engine, but with great potential in terms of performance optimization!
For which vehicles does this update applies to?
Due to the great demand for some important vehicles, we have new protocols available in advance. Starting today, the control units of the following vehicles are available in coming soon:
BMW Motorrad – Bosch ME17.2.4 BMS-MP – Can – Virtual Reading and Writing
Land Rover – Bosch EDC17CP55 – Flexray – Reading and Writing
Land Rover – Bosch MED17.8.32 – Flexray – Reading and Writing
Triumph – Keihin SH72531 – Can – Reading and Writing
Ford with ECU Bosch MED17.0.7 supported in OBD2:
B-Max
Bosch MED17.0.7 [RD, WR]
C-Max
Bosch MED17.0.7 [RD, WR]
Ecosport
Bosch MED17.0.7 [RD, WR]
Fiesta
Bosch MED17.0.7 [RD, WR]
Focus
Bosch MED17.0.7 [RD, WR]
Mondeo
Bosch MED17.0.7 [RD, WR]
Tourneo Connect
Bosch MED17.0.7 [RD, WR]
Tourneo Courier
Bosch MED17.0.7 [RD, WR]
Transit Connect
Bosch MED17.0.7 [RD, WR]
Transit Courier
Bosch MED17.0.7 [RD, WR]
Functions of this car diagnostic software
WR = Reading
RD = Writing