Alientech tool update: K-Suite Release 3.47
14 June 2019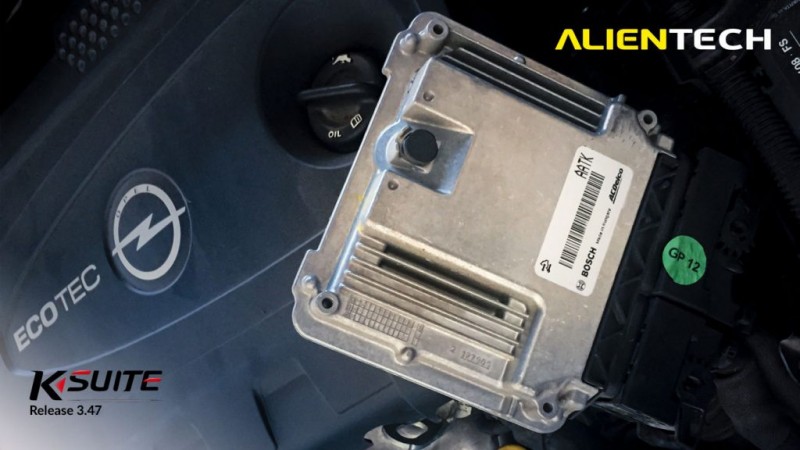 With the most recent Alientech tool update, it it will be possible to work on bench with K-TAG without opening the ECU. Thanks to the improved Alientech tool you can remap directly through the connector without having to disable the ECU from the vehicle.
For which vehicles does this update applies to?
If you have an active subscription on K-TAG Master or Slave with Tricore-ST activation, you will get access to the new activation TSM (Tricore Service Mode) for free.
The ECUs of Opel, Hyundai, Mercedes, but also many other brands like VAG, Ford, BMW, Land Rover, Kia, now, can be read and written on the bench directly through the connector, without opening the ECU.
The new ECU remapping tools supported by K-TAG with Tricore Service mode
BOSCH EDC17C19 IROM TC1792/TC1796 OPEL TSM
BOSCH ME17.9.21 IROM TC1724 KIA/HYUNDAI TSM
BOSCH EDC17CP01 IROM TC1796 MERCEDES TSM
BOSCH EDC17CP04 IROM TC1796 VAG TSM
BOSCH EDC17CP05 XROM TC1796 FORD TSM
BOSCH EDC17CP09 XROM TC1796 BMW TSM
BOSCH EDC17CP10 IROM TC1796 MERCEDES TSM
BOSCH EDC17CP10 XROM TC1796 MERCEDES TSM
BOSCH EDC17CP11 XROM TC1796 LAND ROVER TSM
BOSCH EDC17CP20 IROM TC1796 VAG TSM
BOSCH MED17.1.1 IROM TC1796 VAG TSM
BOSCH MEG17.9.13 IROM TC1762 KIA TSM