Alientech tool update: K-Suite Release 3.46.1
11 June 2019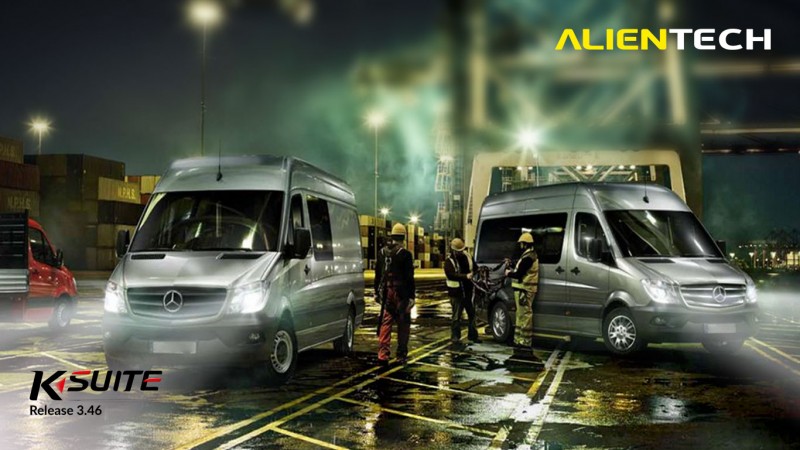 The number is growing more and more! Lots of new vehicles supported! Through this new update it will be possible reading and writing Mercedes 3.0L Diesel via OBD2.

As of today, to read and write these vehicles, you just need KESSv2 and the standard OBD2 cable: these are the only two things you will need to work safely and efficiently!

If the calibration isn't available, it's possible to read it through K-TAG, without having to open the ECU, thanks to the new Tricore Service Mode.

It is possible that some vehicles have the writing procedure locked, to prevent a possible blocking of the control unit. In order to proceed with the writing, it will be necessary to open a ticket and send ID, Log and the original read file to our assistance. In this way it will be possible to perform all the verifications and make the writing available.
Bosch MERCEDES 3.0L Diesel ECU REMAPPING NOW SUPPORTED IN OBD2:
C-Class W204
Bosch EDC17CP46 TC1797 [VR, WR, RD]
C-Class W204
Bosch EDC17CP46 TC1797 [VR, WR, RD]
C-Class W204
Bosch EDC17CP46 TC1797 [VR, WR, RD]
C-Class T-Model S204
Bosch EDC17CP46 TC1797 [VR, WR, RD]
C-Class T-Model S204
Bosch EDC17CP46 TC1797 [VR, WR, RD]
C-Class T-Model S204
Bosch EDC17CP46 TC1797 [VR, WR, RD]
CLS-Class C218
Bosch EDC17CP46 TC1797 [VR, WR, RD]
CLS-Class C218
Bosch EDC17CP46 TC1797 [VR, WR, RD]
CLS-Class C218
Bosch EDC17CP46 TC1797 [VR, WR, RD]
CLS-Class C218
Bosch EDC17CP46 TC1797 [VR, WR, RD]
CLS-Class C218
Bosch EDC17CP46 TC1797 [VR, WR, RD]
CLS-Class C218
Bosch EDC17CP46 TC1797 [VR, WR, RD]
CLS-Class C218
Bosch EDC17CP46 TC1797 [VR, WR, RD]
CLS-Class C218
Bosch EDC17CP46 TC1797 [VR, WR, RD]
CLS-Class C218
Bosch EDC17CP46 TC1797 [VR, WR, RD]
CLS-Class C218
Bosch EDC17CP46 TC1797 [VR, WR, RD]
CLS-Class Shooting Brake X218
Bosch EDC17CP46 TC1797 [VR, WR, RD]
CLS-Class Shooting Brake X218
Bosch EDC17CP46 TC1797 [VR, WR, RD]
CLS-Class Shooting Brake X218
Bosch EDC17CP46 TC1797 [VR, WR, RD]
CLS-Class Shooting Brake X218
Bosch EDC17CP46 TC1797 [VR, WR, RD]
CLS-Class Shooting Brake X218
Bosch EDC17CP46 TC1797 [VR, WR, RD]
CLS-Class Shooting Brake X218
Bosch EDC17CP46 TC1797 [VR, WR, RD]
E-Class W212
Bosch EDC17CP46 TC1797 [VR, WR, RD]
E-Class W212
Bosch EDC17CP46 TC1797 [VR, WR, RD]
E-Class W212
Bosch EDC17CP46 TC1797 [VR, WR, RD]
E-Class W212
Bosch EDC17CP46 TC1797 [VR, WR, RD]
E-Class W212
Bosch EDC17CP46 TC1797 [VR, WR, RD]
E-Class W212
Bosch EDC17CP46 TC1797 [VR, WR, RD]
E-Class W212
Bosch EDC17CP46 TC1797 [VR, WR, RD]
E-Class W212
Bosch EDC17CP46 TC1797 [VR, WR, RD]
E-Class W212
Bosch EDC17CP46 TC1797 [VR, WR, RD]
E-Class W212
Bosch EDC17CP46 TC1797 [VR, WR, RD]
E-Class W212
Bosch EDC17CP46 TC1797 [VR, WR, RD]
E-Class W212
Bosch EDC17CP46 TC1797 [VR, WR, RD]
E-Class W212
Bosch EDC17CP46 TC1797 [VR, WR, RD]
E-Class W212
Bosch EDC17CP46 TC1797 [VR, WR, RD]
E-Class W212
Bosch EDC17CP46 TC1797 [VR, WR, RD]
E-Class W212
Bosch EDC17CP46 TC1797 [VR, WR, RD]
E-Class W212
Bosch EDC17CP46 TC1797 [VR, WR, RD]
E-Class W212
Bosch EDC17CP46 TC1797 [VR, WR, RD]
E-Class W212
Bosch EDC17CP46 TC1797 [VR, WR, RD]
E-Class W212
Bosch EDC17CP46 TC1797 [VR, WR, RD]
E-Class W212
Bosch EDC17CP46 TC1797 [VR, WR, RD]
E-Class W212
Bosch EDC17CP46 TC1797 [VR, WR, RD]
E-Class W212
Bosch EDC17CP46 TC1797 [VR, WR, RD]
E-Class W212
Bosch EDC17CP46 TC1797 [VR, WR, RD]
E-Class Cabriolet A207
Bosch EDC17CP46 TC1797 [VR, WR, RD]
E-Class Cabriolet A207
Bosch EDC17CP46 TC1797 [VR, WR, RD]
E-Class Cabriolet A207
Bosch EDC17CP46 TC1797 [VR, WR, RD]
E-Class Cabriolet A207
Bosch EDC17CP46 TC1797 [VR, WR, RD]
E-Class Coupe C207
Bosch EDC17CP46 TC1797 [VR, WR, RD]
E-Class Coupe C207
Bosch EDC17CP46 TC1797 [VR, WR, RD]
E-Class Coupe C207
Bosch EDC17CP46 TC1797 [VR, WR, RD]
E-Class Coupe C207
Bosch EDC17CP46 TC1797 [VR, WR, RD]
E-Class T-Model S212
Bosch EDC17CP46 TC1797 [VR, WR, RD]
E-Class T-Model S212
Bosch EDC17CP46 TC1797 [VR, WR, RD]
E-Class T-Model S212
Bosch EDC17CP46 TC1797 [VR, WR, RD]
E-Class T-Model S212
Bosch EDC17CP46 TC1797 [VR, WR, RD]
E-Class T-Model S212
Bosch EDC17CP46 TC1797 [VR, WR, RD]
E-Class T-Model S212
Bosch EDC17CP46 TC1797 [VR, WR, RD]
E-Class T-Model S212
Bosch EDC17CP46 TC1797 [VR, WR, RD]
E-Class T-Model S212
Bosch EDC17CP46 TC1797 [VR, WR, RD]
E-Class T-Model S212
Bosch EDC17CP46 TC1797 [VR, WR, RD]
E-Class T-Model S212
Bosch EDC17CP46 TC1797 [VR, WR, RD]
E-Class T-Model S212
Bosch EDC17CP46 TC1797 [VR, WR, RD]
E-Class T-Model S212
Bosch EDC17CP46 TC1797 [VR, WR, RD]
E-Class T-Model S212
Bosch EDC17CP46 TC1797 [VR, WR, RD]
E-Class T-Model S212
Bosch EDC17CP46 TC1797 [VR, WR, RD]
E-Class T-Model S212
Bosch EDC17CP46 TC1797 [VR, WR, RD]
E-Class T-Model S212
Bosch EDC17CP46 TC1797 [VR, WR, RD]
E-Class T-Model S212
Bosch EDC17CP46 TC1797 [VR, WR, RD]
E-Class T-Model S212
Bosch EDC17CP46 TC1797 [VR, WR, RD]
E-Class T-Model S212
Bosch EDC17CP46 TC1797 [VR, WR, RD]
E-Class T-Model S212
Bosch EDC17CP46 TC1797 [VR, WR, RD]
E-Class T-Model S212
Bosch EDC17CP46 TC1797 [VR, WR, RD]
E-Class T-Model S212
Bosch EDC17CP46 TC1797 [VR, WR, RD]
E-Class T-Model S212
Bosch EDC17CP46 TC1797 [VR, WR, RD]
GL-Class X166
Bosch EDC17CP46 TC1797 [VR, WR, RD]
GL-Class X166
Bosch EDC17CP46 TC1797 [VR, WR, RD]
GL-Class X166
Bosch EDC17CP46 TC1797 [VR, WR, RD]
GL-Class X166
Bosch EDC17CP46 TC1797 [VR, WR, RD]
GL-Class X166
Bosch EDC17CP46 TC1797 [VR, WR, RD]
GL-Class X166
Bosch EDC17CP46 TC1797 [VR, WR, RD]
GLK-Class X204
Bosch EDC17CP46 TC1797 [VR, WR, RD]
GLK-Class X204
Bosch EDC17CP46 TC1797 [VR, WR, RD]
GLK-Class X204
Bosch EDC17CP46 TC1797 [VR, WR, RD]
GLK-Class X204
Bosch EDC17CP46 TC1797 [VR, WR, RD]
GLS-Class X166
Bosch EDC17CP46 TC1797 [VR, WR, RD]
GLS-Class X166
Bosch EDC17CP46 TC1797 [VR, WR, RD]
ML-Class W166
Bosch EDC17CP46 TC1797 [VR, WR, RD]
ML-Class W166
Bosch EDC17CP46 TC1797 [VR, WR, RD]
ML-Class W166
Bosch EDC17CP46 TC1797 [VR, WR, RD]
ML-Class W166
Bosch EDC17CP46 TC1797 [VR, WR, RD]
ML-Class W166
Bosch EDC17CP46 TC1797 [VR, WR, RD]
ML-Class W166
Bosch EDC17CP46 TC1797 [VR, WR, RD]
R-Class V251
Bosch EDC17CP46 TC1797 [VR, WR, RD]
R-Class V251
Bosch EDC17CP46 TC1797 [VR, WR, RD]
R-Class V251
Bosch EDC17CP46 TC1797 [VR, WR, RD]
R-Class V251
Bosch EDC17CP46 TC1797 [VR, WR, RD]
R-Class V251
Bosch EDC17CP46 TC1797 [VR, WR, RD]
R-Class V251
Bosch EDC17CP46 TC1797 [VR, WR, RD]
R-Class V251
Bosch EDC17CP46 TC1797 [VR, WR, RD]
R-Class V251
Bosch EDC17CP46 TC1797 [VR, WR, RD]
R-Class V251
Bosch EDC17CP46 TC1797 [VR, WR, RD]
R-Class V251
Bosch EDC17CP46 TC1797 [VR, WR, RD]
R-Class V251
Bosch EDC17CP46 TC1797 [VR, WR, RD]
R-Class V251
Bosch EDC17CP46 TC1797 [VR, WR, RD]
R-Class W251
Bosch EDC17CP46 TC1797 [VR, WR, RD]
R-Class W251
Bosch EDC17CP46 TC1797 [VR, WR, RD]
R-Class W251
Bosch EDC17CP46 TC1797 [VR, WR, RD]
R-Class W251
Bosch EDC17CP46 TC1797 [VR, WR, RD]
R-Class W251
Bosch EDC17CP46 TC1797 [VR, WR, RD]
R-Class W251
Bosch EDC17CP46 TC1797 [VR, WR, RD]
R-Class W251
Bosch EDC17CP46 TC1797 [VR, WR, RD]
R-Class W251
Bosch EDC17CP46 TC1797 [VR, WR, RD]
R-Class W251
Bosch EDC17CP46 TC1797 [VR, WR, RD]
R-Class W251
Bosch EDC17CP46 TC1797 [VR, WR, RD]
R-Class W251
Bosch EDC17CP46 TC1797 [VR, WR, RD]
R-Class W251
Bosch EDC17CP46 TC1797 [VR, WR, RD]
S-Class V221
Bosch EDC17CP46 TC1797 [VR, WR, RD]
S-Class V221
Bosch EDC17CP46 TC1797 [VR, WR, RD]
S-Class V221
Bosch EDC17CP46 TC1797 [VR, WR, RD]
S-Class V221
Bosch EDC17CP46 TC1797 [VR, WR, RD]
S-Class V221
Bosch EDC17CP46 TC1797 [VR, WR, RD]
S-Class V221
Bosch EDC17CP46 TC1797 [VR, WR, RD]
S-Class V221
Bosch EDC17CP46 TC1797 [VR, WR, RD]
S-Class V221
Bosch EDC17CP46 TC1797 [VR, WR, RD]
S-Class W221
Bosch EDC17CP46 TC1797 [VR, WR, RD]
S-Class W221
Bosch EDC17CP46 TC1797 [VR, WR, RD]
S-Class W221
Bosch EDC17CP46 TC1797 [VR, WR, RD]
S-Class W221
Bosch EDC17CP46 TC1797 [VR, WR, RD]
S-Class W221
Bosch EDC17CP46 TC1797 [VR, WR, RD]
S-Class W221
Bosch EDC17CP46 TC1797 [VR, WR, RD]
S-Class W221
Bosch EDC17CP46 TC1797 [VR, WR, RD]
S-Class W221
Bosch EDC17CP46 TC1797 [VR, WR, RD]
Sprinter W906
Bosch EDC17CP46 TC1797 [VR, WR, RD]
Sprinter W906
Bosch EDC17CP46 TC1797 [VR, WR, RD]
Sprinter W906
Bosch EDC17CP46 TC1797 [VR, WR, RD]
Sprinter W906
Bosch EDC17CP46 TC1797 [VR, WR, RD]
Sprinter W906
Bosch EDC17CP46 TC1797 [VR, WR, RD]
Sprinter W906
Bosch EDC17CP46 TC1797 [VR, WR, RD]
Sprinter W906
Bosch EDC17CP46 TC1797 [VR, WR, RD]
Sprinter W906
Bosch EDC17CP46 TC1797 [VR, WR, RD]
Sprinter W906
Bosch EDC17CP46 TC1797 [VR, WR, RD]
Sprinter W906
Bosch EDC17CP46 TC1797 [VR, WR, RD]
Sprinter W906
Bosch EDC17CP46 TC1797 [VR, WR, RD]
Sprinter W906
Bosch EDC17CP46 TC1797 [VR, WR, RD]
Sprinter W906
Bosch EDC17CP46 TC1797 [VR, WR, RD]
Sprinter W906
Bosch EDC17CP46 TC1797 [VR, WR, RD]
Sprinter W906
Bosch EDC17CP46 TC1797 [VR, WR, RD]
Functions:
VR = Virtual
WR = Writing
RD = Reading