Alientech tool update: K-Suite Release 3.27
14 February 2019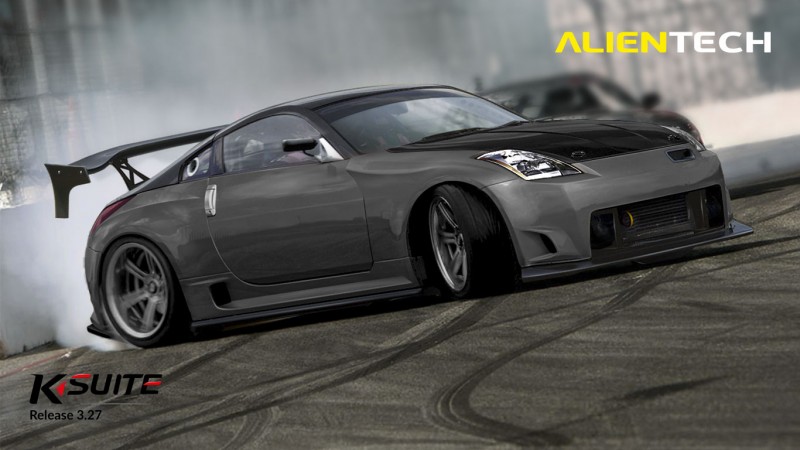 Today's software update focuses on the KESSv2 tool and introduces the support of specific vehicles of the brand Nissan, equipped with ECUs Hitachi with Microcontrollers SH7055 and SH7058 that use the communication line K-LINE.

Before this update it was necessary to open the ECU, but now – due to the complexity of working on these ECUs Hitachi and to the important demand from the Asian Markets – Alientech has decided to introduce a new communication protocol via OBD.
Protocol 697 functions:
Reading: Microcontroller reading, EEPROM reading and Backup
Writing: Microcontroller writing, EEPROM writing and Backup
Thanks to the reading and writing functions of EEPROM and of the backup, you'll have the possibility to clone the ECU via OBD!
Nissan ECU remapping supported in OBD with KESSv2:
350Z Z33 3.5 24v V6 214 kW
Hitachi HW 1 (K-LINE) SH7055
[RD, WR, CLONE]
350Z Z33 3.5 24v V6 224 kW
Hitachi HW 4 (K-LINE) SH7058
[RD, WR, CLONE]
Almera N16 1.8 16v 84 kW
Hitachi MEC20 (K-LINE) SH7055
[RD, WR, CLONE]
Almera N16 1.8 16v 85 kW
Hitachi MEC30-07x (K-LINE) SH7055
[RD, WR, CLONE]
Avenir W11 1.8 16v 85 kW
Hitachi MEC30-07x (K-LINE) SH7055
[RD, WR, CLONE]
Cube Z11 1.4 16v 65 kW
Hitachi MEC370-900 (K-LINE) SH7055
[RD, WR, CLONE]
Fairlady Z Z33 3.5 24v V6 214 kW
Hitachi HW 1 (K-LINE) SH7055
[RD, WR, CLONE]
Fairlady Z Z33 3.5 24v V6 224 kW
Hitachi HW 4 (K-LINE) SH7058
[RD, WR, CLONE]
Frontier D22 2.4 16v 110 kW
Hitachi MEC38-490 (K-LINE) SH7055
[RD, WR, CLONE]
Maxima A33 3.0 24v V6 167 kW
Hitachi 23710-5Y222 (K-LINE) SH7055
[RD, WR, CLONE]
Maxima A34 3.5 24v V6 198 kW
Hitachi HW 1 (K-LINE) SH7055
[RD, WR, CLONE]
Maxima A34 3.5 24v V6 195 kW
Hitachi HW 1 (K-LINE) SH7055
[RD, WR, CLONE]
Murano Z51 3.5 24v V6 198 kW
Hitachi HW 1 (K-LINE) SH7055
[RD, WR, CLONE]
Navara D22 2.4 16v 110 kW
Hitachi MEC38-490 (K-LINE) SH7055
[RD, WR, CLONE]
Pathfinder R51 4.0 V6 198 kW
Hitachi MEC35-xxx (K-LINE) SH7058
[RD, WR, CLONE]
Patrol Y61 4.8 24v 185 kW
Hitachi MEC23-xxx (K-LINE) SH7055
[RD, WR, CLONE]
Primera P12 1.8 16v 85 kW
Hitachi MEC30-07x (K-LINE) SH7055
[RD, WR, CLONE]
Qashqai J10 2.0 16v 104 kW
Hitachi A56-B76 (K-LINE) SH7055
[RD, WR, CLONE]
Teana J31 2.0 16v 104 kW
Hitachi A56-B76 (K-LINE) SH7055
[RD, WR, CLONE]
Teana J31 3.5 24v V6 180 kW
Hitachi HW 1 (K-LINE) SH7055
[RD, WR, CLONE]
X-Trail T30 2.0 16v 103 kW
Hitachi A56-R18 (K-LINE) SH7055
[RD, WR, CLONE]
X-Trail T30 2.5 16v 123 kW
Hitachi A56-R18 (K-LINE) SH7055
[RD, WR, CLONE]
Functions:
RD= Reading
WR= Writing
CLONE= Cloning