Alientech news update: K-Suite release 4.34
12 May 2021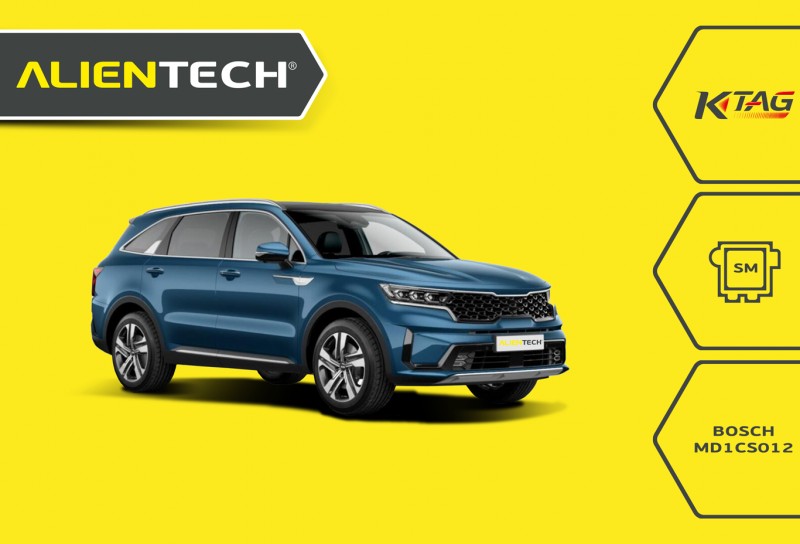 Service Mode. Bosch MD1CS012 KIA supported by K-TAG!
It is about the fourth generation of one of the best-selling SUVs in the world. Kia Sorento is a gritty and versatile vehicle, with enormous potential. It is a new vehicle, with an innovative design, equipped with all the latest technologies, that impresses for grandeur and class.
However, the driving experience could be even more exciting and thanks to the new Service Mode Protocol you can read and write without opening the ECU.
By intervening on some specific parameters such as torque, turbo pression or fuel management parameters you can get better performances and engine maximum efficiency, thus improving consumptions. Thanks to K-TAG and ECM Titanium – the Alientech remapping software – you can offer you customers effective and customized interventions, even on brand new vehicles.
BOSCH MD1CS012
| | | |
| --- | --- | --- |
| Model | ECU | Functions |
| Genesis Gv80 JX1 3.0 VGT | Bosch MD1CS012 TC298 | RD, WR |
| Kia Sorento MQ4 2.2 CRDi | Bosch MD1CS012 TC298 | RD, WR |
A note also for the new Hyundai luxury brand that with its Gv80 launches the challenge to the Teutonic giants.
Top technology with new design diesel engine: it is a 3.0 with 278 CV; visually characterized by a diamond-shaped mask, with double frontal headlights in two levels and with 19'' or 22'' wheels. It is a vehicle from which you can unleash even more grit and performance. Offer your customers an even more personal driving, thanks to the new K-TAG protocol!
K-TAG – READ AND WRITE IN SERVICE MODE
K-TAG communicates with all ECUS, even the latest generation. You can read and directly write the microprocessor of the ECU, the flash memory and the EEPROM without opening the ECU!
Thanks to Service Mode, even complexes interventions become much faster, because you no longer have to open the ECU. This means a considerable saving of time, as well as error margins reduced to minimum. We want to continue offering practical and effective solutions to allow you to work to the maximum of your possibilities. That is why we continue to release Service Mode protocols, that give you more chances to succeed and gain!

ECM TITANIUM – REMAPPING SOFTWARE
ECM Titanium is the remapping software that interprets and modifies with simplicity and precision the functioning data of the ECU and TCU.
Effective in the modification interventions and intuitive to use, the recalibrations become faster and simpler. Each professional recognizes in ECM Titanium the ideal software to get the best out every vehicle.

BOSCH EDC1753
To the ECU Bosch MD1CS012 protocol, another one is added: Truck for Bosch EDC17C53 equipped on Dongfeng K14, a minibus widespread and sold in the Far East and Sud America.

The tools, updates, and solutions we offer you and the professional who choose us every day, show how our efforts are aimed to satisfy every market or business need as much as possible. A choice that goes towards our customers and that every day involves capacity and competences of qualified professionals. Choose Alientech means being at the forefront and wanting more and more from a job that can give incredible satisfactions.