Alientech news update: K-Suite release 4.29
8 April 2021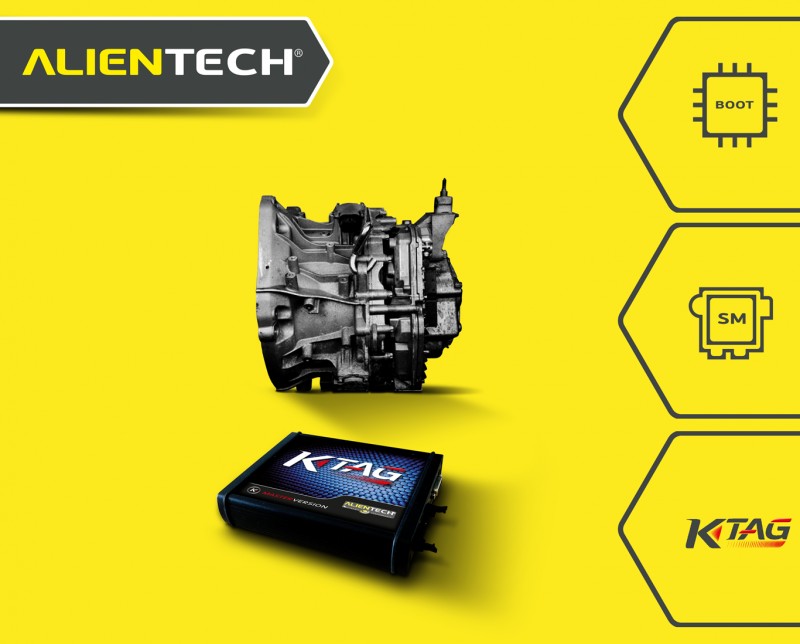 TCM Renault Continental DC4 protocols: Service mode and Bootmode.
FULL READING AND WRITING WITH K-TAG FOR THE CONTINENTAL DC4 TCMS.
Our team of engineer and technicians continued the study on TCMs, deepening the Continental DC4 equipped on the Renault vehicles.
Two new protocols are added to the TCM VAG DSG package of the previous update, to provide you with tools and solutions that facilitate and increase your daily work in the workshop.
You work harder, more efficiently and faster, thanks to K-TAG full reading and writing in Service Mode and Bootmode.
The TCM ECU model introduced with this release is the Continental DC4 equipped on the Renault group vehicles.
WITH THIS UPDATE, FULL READING AND WRITING IN SERVICE MODE AND BOOTMODE WITH K-TAG.
| | | | | |
| --- | --- | --- | --- | --- |
| TCM Brand | TCM Version | Vehicle Brand | FULL RD/WR | K-TAG Mode |
| CONTINENTAL | DC4 | RENAULT | √ | BOOTLOADER TRICORE |
| CONTINENTAL | DC4 | RENAULT | √ | SERVICE MODE |
NEW SERVICE MODE CABLE
To work in Service Mode on these TCMs it must be used the new 144300T118 cable: now available!

WHY MODIFY THE TCM?
With interventions also to the TCM, the vehicle elaboration becomes truly complete and optimised to the highest: part of the limitations at a functional level are inserted in the TCM, therefore, on important changes, it is necessary to modify also the TCM to develop 100% elaboration.
THE BENEFITS OF THE TCM REPAIR.
Thanks to the full reading and writing you can satisfy even more customers because you can repair the TCM, thus avoiding replacing one of the most expensive parts of the vehicle, minimizing the margin of error. A great advantage for the vehicle owners and your business.
The service mode protocol we offer gives you the opportunity to intervene on many vehicles Renault like Clio, Clio RS and Captur Diesel.

CONTINENTAL GETRAG DC4 TC1766
| | | |
| --- | --- | --- |
| Model | ECU | FULL RD / WR |
| Renault Captur 1.5 dCi Eco 6AT | Continental Getrag DC4 TC1766 | Bootloader Tricore |
| Renault Clio 1.2 TCe EDC | Continental Getrag DC4 TC1766 | Bootloader Tricore |
| Renault Clio 1.2 TCe ENERGY EDC | Continental Getrag DC4 TC1766 | Bootloader Tricore |
| Renault Clio 1.5 dCi 90 EDC | Continental Getrag DC4 TC1766 | Bootloader Tricore |
| Renault Clio RS 1.6 16v TCe RS EDC | Continental Getrag DC4 TC1766 | Bootloader Tricore |
| Renault Clio RS 1.6 16v TCe RS Trophy | Continental Getrag DC4 TC1766 | Bootloader Tricore |
| Renault Clio RS 1.6 16v Tce Turbo RS | Continental Getrag DC4 TC1766 | Bootloader Tricore |