Alientech news update: K-Suite release 4.08
21 October 2020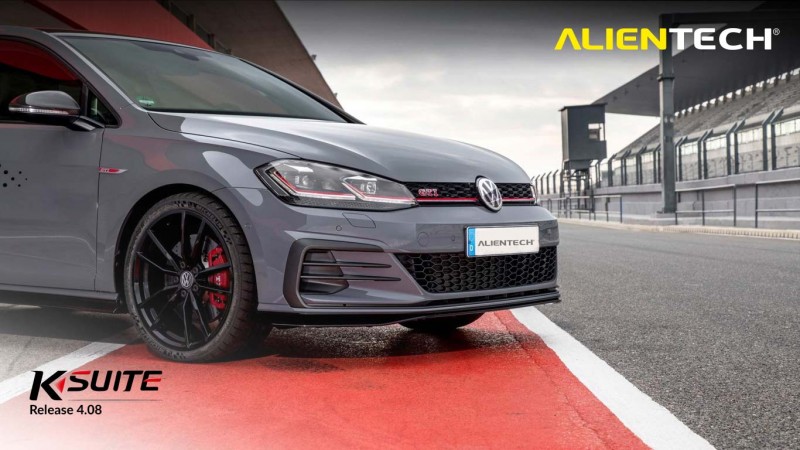 KESSV2 AND K-TAG: NEW FUNCTIONS ON THE ECU CONTINENTAL SIMOS18 PROTOCOLS. THE CVN IS NO LONGER A PROBLEM
We solve, also for the ECU Continental SIMOS18, one of the most discussed issues among the tuners: the CVN traceability.
CVN, acronym of Calibration Verification Number, is the calibration checksum of the file written inside the ECU. The CVN control constitutes a method with which it is verified if the calibration of the ECU is consistent with the one supplied by the manufacturer of the vehicle.
This update adds the correction of the CVN oh the K-TAG and KESSv2 protocols for Continental SIMOS18.
Thanks to these new functionalities, also by writing a Modified file, the CVN will always correspond to the Original File one. The CVN number will be displayed in the ID protocol, in the area of the software version.

KESSV2 - PROTOCOLLO 473 -CONTINENTAL SIMOS18.1 - CONTINENTAL SIMOS18.2 TC1791
Audi A4 B8
Continental Simos 18.1 TC1791 [VR, WR, CVN]
Audi A4 B9
Continental Simos 18.1 TC1791 [VR, WR, CVN]
Audi A5
Continental Simos 18.1 TC1791 [VR, WR, CVN]
Audi A5 Cabriolet
Continental Simos 18.1 TC1791 [VR, WR, CVN]
Audi A5 Sportback
Continental Simos 18.1 TC1791 [VR, WR, CVN]
Audi A6 C7
Continental Simos 18.1 TC1791 [VR, WR, CVN]
Audi Q3
Continental Simos 18.2 TC1791 [VR, WR, CVN]
Audi Q5
Continental Simos 18.1 TC1791 [VR, WR, CVN]
Audi Q7
Continental Simos 18.1 TC1791 [VR, WR, CVN]
Audi S1
Continental Simos 18.1 TC1791 [VR, WR, CVN]
Audi S1 Sportback
Continental Simos 18.1 TC1791 [VR, WR, CVN]
Audi S3
Continental Simos 18.1 TC1791 [VR, WR, CVN]
Audi TT Coupe
Continental Simos 18.1 TC1791 [VR, WR, CVN]
Audi TT Roadster
Continental Simos 18.1 TC1791 [VR, WR, CVN]
Audi TTS Coupe
Continental Simos 18.1 TC1791 [VR, WR, CVN]
Audi TTS Roadster
Continental Simos 18.1 TC1791 [VR, WR, CVN]
Seat Ibiza SC 6P
Continental Simos 18.2 TC1791 [VR, WR, CVN]
Seat Leon Cupra 5F1
Continental Simos 18.1 TC1791 [VR, WR, CVN]
Seat Leon SC Cupra 5F5
Continental Simos 18.1 TC1791 [VR, WR, CVN]
Seat Leon ST Cupra 5F8
Continental Simos 18.1 TC1791 [VR, WR, CVN]
Skoda Octavia Combi RS 5E5
Continental Simos 18.1 TC1791 [VR, WR, CVN]
Skoda Octavia RS 5E3
Continental Simos 18.1 TC1791 [VR, WR, CVN]
Skoda Superb 3V3
Continental Simos 18.1 TC1791 [VR, WR, CVN]
Skoda Superb Combi 3V5
Continental Simos 18.1 TC1791 [VR, WR, CVN]
Volkswagen Beetle 5C1
Continental Simos 18.1 TC1791 [VR, WR, CVN]
Volkswagen Beetle 5C1
Continental Simos 18.2 TC1791 [VR, WR, CVN]
Volkswagen Beetle 5C2
Continental Simos 18.2 TC1791 [VR, WR, CVN]
Volkswagen Beetle Cabriolet 5C7
Continental Simos 18.1 TC1791 [VR, WR, CVN]
Volkswagen Beetle Cabriolet 5C7
Continental Simos 18.2 TC1791 [VR, WR, CVN]
Volkswagen Beetle Cabriolet 5C8
Continental Simos 18.2 TC1791 [VR, WR, CVN]
Volkswagen Beetle GSR 5C1
Continental Simos 18.1 TC1791 [VR, WR, CVN]
Volkswagen Golf 5G1
Continental Simos 18.1 TC1791 [VR, WR, CVN]
Volkswagen Golf 5G1
Continental Simos 18.2 TC1791 [VR, WR, CVN]
Volkswagen Golf BQ1
Continental Simos 18.1 TC1791 [VR, WR, CVN]
Volkswagen Golf Variant BA5
Continental Simos 18.1 TC1791 [VR, WR, CVN]
Volkswagen Jetta 1B
Continental Simos 18.1 TC1791 [VR, WR, CVN]
Volkswagen Passat
Continental Simos 18.1 TC1791 [VR, WR, CVN]
Volkswagen Passat
Continental Simos 18.2 TC1791 [VR, WR, CVN]
Volkswagen Passat Alltrack
Continental Simos 18.1 TC1791 [VR, WR, CVN]
Volkswagen Passat Variant
Continental Simos 18.1 TC1791 [VR, WR, CVN]
Volkswagen Passat Variant
Continental Simos 18.2 TC1791 [VR, WR, CVN]
Volkswagen Polo 6C1
Continental Simos 18.2 TC1791 [VR, WR, CVN]
Volkswagen Sagitar 1B
Continental Simos 18.1 TC1791 [VR, WR, CVN]
Volkswagen Scirocco 138
Continental Simos 18.2 TC1791 [VR, WR, CVN]
Volkswagen Tiguan AD1
Continental Simos 18.1 TC1791 [VR, WR, CVN]
Volkswagen Tiguan BT1
Continental Simos 18.1 TC1791 [VR, WR, CVN]
Volkswagen Vento 1B
Continental Simos 18.1 TC1791 [VR, WR, CVN]
KESSV2 - PROTOCOLLO 733 - CONTINENTAL SIMOS18.10
Audi S3 2.0 TFSI Quattro
Continental Simos 18.10 [VR, WR, CVN]
Audi S3 2.0 TFSI Quattro S-Tronic
Continental Simos 18.10 [VR, WR, CVN]
Cupra Ateca KH7 2.0 TFSI 7AT 4Drive
Continental Simos 18.10 [VR, WR, CVN]
Porsche Macan 95B 2.0 16v Turbo 7AT
Continental Simos 18.10 [VR, WR, CVN]
Seat Ateca KH7 2.0 TFSI 7AT 4Drive
Continental Simos 18.10 [VR, WR, CVN]
Seat Leon 5F1 2.0 TFSI Cupra 7AT
Continental Simos 18.10 [VR, WR, CVN]
Volkswagen Arteon 3H7 2.0 TSI 7AT
Continental Simos 18.10 [VR, WR, CVN]
Volkswagen Golf 5G1 2.0 TSI GTI 6MT
Continental Simos 18.10 [VR, WR, CVN]
Volkswagen Golf 5G1 2.0 TSI GTI 7AT
Continental Simos 18.10 [VR, WR, CVN]
K-TAG - PROTOCOLLO 830 - CONTINENTAL SIMOS18.1 - CONTINENTAL SIMOS18.2 - TC1791
Audi A4 B8
Continental Simos 18.1 TC1791 [RD, WR, CVN]
Audi A4 B9
Continental Simos 18.1 TC1791 [RD, WR, CVN]
Audi A5
Continental Simos 18.1 TC1791 [RD, WR, CVN]
Audi A5 Cabriolet
Continental Simos 18.1 TC1791 [RD, WR, CVN]
Audi A5 Sportback
Continental Simos 18.1 TC1791 [RD, WR, CVN]
Audi A6 C7
Continental Simos 18.1 TC1791 [RD, WR, CVN]
Audi Q3
Continental Simos 18.2 TC1791 [RD, WR, CVN]
Audi Q5
Continental Simos 18.1 TC1791 [RD, WR, CVN]
Audi Q7
Continental Simos 18.1 TC179 [RD, WR, CVN]
Audi S1
Continental Simos 18.1 TC1791 [RD, WR, CVN]
Audi S1 Sportback
Continental Simos 18.1 TC1791 [RD, WR, CVN]
Audi S3
Continental Simos 18.1 TC1791 [RD, WR, CVN]
Audi TT Coupe
Continental Simos 18.1 TC1791 [RD, WR, CVN]
Audi TT Roadster
Continental Simos 18.1 TC1791 [RD, WR, CVN]
Audi TTS Coupe
Continental Simos 18.1 TC1791 [RD, WR, CVN]
Audi TTS Roadster
Continental Simos 18.1 TC1791 [RD, WR, CVN]
Seat Ibiza SC 6P
Continental Simos 18.2 TC1791 [RD, WR, CVN]
Seat Leon Cupra 5F1
Continental Simos 18.1 TC1791 [RD, WR, CVN]
Seat Leon SC Cupra 5F5
Continental Simos 18.1 TC1791 [RD, WR, CVN]
Seat Leon ST Cupra 5F8
Continental Simos 18.1 TC1791 [RD, WR, CVN]
Skoda Octavia Combi RS 5E5
Continental Simos 18.1 TC1791 [RD, WR, CVN]
Skoda Octavia RS 5E3
Continental Simos 18.1 TC1791 [RD, WR, CVN]
Skoda Superb 3V3
Continental Simos 18.1 TC1791 [RD, WR, CVN]
Skoda Superb Combi 3V5
Continental Simos 18.1 TC1791 [RD, WR, CVN]
Volkswagen Beetle 5C1
Continental Simos 18.1 TC1791 [RD, WR, CVN]
Volkswagen Beetle 5C1
Continental Simos 18.2 TC1791 [RD, WR, CVN]
Volkswagen Beetle 5C2
Continental Simos 18.2 TC1791 [RD, WR, CVN]
Volkswagen Beetle Cabriolet 5C7
Continental Simos 18.1 TC1791 [RD, WR, CVN]
Volkswagen Beetle Cabriolet 5C7
Continental Simos 18.2 TC1791 [RD, WR, CVN]
Volkswagen Beetle Cabriolet 5C8
Continental Simos 18.2 TC1791 [RD, WR, CVN]
Volkswagen Beetle GSR 5C1
Continental Simos 18.1 TC1791 [RD, WR, CVN]
Volkswagen Golf 5G1
Continental Simos 18.1 TC1791 [RD, WR, CVN]
Volkswagen Golf 5G1
Continental Simos 18.2 TC1791 [RD, WR, CVN]
Volkswagen Golf BQ1
Continental Simos 18.1 TC1791 [RD, WR, CVN]
Volkswagen Golf Variant BA5
Continental Simos 18.1 TC1791 [RD, WR, CVN]
Volkswagen Jetta 1B
Continental Simos 18.1 TC1791 [RD, WR, CVN]
Volkswagen Passat
Continental Simos 18.1 TC1791 [RD, WR, CVN]
Volkswagen Passat
Continental Simos 18.2 TC1791 [RD, WR, CVN]
Volkswagen Passat Alltrack
Continental Simos 18.1 TC1791 [RD, WR, CVN]
Volkswagen Passat Variant
Continental Simos 18.1 TC1791 [RD, WR, CVN]
Volkswagen Passat Variant
Continental Simos 18.2 TC1791 [RD, WR, CVN]
Volkswagen Polo 6C1
Continental Simos 18.2 TC1791 [RD, WR, CVN]
Volkswagen Sagitar 1B
Continental Simos 18.1 TC1791 [RD, WR, CVN]
Volkswagen Scirocco 138
Continental Simos 18.2 TC1791 [RD, WR, CVN]
Volkswagen Tiguan AD1
Continental Simos 18.1 TC1791 [RD, WR, CVN]
Volkswagen Tiguan BT1
Continental Simos 18.1 TC1791 [RD, WR, CVN]
Volkswagen Vento 1B
Continental Simos 18.1 TC1791 [RD, WR, CVN]
K-TAG - PROTOCOLLO 1451 - CONTINENTAL SIMOS18.10 TC1791
Audi A4 B8 2.0 TFSI (225)
Continental Simos 18.1 [RD, WR, CVN]
Audi A4 B8 2.0 TFSI (225) Multitronic
Continental Simos 18.1 [RD, WR, CVN]
Audi A4 B8 2.0 TFSI (225) Quattro
Continental Simos 18.1 [RD, WR, CVN]
Audi A4 B8 2.0 TFSI (225) Quattro S-Tronic
Continental Simos 18.1 [RD, WR, CVN]
Audi A4 B8 2.0 TFSI Multitronic
Continental Simos 18.1 [RD, WR, CVN]
Audi A4 B8 2.0 TFSI Quattro
Continental Simos 18.1 [RD, WR, CVN]
Audi A4 B8 2.0 TFSI Quattro Tiptronic
Continental Simos 18.1 [RD, WR, CVN]
Audi A4 B9 2.0 TFSI (252) Quattro S-Tronic
Continental Simos 18.1 [RD, WR, CVN]
Audi A4 B9 2.0 TFSI (252) S-Tronic
Continental Simos 18.1 [RD, WR, CVN]
Audi A5 2.0 TFSI (225)
Continental Simos 18.1 [RD, WR, CVN]
Audi A5 2.0 TFSI (225) Multitronic
Continental Simos 18.1 [RD, WR, CVN]
Audi A5 2.0 TFSI (225) Quattro
Continental Simos 18.1 [RD, WR, CVN]
Audi A5 2.0 TFSI (225) Quattro S-Tronic
Continental Simos 18.1 [RD, WR, CVN]
Audi A5 Cabriolet 2.0 TFSI (225)
Continental Simos 18.1 [RD, WR, CVN]
Audi A5 Cabriolet 2.0 TFSI (225) Multitronic
Continental Simos 18.1 [RD, WR, CVN]
Audi A5 Cabriolet 2.0 TFSI (225) Quattro S-Tronic
Continental Simos 18.1 [RD, WR, CVN]
Audi A5 Sportback 2.0 TFSI (225)
Continental Simos 18.1 [RD, WR, CVN]
Audi A5 Sportback 2.0 TFSI (225) Multitronic
Continental Simos 18.1 [RD, WR, CVN
Audi A5 Sportback 2.0 TFSI (225) Quattro
Continental Simos 18.1 [RD, WR, CVN]
Audi A5 Sportback 2.0 TFSI (225) Quattro S-Tronic
Continental Simos 18.1 [RD, WR, CVN]
Audi A6 C7 1.8 TFSI (190)
Continental Simos 18.1 [RD, WR, CVN]
Audi A6 C7 1.8 TFSI (190) S-Tronic
Continental Simos 18.1 [RD, WR, CVN]
Audi Q3 2.0 TFSI (180) Quattro S-Tronic
Continental Simos 18.2 [RD, WR, CVN]
Audi Q3 2.0 TFSI (220) Quattro S-Tronic
Continental Simos 18.2 [RD, WR, CVN]
Audi Q5 2.0 16v TFSI Quattro
Continental Simos 18.1 [RD, WR, CVN]
Audi Q7 2.0 TFSI Quattro
Continental Simos 18.1 [RD, WR, CVN]
Audi S1 2.0 TFSI Quattro
Continental Simos 18.1 [RD, WR, CVN]
Audi S1 Sportback 2.0 TFSI Quattro
Continental Simos 18.1 [RD, WR, CVN]
Audi S3 2.0 R4 TFSI Quattro
Continental Simos 18.1 [RD, WR, CVN]
Audi S3 2.0 TFSI Quattro
Continental Simos 18.1 [RD, WR, CVN]
Audi S3 2.0 TFSI Quattro S-Tronic
Continental Simos 18.1 [RD, WR, CVN]
Audi TT Coupe 2.0 TFSI 6AT
Continental Simos 18.1 [RD, WR, CVN]
Audi TT Coupe 2.0 TFSI 6MT
Continental Simos 18.1 [RD, WR, CVN]
Audi TT Coupe 2.0 TFSI Quattro 6AT
Continental Simos 18.1 [RD, WR, CVN]
Audi TT Roadster 2.0 TFSI 6AT
Continental Simos 18.1 [RD, WR, CVN]
Audi TT Roadster 2.0 TFSI 6MT
Continental Simos 18.1 [RD, WR, CVN]
Audi TT Roadster 2.0 TFSI Quattro 6AT
Continental Simos 18.1 [RD, WR, CVN]
Audi TTS Coupe 2.0 TFSI 6AT
Continental Simos 18.1 [RD, WR, CVN]
Audi TTS Coupe 2.0 TFSI 6MT
Continental Simos 18.1 [RD, WR, CVN]
Audi TTS Roadster 2.0 TFSI 6AT
Continental Simos 18.1 [RD, WR, CVN]
Audi TTS Roadster 2.0 TFSI 6MT
Continental Simos 18.1 [RD, WR, CVN]
Seat Ibiza SC 6P 1.8 TSI 6MT
Continental Simos 18.2 [RD, WR, CVN]
Seat Leon Cupra 5F1 2.0 TSI 6AT
Continental Simos 18.1 [RD, WR, CVN]
Seat Leon Cupra 5F1 2.0 TSI 6MT
Continental Simos 18.1 [RD, WR, CVN]
Seat Leon SC Cupra 5F5 2.0 TSI 6AT
Continental Simos 18.1 [RD, WR, CVN]
Seat Leon SC Cupra 5F5 2.0 TSI 6MT
Continental Simos 18.1 [RD, WR, CVN]
Seat Leon ST Cupra 5F8 2.0 TSI 4Drive 6AT
Continental Simos 18.1 [RD, WR, CVN]
Seat Leon ST Cupra 5F8 2.0 TSI 4Drive 6MT
Continental Simos 18.1 [RD, WR, CVN]
Seat Leon ST Cupra 5F8 2.0 TSI 6AT
Continental Simos 18.1 [RD, WR, CVN]
Seat Leon ST Cupra 5F8 2.0 TSI 6MT
Continental Simos 18.1 [RD, WR, CVN]
Skoda Octavia Combi RS 5E5 2.0 TSI 6AT
Continental Simos 18.1 [RD, WR, CVN]
Skoda Octavia Combi RS 5E5 2.0 TSI 6MT
Continental Simos 18.1 [RD, WR, CVN]
Skoda Octavia RS 5E3 2.0 TSI 6AT
Continental Simos 18.1 [RD, WR, CVN]
Skoda Octavia RS 5E3 2.0 TSI 6MT
Continental Simos 18.1 [RD, WR, CVN]
Skoda Superb 3V3 2.0 TSI 4X4 6AT
Continental Simos 18.1 [RD, WR, CVN]
Skoda Superb 3V3 2.0 TSI 6AT
Continental Simos 18.1 [RD, WR, CVN]
Skoda Superb Combi 3V5 2.0 TSI 4X4 6AT
Continental Simos 18.1 [RD, WR, CVN]
Skoda Superb Combi 3V5 2.0 TSI 6AT
Continental Simos 18.1 [RD, WR, CVN]
Volkswagen Beetle 5C1 1.8 TSI 6AT
Continental Simos 18.2 [RD, WR, CVN]
Volkswagen Beetle 5C1 1.8 TSI 6MT
Continental Simos 18.2 [RD, WR, CVN]
Volkswagen Beetle 5C1 2.0 TSI 6MT
Continental Simos 18.1 [RD, WR, CVN]
Volkswagen Beetle 5C1 2.0 TSI BlueMotion 6AT
Continental Simos 18.2 [RD, WR, CVN]
Volkswagen Beetle 5C1 2.0 TSI BlueMotion 6MT
Continental Simos 18.2 [RD, WR, CVN]
Volkswagen Beetle 5C2 2.0 TSI BlueMotion 6AT
Continental Simos 18.2 [RD, WR, CVN]
Volkswagen Beetle 5C2 2.0 TSI BlueMotion 6MT
Continental Simos 18.2 [RD, WR, CVN]
Volkswagen Beetle Cabriolet 5C7 1.8 TSI 6AT
Continental Simos 18.2 [RD, WR, CVN]
Volkswagen Beetle Cabriolet 5C7 1.8 TSI 6MT
Continental Simos 18.2 [RD, WR, CVN]
Volkswagen Beetle Cabriolet 5C7 2.0 TSI 6AT
Continental Simos 18.1 [RD, WR, CVN]
Volkswagen Beetle Cabriolet 5C7 2.0 TSI 6MT
Continental Simos 18.1 [RD, WR, CVN]
Volkswagen Beetle Cabriolet 5C7 2.0 TSI BlueMotion 6AT
Continental Simos 18.2 [RD, WR, CVN]
Volkswagen Beetle Cabriolet 5C7 2.0 TSI BlueMotion 6MT
Continental Simos 18.2 [RD, WR, CVN]
Volkswagen Beetle Cabriolet 5C8 2.0 TSI BlueMotion 6AT
Continental Simos 18.2 [RD, WR, CVN]
Volkswagen Beetle Cabriolet 5C8 2.0 TSI BlueMotion 6MT
Continental Simos 18.2 [RD, WR, CVN]
Volkswagen Beetle GSR 5C1 2.0 TSI 6AT
Continental Simos 18.1 [RD, WR, CVN]
Volkswagen Beetle GSR 5C1 2.0 TSI 6MT
Continental Simos 18.1 [RD, WR, CVN]
Volkswagen Golf 5G1 2.0 TSI 6AT
Continental Simos 18.1 [RD, WR, CVN]
Volkswagen Golf 5G1 2.0 TSI 6MT
Continental Simos 18.1 [RD, WR, CVN]
Volkswagen Golf 5G1 2.0 TSI GTI 6AT
Continental Simos 18.2 [RD, WR, CVN]
Volkswagen Golf 5G1 2.0 TSI GTI 6MT
Continental Simos 18.1 [RD, WR, CVN]
Volkswagen Golf 5G1 2.0 TSI GTI 6MT
Continental Simos 18.2 [RD, WR, CVN]
Volkswagen Golf 5G1 2.0 TSI GTI 6MT
Continental Simos 18.2 [RD, WR, CVN]
Volkswagen Golf 5G1 2.0 TSI GTI 7AT
Continental Simos 18.1 [RD, WR, CVN]
Volkswagen Golf 5G1 2.0 TSI GTI 7AT
Continental Simos 18.2 [RD, WR, CVN]
Volkswagen Golf 5G1 2.0 TSI R 4Motion 6AT
Continental Simos 18.1 [RD, WR, CVN]
Volkswagen Golf 5G1 2.0 TSI R 4Motion 6MT
Continental Simos 18.1 [RD, WR, CVN]
Volkswagen Golf BQ1 2.0 R 4Motion 6MT
Continental Simos 18.1 [RD, WR, CVN]
Volkswagen Golf BQ1 2.0 R 4Motion 7AT
Continental Simos 18.1 [RD, WR, CVN]
Volkswagen Golf BQ1 2.0 TSI GTI 6AT
Continental Simos 18.1 [RD, WR, CVN]
Volkswagen Golf BQ1 2.0 TSI GTI 6MT
Continental Simos 18.1 [RD, WR, CVN]
Volkswagen Golf BQ1 2.0 TSI R 4Motion 6MT
Continental Simos 18.1 [RD, WR, CVN]
Volkswagen Golf BQ1 2.0 TSI R 4Motion 7AT
Continental Simos 18.1 [RD, WR, CVN]
Volkswagen Golf BQ1 2.0 TSI R360 S 6AT
Continental Simos 18.1 [RD, WR, CVN]
Volkswagen Golf BQ1 2.0 TSI R360S 6MT
Continental Simos 18.1 [RD, WR, CVN]
Volkswagen Golf Variant BA5 2.0 TSI R 4Motion 6MT
Continental Simos 18.1 [RD, WR, CVN]
Volkswagen Jetta 1B 2.0 TSI 6AT
Continental Simos 18.1 [RD, WR, CVN]
Volkswagen Jetta 1B 2.0 TSI 6MT
Continental Simos 18.1 [RD, WR, CVN]
Volkswagen Passat 2.0 TSI 4Motion 6AT
Continental Simos 18.1 [VR, WR, CVN]
Volkswagen Passat 2.0 TSI 6AT
Continental Simos 18.1 [RD, WR, CVN]
Volkswagen Passat 2.0 TSI 6AT
Continental Simos 18.2 [RD, WR, CVN]
Volkswagen Passat Alltrack 2.0 TSI 4Motion 6AT
Continental Simos 18.1 [RD, WR, CVN]
Volkswagen Passat Variant 2.0 TSI 4Motion 6AT
Continental Simos 18.1 [RD, WR, CVN]
Volkswagen Passat Variant 2.0 TSI 6AT
Continental Simos 18.1 [RD, WR, CVN]
Volkswagen Passat Variant 2.0 TSI 6AT
Continental Simos 18.2 [RD, WR, CVN]
Volkswagen Polo 6C1 1.8 GTI 6MT
Continental Simos 18.2 [RD, WR, CVN]
Volkswagen Polo 6C1 1.8 GTI 7AT
Continental Simos 18.2 [RD, WR, CVN]
Volkswagen Sagitar 1B 2.0 TSI 6AT
Continental Simos 18.1 [RD, WR, CVN]
Volkswagen Sagitar 1B 2.0 TSI 6MT
Continental Simos 18.1 [RD, WR, CVN]
Volkswagen Scirocco 138 2.0 TSI 6AT
Continental Simos 18.2 [RD, WR, CVN]
Volkswagen Scirocco 138 2.0 TSI 6MT
Continental Simos 18.2 [RD, WR, CVN]
Volkswagen Tiguan AD1 2.0 TSI 4Motion 6AT
Continental Simos 18.1 [RD, WR, CVN]
Volkswagen Tiguan BT1 2.0 TSI 4Motion 6AT
Continental Simos 18.1 [RD, WR, CVN]
Volkswagen Vento 1B 2.0 TSI 6AT
Continental Simos 18.1 [RD, WR, CVN]
Volkswagen Vento 1B 2.0 TSI 6MT
Continental Simos 18.1 [RD, WR, CVN]