Alientech news update: K-Suite Release 3.95
16 July 2020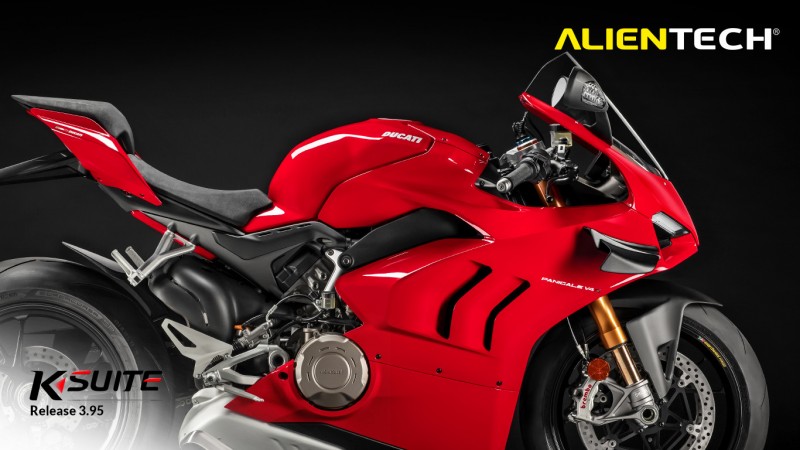 WORK IN OBD ON THE LATEST DUCATI AND MOTO GUZZI.

Today's update is dedicated exclusively to the two wheels. The Alientech technicians have been focusing on some of the world's most famous brands: Ducati and Moto Guzzi.
In particular, you will be able to work in OBD with KESSv2, on the ECUS Ducati Continental M3D – M4D and Moto Guzzi Marelli 7SM.
The motorcycles involved in this update are among the best-selling in the world: design and mechanical masterpieces that, thanks to this new update, you can make perfect: Ducati Streetfighter, Ducati Panigale, Ducati Scrambler, Moto Guzzi V85 TT.
Remap a motorcycle ECU is a real professional job, and, thanks to these new protocols, you will work in OBD by using KESSv2 in complete safety and simplicity.
The new supported ECUS are:
Continental M3D
Continental M4D
Marelli 7SM
New Release K-Suite 3.95
Ducati Hypermotard 950
Continental M3D [VR, WR]
Ducati Monster 821
Continental M3D [VR, WR]
Ducati Monster 1200
Continental M3D [VR, WR]
Ducati Monster 1200 R
Continental M3D [VR, WR]
Ducati Monster 1200 S
Continental M3D [VR, WR]
Ducati Multistrada 950
Continental M3D [VR, WR]
Ducati Scrambler 1100
Continental M3D [VR, WR]
Ducati Scrambler 1100 Special
Continental M3D [VR, WR]
Ducati Scrambler 1100 Sport
Continental M3D [VR, WR]
Ducati Supersport 939 SuperSport
Continental M3D [VR, WR]
Ducati Supersport 939 SuperSport S
Continental M3D [VR, WR]
Ducati Streetfighter Streetfighter 1100 V4
Continental M4D [VR, RD]
Ducati Streetfighter Streetfighter 1100 V4S
Continental M4D [VR, RD]
Ducati Superbike 1100 Panigale V4
Continental M4D [VR, RD]
Ducati Superbike 1100 Panigale V4S
Continental M4D [VR, RD]
Moto Guzzi V85 TT 850cc
Magneti Marelli IAW 7SM [RD, WR]