Alientech news update: K-Suite Release 3.93
24 June 2020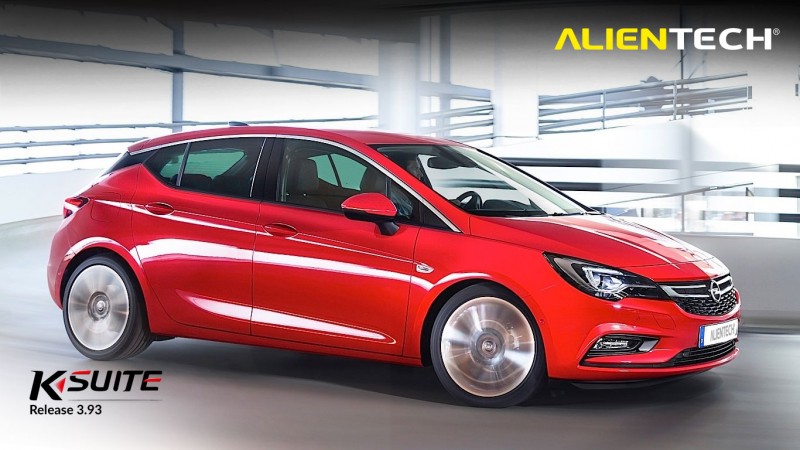 K-TAG: read, write, and clone the ACDelco ECU, mounted on the GM group vehicles
K-TAG: ECU ACDELCO E80, E82 AND E87 NOW SUPPORTED IN BOOT MODE!
Through this last update, you will be able to work on the new petrol and diesel vehicles of brands that are popular in America and Australia, such as Buick, Cadillac, Chevrolet, GMC, Holden and also brands with an European selling markets such as Opel.
THE NOW SUPPORTED ECUS ARE CONTROLLED BY THE FOLLOWING MICROPROCESSORS:
MPC5676R Freescale, communication method JTAG Freescale
MPC5565 Freescale, communication method JTAG Nexus
The connections between the ECU and K-TAG, are performed through the JTAG line and the functions that are available for these protocols are: reading, writing, and cloning.
Thanks to the large number of vehicles generations supported, you will be able to offer both a repair and a calibration service, thus proposing different solutions to the vehicle owner.
THROUGH THIS LAST K-SUITE UPDATE, YOU WILL WORK WITH K-TAG ON THE FOLLOWING ECUS:
ACDelco E80
ACDelco E82
ACDelco E87
New release 3.93
Opel Adam 1.0 Turbo Ecotec
Delphi E80 [RD, WR, Clone]
Opel Adam 1.0 Turbo FlexFuel
Delphi E80 [RD, WR, Clone]
Opel Astra K 1.0 12v Turbo SIDI 5AT
Ac Delco E80 [RD, WR, Clone]
Opel Astra K 1.0 12v Turbo SIDI Ecoflex 5AT
Ac Delco E80 [RD, WR, Clone]
Opel Astra K 1.4 Turbo 6AT
Ac Delco E80 [RD, WR, Clone]
Opel Astra K 1.4 Turbo 6MT
Ac Delco E80 [RD, WR, Clone]
Opel Astra K 1.4 Turbo ecoFLEX 6AT
Ac Delco E80 [RD, WR, Clone]
Opel Astra K 1.4 Turbo ecoFLEX 6MT
Ac Delco E80 [RD, WR, Clone]
Opel Astra K 1.6 Turbo ecoFlex
Delphi E80 [RD, WR, Clone]
Opel Astra K 1.6 Turbo SIDI 6AT
Ac Delco E80 [RD, WR, Clone]
Opel Astra K 1.6 Turbo SIDI 6MT
Ac Delco E80 [RD, WR, Clone]

Buick Lacrosse 3.6 V6 8AT
Ac Delco E82 [RD, WR, Clone]
Buick Regal 3.6 V6 8AT
Ac Delco E82 [RD, WR, Clone]
Cadillac ATS 3.6 V6 8AT
Ac Delco E82 [RD, WR, Clone]
Cadillac CT6 3.6 V6 8AT
Ac Delco E82 [RD, WR, Clone]
Cadillac CTS 3.6 V6 8AT
Ac Delco E82 [RD, WR, Clone]
Cadillac Xt5 3.6 V6 8AT
Ac Delco E82 [RD, WR, Clone]
Cadillac XT6 3.6 V6 8AT
Ac Delco E82 [RD, WR, Clone]
Cadillac XTS 3.6 V6 8AT
Ac Delco E82 [RD, WR, Clone]
Chevrolet Blazer 3.6 V6 8AT
Ac Delco E82 [RD, WR, Clone]
Chevrolet Camaro 3.6 V6 8AT
Ac Delco E82 [RD, WR, Clone]
Chevrolet Colorado 3.6 V6 8AT
Ac Delco E82 [RD, WR, Clone]
GMC Acadia 3.6 V6 8AT
Ac Delco E82 [RD, WR, Clone]
GMC Canyon 3.6 V6 8AT
Ac Delco E82 [RD, WR, Clone]
Holden Commodore 3.6 V6 8AT
Ac Delco E82 [RD, WR, Clone]

Chevrolet Cruze 1.7 16v VCDi
Ac Delco E87 [RD, WR, Clone]
Chevrolet Tracker 1.7 D AWD
Ac Delco E87 [RD, WR, Clone]
Chevrolet Tracker 1.7 D FWD Automatic
Ac Delco E87 [RD, WR, Clone]
Chevrolet Trax 1.7 D AWD
Ac Delco E87 [RD, WR, Clone]
Chevrolet Trax 1.7 D FWD Automatic
Ac Delco E87 [RD, WR, Clone]
Holden Colorado 2.8 TD
Ac Delco E87 [RD, WR, Clone]
Holden Trax 1.7 D AWD
Ac Delco E87 [RD, WR, Clone]
Holden Trax 1.7 D FWD Automatic
Ac Delco E87 [RD, WR, Clone]
Opel Astra J 1.7 CDTI ecoFlex
Ac Delco E87 [RD, WR, Clone]
Opel Corsa D 1.7 CDTI EcoFlex
Ac Delco E87 [RD, WR, Clone]
Opel Meriva B 1.7 CDTI
Ac Delco E87 [RD, WR, Clone]
Opel Meriva B 1.7 CDTI ecoFlex
Ac Delco E87 [RD, WR, Clone]
Opel Mokka 1.7 CDTI ecoFLEX
Ac Delco E87 [RD, WR, Clone]