Secons ltd
FiCOM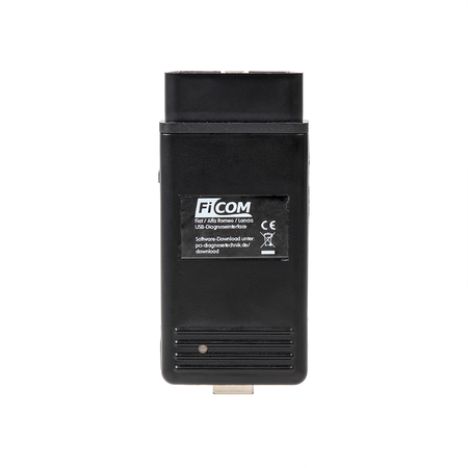 New!
Product information
FiCOM diagnostic tool for Fiat, Alfa Romeo, Lancia and Iveco
And other vehicles build by Fiat like Ford Ka II, Iveco, Citroen and Peugeot vans.

FiCOM is also very suitable for reading your motor home on a Ducato, Boxer or Jumper chassis, including service interval reset. Even reading a Bremach is possible! With regard to Iveco diagnosis, this is a unique diagnosis system, in the field of Iveco reading there is no comparable system on the market for this price!

Pay attention! The Fiat Ulysse/Scudo, and Lancia Zeta/Phedra were built by Peugeot and cannot be read with FiCOM. Look for these cars at the PSACOM interface.

FiCOM is supplied as OBD2 to USB interface with built-in multiplexer for both K-Line and CAN-BUS communication. This means that the interface works fully automatically without having to use jumpers, switches or loose cables. Supported protocols include KW71, KWP2000, ISO15765 with extended IDs and control. The FiCOM software is extremely easy to operate.

Important features of the FiCOM software:
Supports many ECU's and models

Fully multiplexed all-in-one intelligent USB2.0 interface

Supports a wide range of communication protocols: KW71, IAW, KWP2000, FIAT9141, ISO15765, UDS, …

Automatic ECU recognition

Automatic vehicle scan

ECU identification

Reading Error Codes (DTC)

Reading Error freeze-frame

Clear Error Code(s)

Measured value / parameters / live data

Recording measured value / parameters / live data

Print diagnostic protocol

Actuator test

ECU coding

Immobilizer key pairing (PIN code reading from ECU's is in development)

Injector coding

Reset parameters

Reset service interval in engine ECU (For vehicles with DPF (Pariculate filter))
The product contains:
FiCOM OBD2 USB interface with USB cable

Link to FiCOM software and installation instructions

Free updates

The warranty period is 2 years.
Manufacturer product number